TOP 10 s & rsquo; year 2014 the Garpan
For our annual review, the wishes GARPAN d & rsquo; s congratulate & rsquo; entire UFO community in Quebec, for the & rsquo; exceptional year we experienced in 2014 ! Jean Casault having great success with his heptalogy, pushing the epistemological limits of our research by promoting the "new ufology", while Richard Glenn made a comeback in organizing the International d & rsquo Congress; ufology "UFO-401", the first in Quebec for more d & rsquo; a decade, and will be renewed 2015 ! :
Nevertheless, we know that Glenn and Richard Religion-experimental are continuously active for years in providing Vidéorandia (2xa week) Evenings and conferences (Club CRÉÉ, 2once a month) addressing many aspects of & rsquo; ufology and offering the chance to s & rsquo; express to all those who have an interesting speech about the reality of UFOs and the presence of "non-human".
Our side, the Garpan began the & rsquo; year by publishing the Balance sheet of & rsquo; previous year, which was hosted by Chris Rutkowski, of Canadian UFO Survey, as' "One of the best that & rsquo; it received 25 year old ! Soon after, we finally publiions our collection forty stories (1973-2013). As the case of the humanoid St. Zeno was one of the largest of & rsquo; year 2014, Tobi Guillemette and I painstakingly produced a study 325 pages, presenting as the investigation of data and our careful phenomenological analyzes the principles that have guided our methodology :
Another of our colleagues who had good success Marc Saint-Germain who released, after three years of research, his book on "L & rsquo; US government involvement in censorship on UFOs and extraterrestrial presence". He also completed a "tour de France" UFO by sponsoring with UFO meals where he could promote his book and to represent Quebec & rsquo; abroad. Well Done, a great initiative !
We should also mention the & rsquo; weekly "L & rsquo; UFO-SHOW", Jean Lavergne, is back with a fifth season ! L & rsquo; s most popular UFO issue of Quebec with guests articulated and coherent : Jean Casault, Bruno Lefebvre, Cristian Countess, Marc St-Germain, SPEQ, Garpan, and d & rsquo; others (view archives).
Finally, our colleagues in'Quebec Association of ufology (AQU) organize a monthly dinner in Montreal UFO allowing hundreds d & rsquo; listeners to meet and d & rsquo; listen to stakeholders and as lecturers. Good work and good luck !
TOP 10 cases dating 2014
(in chronological order)
1. Flying saucer and humanoid St. Zeno
14 January 2014
Read more : Book and case investigation of St. Zeno.
2. "St. Adolphe d'Howard-mania ! »
16 January 2014
The 15 January 2014, the Montreal newspaper resumed an article & rsquo; a local journalist, and the next day begins what I & rsquo; have called "Saint-Adolphe-d & rsquo; Howard-mania !», as tens or even hundreds of people visit the rise of Artisans in & rsquo; hope, also, UFOs. Amazingly, several witnesses have seen ! (L & rsquo; AQU and Garpan have another case each, MUFON and several other). Here is an example, dating from 16, which has become our video YouTube most popular ! Congratulations to Ian Leveille :
3. Large triangular ship in Lake Superior
4 more 2014, 20h15
Here is perhaps the most important case of & rsquo; year… Not only there are two direct witnesses concerning this immense triangular vessel 100 m, to 50 m, but both teams have investigated UFO independently and professionally. We pay strong credibility the testimony and the conclons probability reasonable Event. The'index & rsquo; strangeness is as high as d & rsquo; other mysterious events accompanied the & rsquo; observation that night and the following days.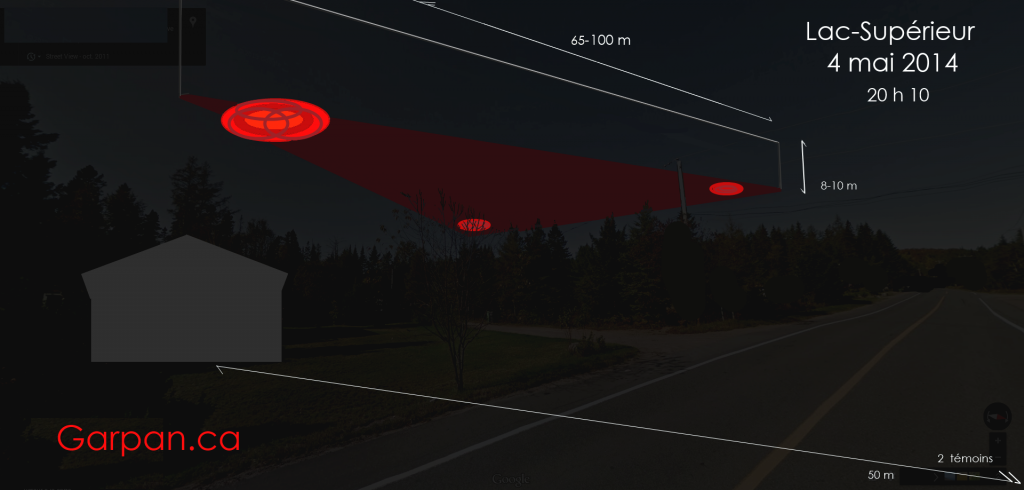 Investigation du Garpan : read the & rsquo; Article
« T : It was really great, triangular. It was quite thick and had red lights. It floated above the trees.
It : This was higher than the treetops ?
T : It was at the height of the trees, c[and n]'Was really not up.
It : When you say he had a triangular shape with lights, Can you tell us what type of triangle and where the lights were located ?
T : There were red lights on the front, and there were two others on each side at the end [back] Triangle.
It : When you say that the UFO was red, it was because of these lights then ?
T : Yes.
It : It was not the UFO itself was red?
T : Not, not, there were red lights, but the craft was dark, as dark gray that takes a little on the dark. (…) Well i, I would say that the ship was dark and below, it floated like a red veil. (…) It was in the shape of triangle with, front, a big red light, and, at each end, red lights.
It : Wholesale, there were three (3) lights?
T : Yes, This is what I saw in. And [red light] front, as she turned the Christmas lights that flash one after the other, it made : touk touk, touk touk…
It : That light at the front consisted of one or more lights which flashed?
T : It was red, but I felt that there was [several] circling around the red light. »
Investigation of & rsquo; AQU :

Read & rsquo; article published on the website of the & rsquo; AQU.
4. UFOs in the output of Congrès UFO-401 ?
31 more 2014, 22h41-23h10
Here is a case that we investigated, but we did not decide until & rsquo; here. Our verdict is in Balance sheet 2014, forthcoming :
5. Triangle in St-Jérôme
7 June 2014, 2h00
6. Humanoid hippiforme in Longueuil
26 June 2014
An interesting investigation of skill by Maxime Boucher (see article), and continued on site in the company of a witness by Jean-François Primeau. Full report to be published in January.
7. Bright red balls Nicolet
28 June 2014
Two groups of several witnesses. Additional Details to come.
8. Humanoid St. Croix
31 July 2014
More & rsquo; a report reached the Holy Cross this year… Consult & rsquo; Article our colleague Maxime Boucher :
9. "Invasion" in Rimouski ?
Been to November 2014
L & rsquo; other Quebec City who was active is Rimouski. "Invasion" is of course that & rsquo; d & a wink-rsquo; look at the book & rsquo; Alain Duchesne «O.V.N.I. Are you ready ? » (2006), which describes a mass kidnapping in Rimouski… Note that this book was banned by the authorities… Actually, Witnesses report that the us is that every night "lights" are the same ride : placing himself at certain places around town, while d & rsquo; others repeat specific trajectories. Another event is a "metal orb" that was photographed d & rsquo; close enough :
10. Ufo weird in St-Basile-le-Grand
28 October 2014, 9h45
Maybe l & rsquo; s most bizarre UFO & rsquo; year : a "hook exceeding d & rsquo; a cloud" with helicopters hovering around….
11. Flying saucer in St-Jérôme
1he December 2014
Information to be published soon.
TOP 10 receipts if not older 2014
1. Flying saucer and temporal cloud Lasalle
1July 1980, 23h00
Read more. Maxime Boucher and Yann Vadnais.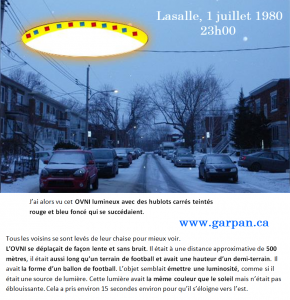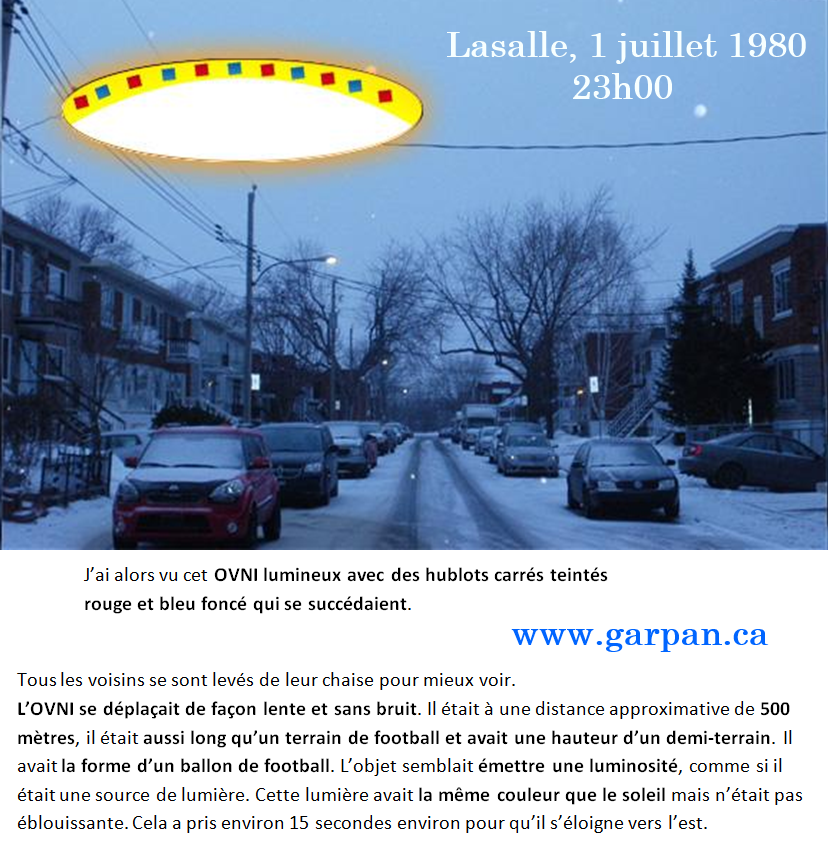 2. RR4 in Mont-Laurier
November 1984
A complete file forthcoming current d & rsquo; year.
3. St. Clair
1989-1990, 15h00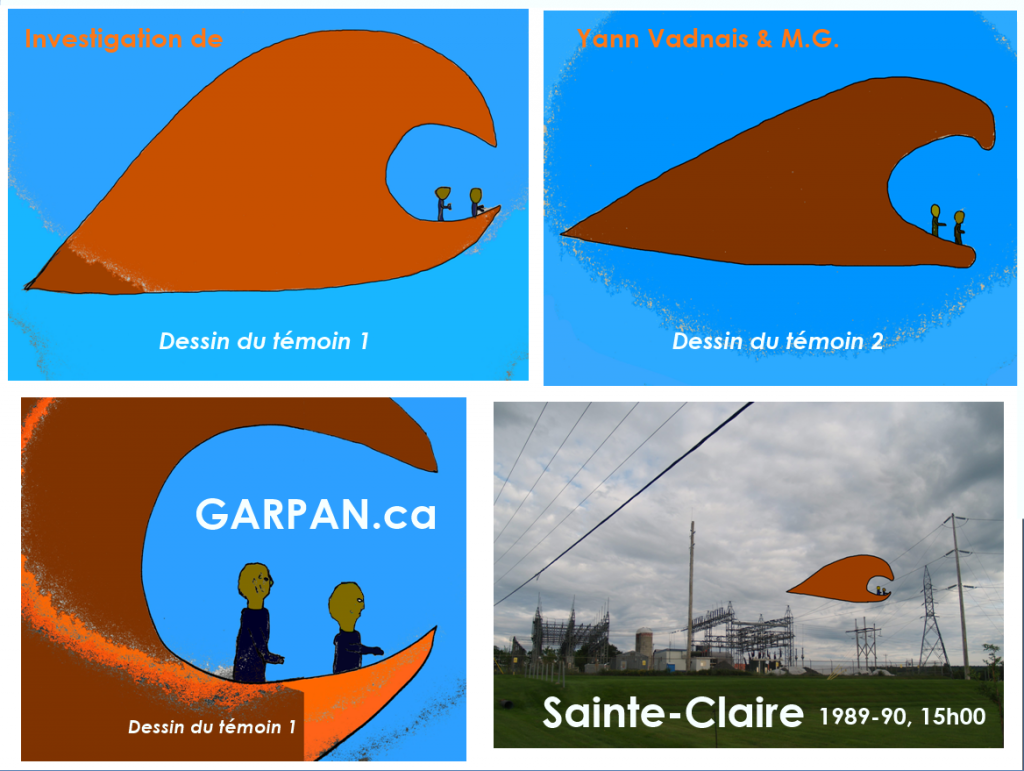 4. Triangle and paralysis witnesses Merceuil (Fr.)
July 1996, 23h00
« T : I have not seen the form but three blue disks formed a rather equilateral triangle. It was ellipses. The three discs were an ellipse !
It : You mean the three lights turned all ? or that each of the lights turned on itself ?
T : Not, not, it was fixed ! The three elliptical lights did not move ! There was no beam. It was a blue, but a blue ! I had never seen that before !
It : Describe the.
T : Electric blue ! One bleu-cyan ! One bleu fluo ! »
Read more.
This case is found in more detail in our book "Investigate UFOs to understand our reality, Forty cases of Quebec (1973-2013) ».
5. Ship in St. Croix
13 August 2001
"I'm sitting outside in front of the fireplace with my old son 16 years. We were talking when suddenly for whatever reason, we turned quickly at the same time to find very close to usa dark mass in the sky about 150 to 200 feet from us length field and I would say about a hundred feet in the air. Outright, we expected to see a huge rock ! »
Read more.
Maxime Boucher and Yann Vadnais.
This case is found in more detail in our book "Investigate UFOs to understand our reality, Forty cases of Quebec (1973-2013) ».
6. Flying Saucer 80-100 m in Stoneham
15 August 2006, 4h15 am
Tuesday 15 August 2006, a taxi driver met a large flying saucer who & rsquo; then continued on around 4 km.
This case is found in more detail in our book "Investigate UFOs to understand our reality, Forty cases of Quebec (1973-2013) ».
Read the article. BY Yann Vadnais, M. G. a Jean Morissette.
7. Flying saucer in & rsquo; d & rsquo Island; Orleans
July 1973, 22h00
Only 20 km of the previous case, Similar observation. A mother and her two children observe the passage d & rsquo; a multicolored flying saucer at low altitude.
This case is found in more detail in our book "Investigate UFOs to understand our reality, Forty cases of Quebec (1973-2013) ».
Reconstruction by Gérard Leveque.
8. Marian apparition in Baie Comeau
8 August 2011, 00h30
Investigated a bit exotic for a group & rsquo; ufological investigation, but approached from the & rsquo; angle & rsquo; a close encounter of the third kind. A report 85 pages is available and has been delivered to the ecclesiastical authorities to receive their opinion.

"It was very afraid, et là, mon amie a dit : "I, je vais m'en ! », and she left running.
It : Describe to us what you see in your drawing.
T : Shows part of the neck. We see a kind of halo around the head. We see the veil down. We see the blue and white clothing as a toga : there were wrinkles, many folds, it was great, a very large clothing. We see the eyes. The eyes were brown. The suit was too big for her, there were many folds. The slightly pink lips. The hair was a little long, brilliant, around and, a light that came from her. There was a lot of light.
It : What facial expression she had ?
T : I do not know if the design is well : expression was severe enough, together, an unwelcoming, a little harsh, as if it was a judgment.
It was placid, it was a judgment, but, welcoming. It was a bit scary, it was scary : as if waiting for us, how she had her head obliquely. She had her sight [son regard] on the stairs, therefore, technically, she had a view of us who climbed.
I met his gaze, it was a bit harsh, ça m'a effrayé. His eyes were brown, always bright, but welcoming.
It : Listening to you, This has especially impressed you - because you've talked several times - it was his eyes.
T : Yes. The way I met her gaze ; his gaze on me ...
I met his eyes, I saw his eyes, is, we can say we had watched ... "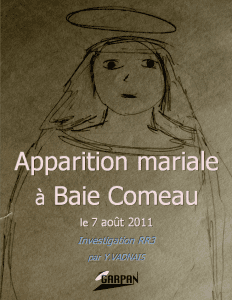 9.Curiosity in Portneuf
13 October 2013
Here is a picture rather tough case to solve, since up & rsquo; now in three different specialists we have "proven", each convinced that & rsquo; other, that c & rsquo; was : a) deer ? b) a person with a jacket and collar ? c) a creature kidnapping children ?. And you, that & rsquo; do you think ?
We will issue our judgment in the Balance sheet 2014 forthcoming.
10. Flying saucer dropping probes St. Zeno
29 December 2013
Sixteen days before the meeting with the humanoid St. Zeno, over the same fateful Garage, a flying saucer dropped probes, paralyzed witness, then disappeared on site. Many other details in our book "L & rsquo; humanoid St. Zeno, RR3 a "high tech" and moving ", 325 p.
Yann Vadnais and Tobi Guillemette.