Video evidence of a UFO of 40 meters to Donnacona (22 March 2023, at 10:15 p.m.)
By Yann Vadnais
Investigators : Yann Vadnais and Marc Leduc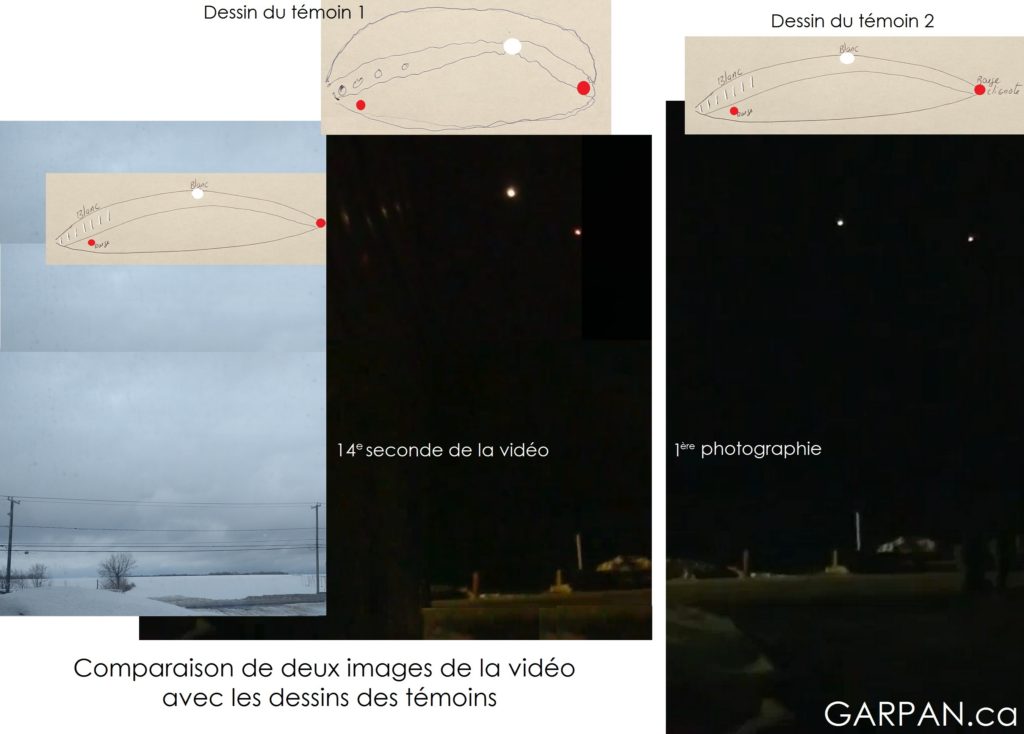 CALL FOR WITNESS. — Donnacona (Capitale-Nationale), Wednesday 22 March 2023, at 10:15 p.m..
Two witnesses observed and filmed a large unidentified flying object approximately 40 meters in diameter which circulated very slowly at around 80 m altitude above their house. There was a red light at what appeared to be the bow, an intense white light on the starboard side and a series of lights at the stern. The sound was not that of an airplane or a helicopter, but possibly an airship. The witnesses were so scared that they panicked into the house and turned off the lights ! They had a lot of trouble sleeping and they are still wondering about what they saw. They contacted the GARPAN in order to have an answer, but the investigators do not yet arrive at a sure and certain identification.
Investigators analyzed the video and went to the scene to interview witnesses (who wish to remain anonymous). The two highlights of this video are :
The reference to the decor : which allows estimates of the altitude and dimensions of the UFO.
The horizontal rotation maneuver : which seems to confirm that all the lights belong to the same object.
Twenty-three second video :

Exercises for estimating the altitude and dimensions of the UFO :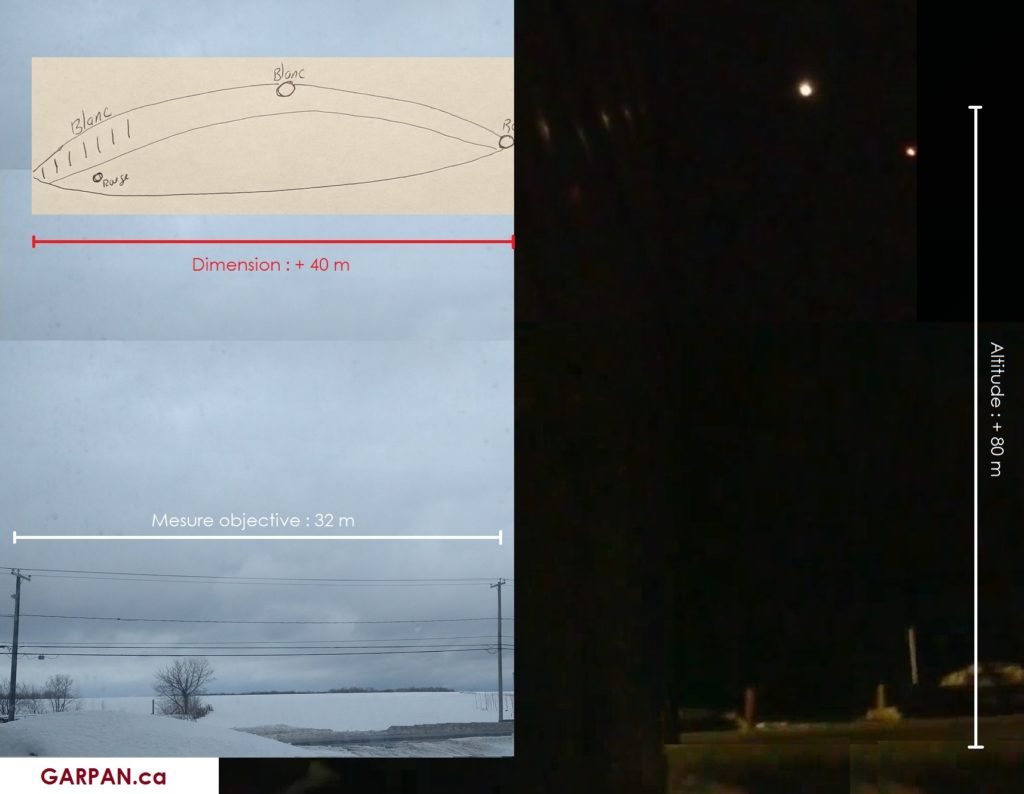 .
Description and sequence of the event
Municipality of Donnacona (Quebec, Canada).
Wednesday 22 March 2023, around 10:15 p.m., the two witnesses are watching television in their living room. The witness 1 gets up and rolls up the window curtain to look outside (view to the northeast on the road 138). He sees unusual lights that he never sees at this place in the sky. The control 2 join him to watch too. The lights are heading towards their house and they decide to go outside to observe them better.. They then discern a dark background silhouette surrounding these lights. The UFO appears bulky due to its low altitude. He moves slowly (around " 5 km/h" according to the witness 1).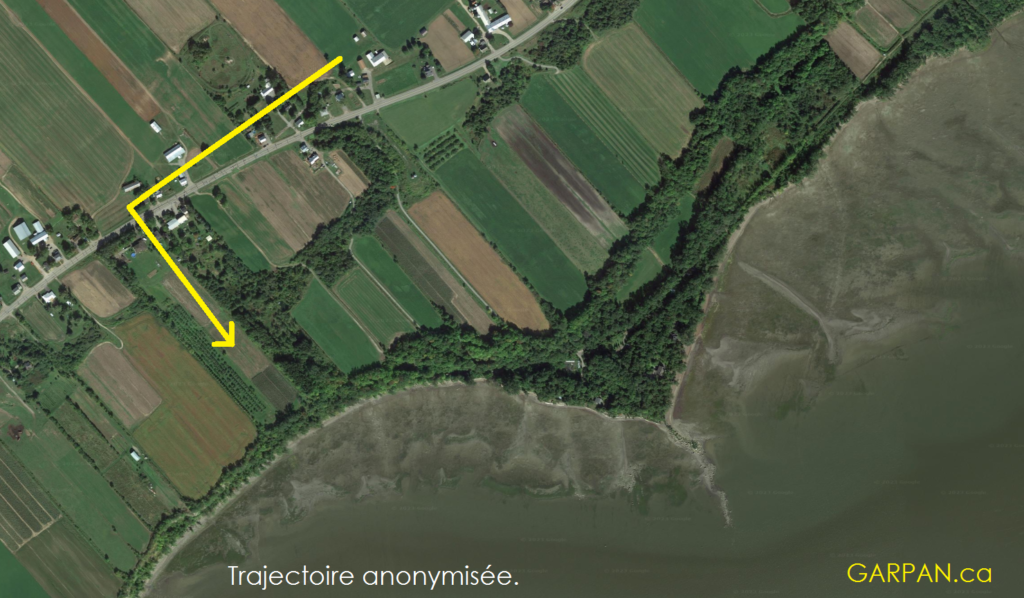 The witness 1 take two photos and soon start filming. While the object is almost rendered above them, he stops… then it quietly changes direction before returning to the St. Lawrence River. Waves (two ?) motors changed intensity during this maneuver.
Considering the object size, on weird shape, the slowness of movement, son momentary stopstar and l'unusual hour of this flight basse altitude, the witnesses panicked, rushed back to their home and turned off the lights (!). They continued to peer through the windows as the object slowly moved away towards the river. (At the South-East).
The UFO stopped a second time and changed direction to head northeast again. Then, he disappeared in the cloudy mist according to witnesses.

Commentary by investigator Yann Vadnais :
I have been investigating UFO sightings since 2010 (see Ten-year review ofu GARPAN) and I consider this case sufficiently strange and probable (Indexes E/P) to generate public discussion and media interest. Although there are many very intriguing UFO videos (where you only see "lights"), it is very rare that we receive quality videos showing a "large unidentified object". In this case, we have a video and photographs allowing us to make estimates of the effective size and distance of this unidentified object performing a horizontal rotation maneuver. More, the two testimonies come to contextualize the video.
However, I would like to point out that there is four distinct types of ufology and that this case falls within the class of "Testimonial Etiology" which is itself divided into two main categories :
unconventional technological aerial vehicles ;
UFO phenomena which are characterized by stereotypical scenarios and by so-called "paranormal" events.
In the present case, it is probably a tech air craft case (especially because of engine noise ; hypothesis of Y. Vadnais).
Is it possible to identify this large aerial craft ?
Due to the evidentiary value of video evidence, the authorities and the media find themselves in a way invited to report this recent unusual event. The twenty-three seconds of the video may seem short, but they are enough to legitimately ask several questions of public interest and possibly of legal significance :
What is this large object of about forty meters in diameter which circulates at night in 80 m above sea level above private residences ?
Why wasn't it sporting an obvious green starboard light, as any air vehicle is required to do during night flights ?
The slowness of the movement excludes that it is an airplane and the sound emitted excludes that it is a helicopter, the only possible conventional hypothesis is therefore that it was an airship. Or, airships are uncommon in our time… at 10:15 p.m.… a 22 March… at low altitude… in the sparsely populated region of Donnacona…
What are the laws that govern the night traffic of commercial airships ?
If it wasn't a commercial airship, but a military airship, why was he taxiing above civilian area at low altitude ?
If it is a military airship, is this gear listed ? Or does it belong to an unrecognized program ?
As there is absolutely no doubt about the reality of this aerial object of more than 40 meters, there is therefore no reason that we are not able to identify this air craft… However, we have not been able to identify this mysterious suspicious-looking aircraft so far..
The expert opinions are welcome in order to solve this case of an unidentified flying object.
Contact Yann Vadnais : garpan.ufologie@gmail.com
Second hypothesis concerning the form
The video does not make it possible to circumscribe the exact shape of the object. Witnesses, who observed it with the naked eye, are however categorical on the silhouette observed : a kind of "balloon" or "saucer". More, it seemed to them that a structure surrounded the object on its side. To us, investigators who only have video as objective data, we are tempted to postulate as a corollary the hypothesis of a "black triangle" (common form of some UFOs for years 1970 ; for example, a dozen reports of black triangles in Quebec received at GARPAN).
Meteorological and seismic data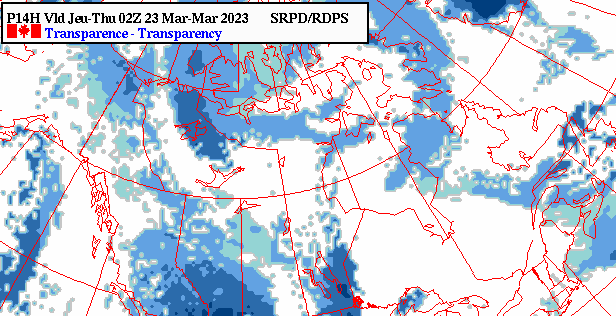 Data on wind direction and speed are interesting in the hypothesis of an airship :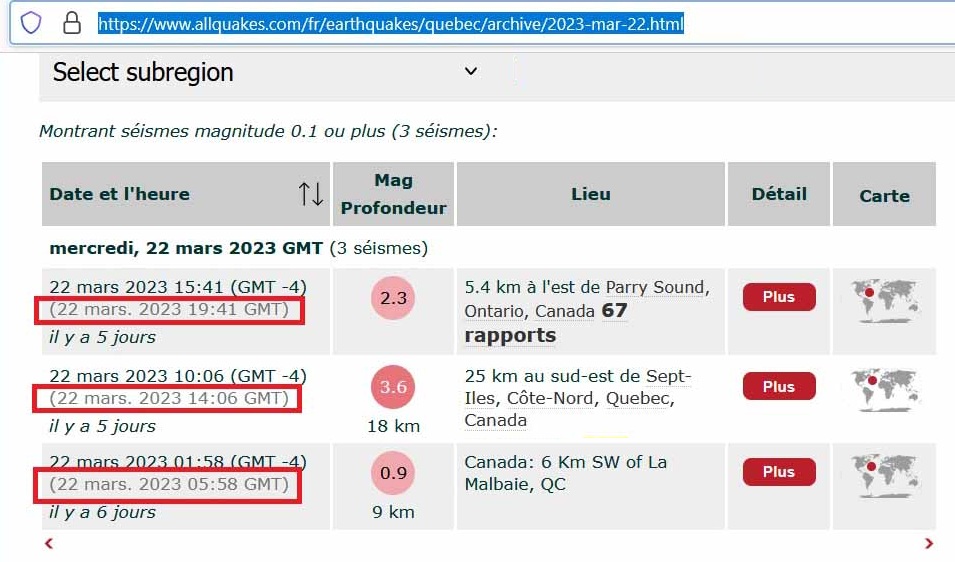 .