Triangle Merceuil : GEIPAN in the act of disinformation
Do you know the GEIPAN, the " Study Group and Information on Unidentified Aerospace Phenomena » ? This is the official study of UFOs in France, SUBSIDIZED by the Centre National d'Etudes Spatiales ? Eh bien, this is a good moment that many researchers cultivate serious doubts about their methodology and results…
Comparison of numbers of cases of investigation based on years
Now, with the case that the GARPAN collected from the village Merceuil (Côte-d'Or, France), and occurred in July 1996, the GEIPAN finds himself caught camouflage UFO and scientific mediocrity ! Let's see how the testimony of six (6) witnesses treated by this organization has the task yet collect information on UFO cases and share with the public.
In 2012 upon notification of the witness Geipan, it was first told : "Your observation is too old" (?), "We do not deal with" (?!).
Then, Seeing his insistence, His Geipan them dit : "In fact, what you saw was a plane " (?!).
Or, over six (6) people, divided into two (2) spaced apart groups, have seen THREE BLUE LIGHTS ELECTRICAL travelers, then in STATIONARY during FIVE (5) MINUTES.

Finally, l'OVNI, which was completely SILENT, came positioned near one of the control groups. But a little before stabilizing near them, these FOUR (4) people were literally paralyzed ! until the UFO is propelled at high speed leaving a trail of light ORANGE.
MERCEUIL (France), July 1996, 23h00
Flying triangle and paralysis witnesses
Strangeness : 5 Probability : 5
An investigation of Yann VADNAIS.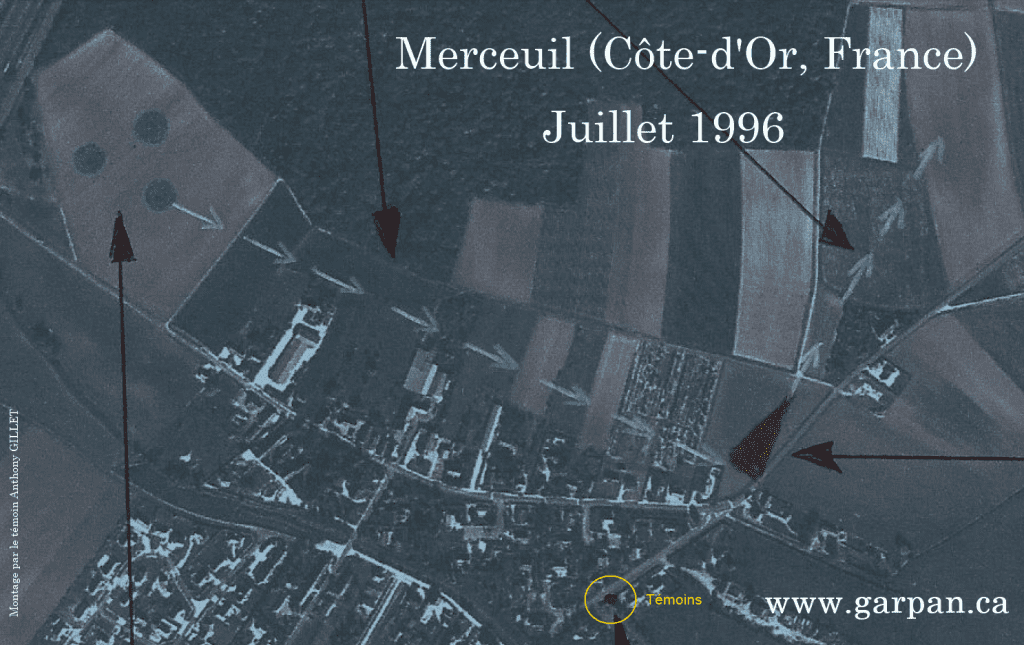 Approximate size of the UFO according to a witness
IF UFO SIGHTING IN FRANCE, CITY OF MERCEUIL, July 1996
Transcription by Audrey MATTON and Tobi.
Witness : This happened in 1996.
Investigator : This is not a recent case, then ?
T : Not, this is not a recent case. I'll explain why. I went back on me since I got internet 2012. It has never spoken, as many people, not to be mistaken for "fools". Even last year, quand j'en ai parlé à ma famille, she laughed.
As other, is allowed to run, and then we forget. This came back to me at a party, mon ami m'a dit : "Should you see with GEIPAN in France». Then suddenly, I called !
GEIPAN sent me a questionnaire. I filled. They gave me an answer. But when I recalled, they were not sure what I had seen. After, they told me that it was a plane, point final.
It : When did you contact GEIPAN ?
T : In 2012.
It : They told you how long after you sent your questionnaire ?
T : One month. Personally, I took a month and a half to the questionnaire in Google Earth : positioning the UFO, how he moved a few meters.
It : You made a good record, yet, with images, a summary. You're sent, and it took them a month to reply ?
T : One month, or about three weeks. They gave me an answer : "You can not file your application due date ! ».
It : Because the date ?
T : Yes, outright. I told them you are inflated ! You can not classify my case because I do not have the date ? I approximate time, it may be important even when ! This topic UFO is still good, for night observation ! I am not misinformed me : there is nothing valid today because there are a lot of tricks or is blurred ! Even if my testimony is only eye, I can not invent what I saw ...
It : It is important for us who are just a civilian group. Then, it is Quebec, additional. I am interested in your comment because you contacted GEIPAN which is the official body of your country. The only thing that you have answered, is "ah, can not deal with your case because the date " ? And "everything you saw, this is just the ticket " ? This does not make sense.
T : Someone who is close to me, knows one of the directors of a national anti-terrorist cell NATO. I, I got the phone, le mec, and himself, who is an avid UFO, m'a dit : "You had a collective hallucination !». I answered : « Ah bon, this is the best ! ». For having a hallucination, it seemed a foolish answer. It was like he was jealous that I had seen.
It : We will go to the observation ...
T : The date : 1996, about 23 hours.
It : Have you an idea of ​​the month, si possible ?
T : Month ? This should be I juillet. It was summer. I was in high school, and thus the year of study was over. J'avais fini mon Bac pro. I do not date, it had to be a Monday, Tuesday or Wednesday. Because according to my research, actually, phenomenon, on l'a vu à Merceuil in the department 21 Côte-d'Or region (Burgundy). It is located ten kilometers from Beaune, la ville du vin.
And in my memories, there was no light projectors. So it must be either a Monday, Tuesday or Wednesday, since the opening of the disco is on Thursday, Friday, Saturday. So it was given an appointment to Merceuil, with Friends, soit six au total. I contacted my friends (friends) in 2012, because I wanted to pass on the questionnaire for completion GEIPAN.
And in fact, or they were not interested, they either do not want to deal. Only one of them returned the questionnaire.
We had made an appointment at the sports complex Merceuil. I parked my car perpendicular to the main road Merceuil, and landed on the right side of the car, so they were aligned towards Dijon northeast.
Reconstruction made by the witness at the request of GARPAN.
I was on the right side of the car, my friend was at the extreme left, therefore at the front of the car. The sky was clear, with visible stars, of course.
And then, I have my friend told me that Olivier : "What is, These three lights are low ? ». On regarde tous ! These three lights were very funny ! This was not as a halogen lamp, or a sodium lamp, not at all ! There was no direct beam ! It was three discs of the same diameter, knowing that when the saw, they were easily to 800 or 900 meters away, on our left.
I have not seen the form but three blue disks formed a rather equilateral triangle. It was ellipses. The three discs were an ellipse !
It : You mean the three lights turned all ? or that each of the lights turned on itself ?
T : Not, not, it was fixed ! The three elliptical lights did not move ! There was no beam. It was a blue, but a blue ! I had never seen that before !
It : Describe the.
T : Electric blue ! One bleu-cyan ! One bleu fluo !
It : This blue light you describe was stable, or it oscillated ?
T : Not ! De loin, it was difficult to say whether this move, but there were no beam, therefore when there is no, it's still weird ! And it did not move !
When I say a beam, I mean the radiation of light, such as lamps in our cities. As it did not illuminate the ground !
These three disks were elliptical because it was flat ! We saw the object side. On s'interrogeait : "What's that ? This is not a helicopter ! This is not an airplane ! ». It was not noise !
Because even a helicopter, or plane, to 800 or 900 meters, we hear ! On time, it was not too surprised. We continued to look ! It remained motionless for five minutes. As it did not move, we could not know. When my friend saw, it was already motionless when he spotted by chance.
It : I do not understand how a government group can answer it as simply as : « Oh, Mr. ! You, with three others, said to have observed stationary lights for five minutes. It was simply a plane ! ». This is unacceptable.
T : That's what surprises me ! I have recalled. When I'll tell you what happened, even they told me : "It is not possible that there is someone in ! ».
I thought : Ah bon !? Eh bien, what there may be in if they are neither human, either from extra-terrestrial ? We must explain me then because I do not understand ...
After some time, they told me : «Ah ben, it's a plane you saw "...
There were four on an observation point, knowing that the other two friends had gone to fetch cigarettes (cigarettes) au PLM (Paris-Lyon-Marseille) which is the biggest center of France strategic road knowing that the object was above it.
Before my friend Olivier seen in static position, them, saw moving before it stabilizes and that all notices.
This is a second observation point ! My friend told me he had internet Morteuil. It is a small village which is next to Merceuil, on the other side of the highway. I allowed myself to my questionnaire on his testimony, knowing he would not fill. Therefore, this observation is a second point, it is very important.
The object had Morteuil, so either he crossed the highway, it is skirted and stabilized next to a wood, a plumb field.
It was not very high, about 300 m d'altitude. Suddenly, subject came upon us ! I said to myself : "It is not possible ! ». I look at my friends. Since I am the oldest, I tell them : "Stop guys ! You make me a joke ? This is not possible ! Il and a, which has a remotely controlled toy ". They tell me : "I do not ! It is like you ! ».
We had time to discuss. These three recordings were of course we ! The object has been through the village, he came right, crossed fields, skirting the wood, then stabilized before us !
In calculations we learned, it made an angle of 45/50 ° viewing, and about 300/350 meters away. So the subject was directly below we. Saw the monster that was, it was awesome !
My friend Olivier gave a very important element : the object is locked when it is found perpendicular to the road. Or, down the road, there fields, and he told me that when the object is gone, ça the produit a flash that has allowed him to see the grass. In 200/250 meters, about, il a vu l'herbe, at night, this is not trivial, knowing me, I have not seen the flash.
So I summarizes the facts : the object is come upon us, et là, it was not three ellipses, but three discs before us ! When he arrived halfway about us, about, we did not say a word because it was paralyzed because of the subject ! Three lights, it was the engine of the vehicle. I fixed my attention on one of these was blue lights, I noticed that it was hollow ! And it moved ! It was like electricity, energy in.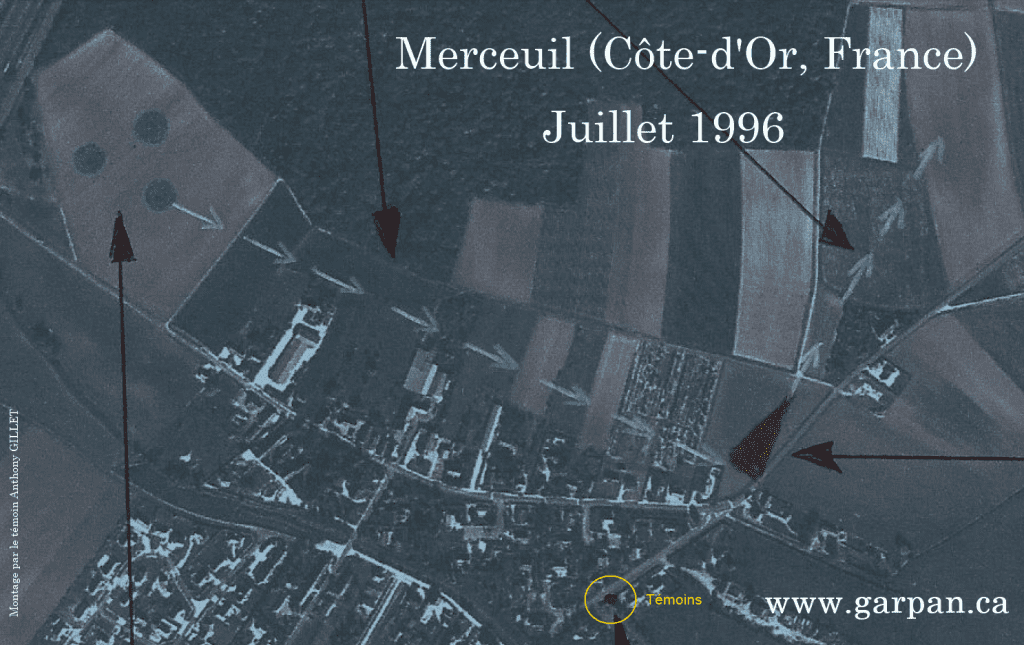 These three blue circles were same diameter and the same intensity. The object is come upon us, the nous to Paralysis and I really freaked out ! I thought about my friends, I could not move, but I could think. I wanted to go to the object, I could not because my arms frozen, in cross position, while it was hovering above us !
And so I wanted to turn my head to see my friends, and I could hardly turn, really struggling ! My neck was blocked ! I've finally arrived, I saw my friends, is avait the same inclination ocular, the gaping mouth with the same emotion ! The three with the same head ! Sauf very, at that time, I managed to turn his head.
Them, did not think to try to turn his head. I, I freaked out because I could not hear my friends ! Even I, I open mouth ! I returned to the subject, I looked, and all of a sudden, bed, he was gone ! It has a small orange tip.
Orange wake left by the UFO upon departure
As, we came back to us. We wiped her eyes. We thought : "What is this thing ? Maybe he's gone or he will return ? It was above us. There was not a sound, nothing, total silence as if time had stopped. His movement was jerky, a bizarre speed, as if magnetized.
On time, I told my friends that the object was to 15 m diameter. One of them told me : "Are you crazy or what ? Ben non, on l'a vu à 800/900 meters, so it could not 15 meters as it was huge, this thing ! After I said that he could be right because, de nuit, it is not easy to establish a distance if you do not have many landmarks.
The object thus formed a right angle.
What I miss, this is the form of this thing, object ! He camouflaged great.
It was hollow, actually ! That sounds like an exhaust outlet, the output of a reactor which is not noise. Each light (flattened spherical) was made between 5 and 10 m diameter.
This famous triangle was made between 30 and 40 meters wide.
That evening, there were other people. I know a young person who is in another village, saw the same thing, the same evening.
It : Ultimately, there were three groups of who saw the observation !
T : I have not seen, the other group. I do not know. But I think we should go to learn. I think there was other evidence. That's why I'd like to meet people who have seen the same thing, because there will be more items, the more we know what it is !
Follow up survey :
At the request of the witness, this case was handed over to the authorities of the French ufology so that it is compiled in the statistics of their country of origin. The witness also expressed interest in her their observation does not fall unheeded, and that his testimony is known to the public and especially specialists. Because he remembers very well what he was clearly observed : for him, his observation is of prime importance since indirectly describes the "operation of the propulsion" of the machine. We also believe that this aspect of the testimony is important to understand the technological mode of locomotion "flying triangles". We will do our utmost to ensure that Mr. Anthony Gillet is soon invited to a UFO issue.
Conclusion :
We ask, how is it possible that the official French UFO research organization witnesses can say they saw a "plane" ? Or that the Geipan could silence the testimony of this notification yet detailed and credible ?
You can also ask : why study groups and regional or provincial UFO Research, as GARPAN, can collect as many notifications in a year and a NATIONAL organization SUBSIDIZED, as GEIPAN ?
Au final, one, firstly, you are sensitive to this issue REAL, and, other, you find that the UFO GARPAN performs quality work, especially do not hesitate to contribute to our fundraising 2014 !