CALL FOR WITNESSES & RECENT CASE
22 July 2015, around 22:30
Gatineau, Hull sector (Outaouais)

26 June 2015, 19 h 00
Ahuntsic (Montreal)

14 June 2015, 22 h 27-22h30 ; 22h48-22h50
Sainte-Foy (Capitale-Nationale)
Read the article : Article.
1 and 29 more 2015, 2 h 30
Sallaberry-de-Valleyfield (Montérégie)

"I have seen yesterday at 10:40 p.m.. They were above the field, just behind the row of cedars. There were a lot of planes, and it really was not the same. The sky was clear from my point of view. She was the dune tennis ball size, maybe a little bigger. There was a larger than the other. Both acted as if they were dancing together. They moved in all directions : left, right, top, low. Always current and after "paff ! » : the smallest is gone and the largest has landed as softly, as if it had come down in field. The duration : about a minute. I woke my daughter, but she has not had time to see.
I live in Great Island [in Salaberry-de-Valleyfield] in the countryside. »
12 April 2015, 2 h 30
Saint-Gabriel-de-Valcartier (Capitale-Nationale). Given the Blessed Sacrament district in Quebec.

11 April 2015, 21 h 30
Jonquière (Saguenay-Lac-Saint-Jean)
"Last night on Saturday 11 April 2015 to 9:30 pm, JONQUIÈRE Saguenay, I go outside to smoke. Immediately out out, I spotted an orange light. D'instinct, I believed a star, then to a plane. I even shouted at my boyfriend, who was in the house, come see. I watched a few minutes, time for a cigarette. First, this "light" was orange. Then, she seemed to get away and not fade. And finally, it not blinking. I should mention that Jonquière is a few kilometers from Bagotville, where there is a military air base (CF18) and last night, there has been a lot of aircraft that are passed, Just as we have very good views! I asked a friend who is a mechanic CF18 and he assured me that all planes have a red blinking light and a steady white, what one can easily distinguish the evening. Therefore, I do not know what I saw. Nothing speaks to the news and it was not a flare either. »
28 March 2015, 14 h 30
Stoneham (Capital-National)
"My brother and my cousin saw, the 28 March to Stoneham, around 14 h 30, a METAL SPHERE in the sky. First, it looked like a very bright star, but at some point, when she moved, we saw the sun reflecting on it and it has seen its metallic texture. It was below the clouds. A plane also passing in the sky and we saw that it could not be one. I do not know what it was, but none of us could even make assumptions about its nature. »
25 February 2015, 1h00-2h30 am
Torres del Paine, Patagonia, Chili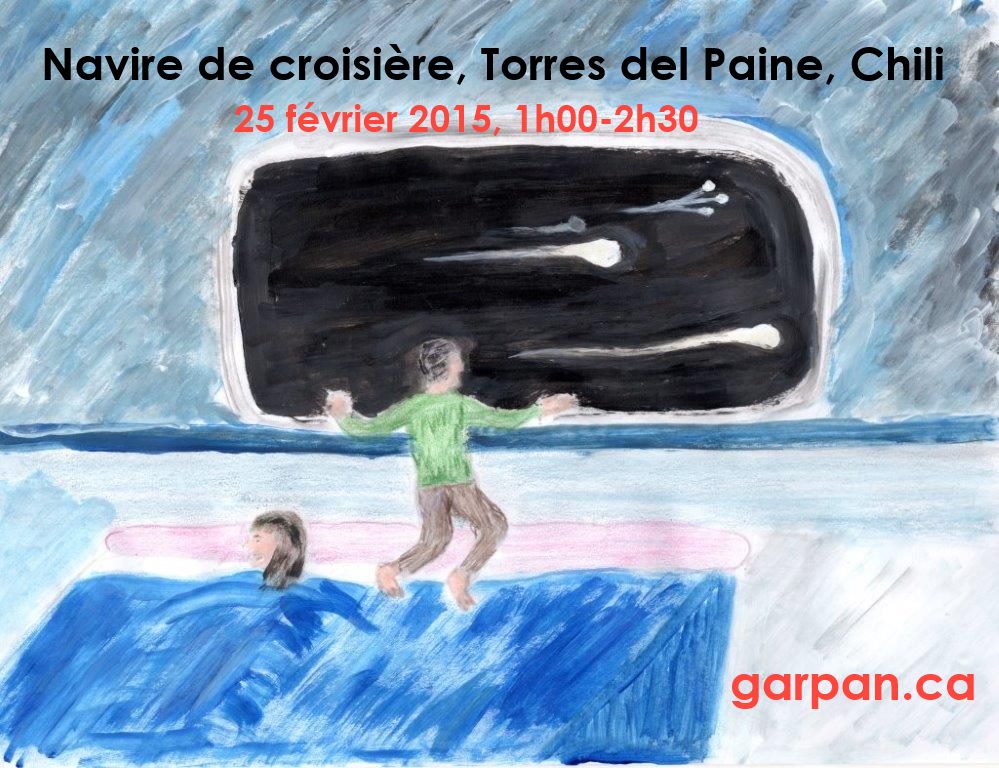 Testimony of appearance of luminous spheres
"On the night of 25 February 2014, while I was getting ready to go to sleep 1 am, I decided to look out the window of our room of cruise ship, le MS Zaandam de la compagnie Holland America Line, a huge vessel that can receive 2 000 passengers and crew members. While my wife was sleeping deeply in the bed near the window where I was, I noticed the presence of a thick fog. Then suddenly, and to my surprise, I live in the dark and hazy sky bright light which I believed to be a meteorite. But as the fog was very dense, I could not see how the brightness of a meteorite was at that point â illuminate this point. This is when the ball of luminous spheres began. Although the speed of the vessel was almost 40 km per hour in the narrow channel of the national park Torres del Paine in southern Chile where no one lives, these balls of light with a diameter of about forty centimeters seemed to take pleasure in following us and to be with us. Housed at the window, nose pressed to the glass I was so impressed to see such phenomena occur that I still do not understand why I did not wake up my wife who also was very disappointed that I did not. (…) »,
read more written testimony : Article.
25 January 2015, 18 h 30 at the
Holy Cross (Chaudière-Appalaches), details to come.

22 January 2015,
St. Zeno (Lanaudière).

12 January 2015, 00 h 00 – 1 h 00 at the
Quebec (Capitale-Nationale), triangle.

7 January 2015, 6 h 23 at the
Lachine (Montreal), the moon completely blocked by a passing object to.

8 January 2 h 46 am to 4 h 00 at the
Villeray (Montreal), suspicious lights north (and N-O) neighborhood : green-blue-purple.
1January 2015, 00 h 05 at the
DETAILS. UFOs seen in Charlesbourg, Quebec, Shortly after midnight on this day of the & rsquo; year, were "Chinese lanterns".
31 December 2014
St-Georges-de-Beauce. A witness who filmed orange balls 15 m on Monday called for the provincial police to report his sighting. Police response : « On s'en calisse ! does not interest us… ». Fortunately, the witness was not discouraged, and that & rsquo; then she found on the web.
1December 2014
St-Jérôme, 1December 2014
A flying saucer (65 m diameter) drove a car and & rsquo; grazed only 7-8 m. No impact on the car.