Note that & rsquo; s it & rsquo; d & rsquo not act; a map of "UFO reports", but d & rsquo; a relevant UFO cases investigated by the card GARPAN.
Click the link below the images to watch the video or read the article of inquiry associated with each case.
Number of cases investigated or treated by GARPAN :
2012-2014 : 208
2015 : 65
by GARPAN, Professional civil Ufology Investigation.
Yann Vadnais & co.
*
Paper orthotenic positional analysis of reports of UFO events :
We highlight here the work of our predecessors.
Map prepared by Marc Leduc and Jean Vézina, in the works :
UFO-Québec, no. 19, 20, 21/22, 23 (1980)
Application of & rsquo; orthoteny to Quebec comments (1983)
Checking the persistence of orthotenic network for the period 1978-84 (1986).
Network Map orthotenic according to researchers ML. & J.V., UFO-Québec no.20 (1980).
Detail of the intersection of orthoténiques Lines ML researchers. & J.V., UFO-Québec, no. 20 (1980).
*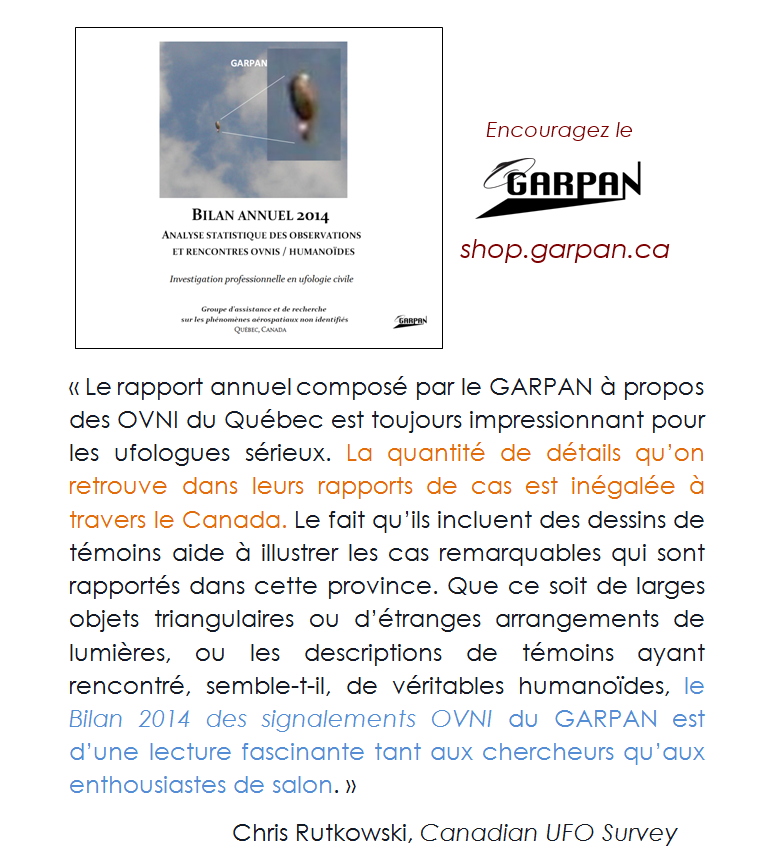 Obtain the Balance sheet 2014 : 89 If d & rsquo; observations and encounters UFOs / humaNoida. Free !
Site du Canadian UFO Survey which recognizes Canadian statistics from UFO 1989.