Flying saucer and "temporal cloud" in Lasalle, 1July 1980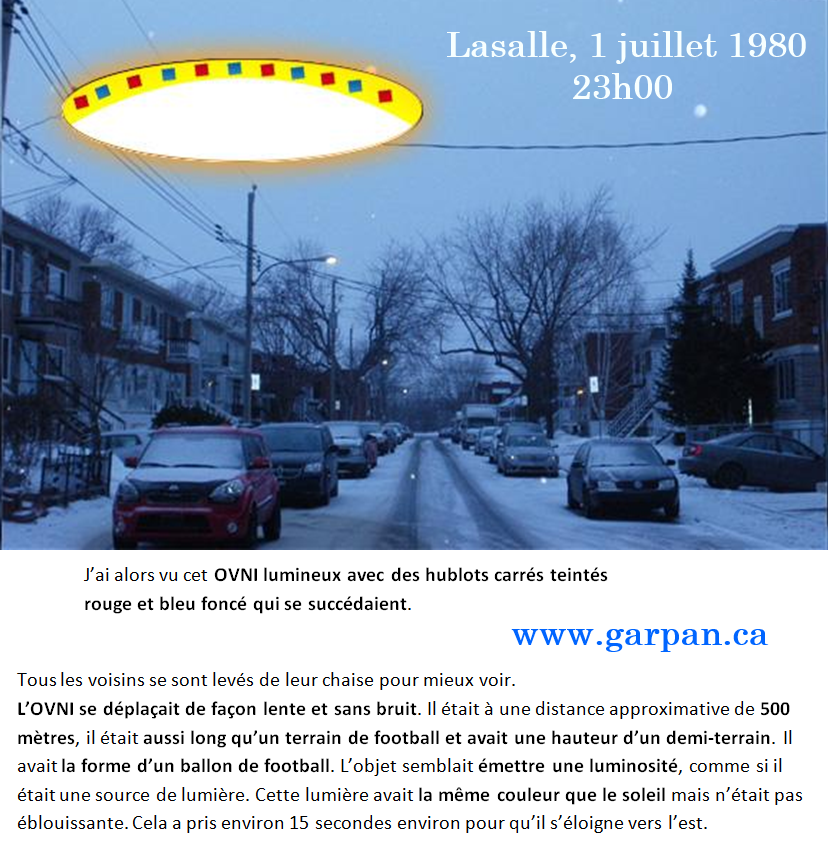 Text and investigation Maxime BOUCHER.
Here's an interesting case of appearance of UFOs occurred in 1980. The witness, 16 years old 16 at the time of the facts, could observe an object the size of a football field over the city for a few seconds.
Trying to find the machine that had moved, the young person has experienced a strange phenomenon : he went through a thick haze to realize he no longer recognized places, as if he was no longer in the same place. He then retraced his steps back through the strange fog, and he ended up where it was originally. The mist had then disappeared.
He then looked up at the sky to find the object to see a big red dot for (possibly UFO) take a plane in the sky. Point changed direction a few minutes later and flew height to disappear. Here is the testimony of the witness :
Ville LaSalle, 1st of July 1980, 23 Hours
The sky is clear, people are outside on their balconies, spirited talk between neighboring bearing, there are about a dozen people who relax in this beautiful summer evening, including my parents and my younger brother.
I find myself in the middle of the street in the process of starting my small plastic rocket contains small round crackers that explode upon impact of the rocket falls to the ground (it was popular in the 70 and 80).
I launch this rocket a few times in the air to see fallout. Suddenly 23 :00 (I had my watch) I look at my rocket and spin at the same time I see this bright UFO with square dark tinted windows red and blue who succeeded.
All the neighbors stood on their chairs to see better. The UFO moved slowly and noiselessly. It was at a distance of approximately 500 meters, it was as long as a football field and had a height of a half-court. It was shaped like a football (reconstitution above). The object seemed to emit light, as if it were a light source. This light was the same color as the sun but was not dazzling. It took about 15 seconds so that it moves away to the east.
I am eager to take my bike as my younger brother to go see where the UFO was moving. We moved on bicycle blvd. Champlain and have turned to the east to see where was made the fascinating craft. He had disappeared. We continued to scan the sky without success. Reverse against, we heard a strange noise on the other side of the aqueduct along the Boulevard. Champlain but the trees prevented us from seeing anything, we heard a car automobile accident and another brake quickly.
So I thought "maybe they saw the UFO". We continued on Blvd. Champlain to the east towards the city of Verdun, which is next to LaSalle 5 maximum minutes of cycling. We were looking again but without success.
We walked on Crawford Street in Verdun and Boul. Champlain (Photo ci-haut) to continue to look in the sky traces of the craft. My brother from me about 500 meters and suddenly I see a haze in front of me, I find it weird because this was not there there a few seconds and I could see my brother before me. I decided to move in this thick fog, and having crossed, I found myself in a place I did not recognize at all. I felt completely lost me, I did not recognize the places that usually are familiar to me because I live in this area for several years.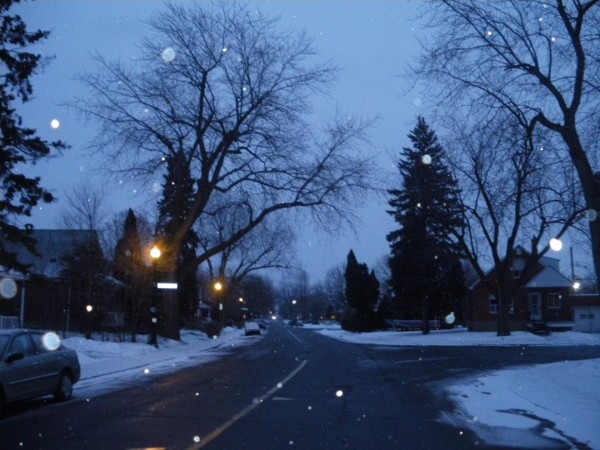 (Photo of Crawford Street in Verdun).
Panicked after 1 minute, I went back in the thick fog to come out the other side and it disappeared. Almost at the same time I could see my brother back to me asking me where I was. I did not know what to say, I thought I was going crazy and say I was panicked and stressed out with what I had to live. So I told my brother that we were to return home. I do not want to talk. My brother left home to pedaling. So I have looked in the sky, and I saw an airplane a big silencer red dot coming towards the rear.
It lasted a few seconds. The big red dot subsequently dropped out of the back of the plane to fly higher in the sky and disappear. I returned home by joining my brother on the way and he asked me why I stayed and I told him "I saw a big red dot on the back of the plane that disappeared more». Then I did not want to talk about thinking again that I could pass for a fool if we talk to the other. While returning home, my parents asked what we had seen and I told them that it had simply disappeared.
My brother and I have never speak again of that since that time. I preferred to keep it to myself, the UFO subject always ended ridicule, because even my father spoke and turned all into ridicule a few days later, then nothing to help me be able to talk. It is only ten years later that I was able to speak again but no more.

(Photo of Crawford Street - Verdun and rue. Champlain the red dot on the back of the plane).
NOTE : Witness and the witness were entrusted to me by Yann Vadnais of GARPAN (www.garpan.ca). All photos were taken by the witness and were retouched for reconstitution by Yann Vadnais. The cover photo has been retouched by Alexandre, UFO blogger for Info-.