TOP 10 Garpan of investigations in 2015
Each year, the GARPAN a retrospective of the best cases received and / or investigated during the year. This gives the public a good idea of ​​the scope of our investigations and in fact the result of writing our annual report, which contains 2015 fifty cases treated or investigated. We remind you that the GARPAN receives no financial support and that the ideal way to support us is to get our Annual Review :
Order Balance sheet 2015 Tickets : book / eBook.
Releases the 21 January.
85 p. or +
Download the Balance sheet 2014 has Garp, Statistical analysis of UFO-humanoid comments ! (113 p., free)
*
Here are the ten best investigations of this year Garpan :
(excluding TOP 10 of 2015)
(please note ! In order not to overload this page sometimes voluminous records of these cases,
we hung each links to article, the video, images, to texts, etc.)
Humanoid in Sainte-Marthe-sur-le-Lac, 1966

Investigation : Yann Vadnais, Tobi Guillemette, Pierre Asselin, Jean-François Primeau, David Leblanc, Julie Bélanger.
Marcel : To me, when I saw for the first time, I thought : "Ah, there is someone there. ». He was far. The second time, well there, I thought : "How come I do not see his face ? ».
Denis : It is repeated here.
Marcel : And then there, adrenaline started ... Here, I, it started to be more ...
Denis : ... It was starting to get weird.
Marcel : There was something : "How is it that I do not see his face?». You liabilities, [I] means, if it had been a [man race] black[and], we would still see his face. Mais là, I did not see it ... it was uniform. The second time [I looked], it piqued my interest and it started to wear me. As, I did not dare look ... Then when I looked at the third time, I thought : "It's something else! This is not a human! »
*
2. Metal sphere in Beauport, 1997
According to him, the sphere was from Sainte-Brigitte-de-Laval valley. The sighting lasted about in his 15 to 20 seconds. The object was approximately the height of the airliners he usually see in front of her home when preparing to land.
To estimate the size of the observed sphere, the witness presents a metallic sphere about 5 cm. He points to the sky above the houses across from him and hands it to an arm's length. He says it's about the size of the sphere he saw through the window.
The witness explained that'There was no cloud or plane in the sky at the time of observation and did not see the sun directly. At one point, the sphere was illuminated by the rising sun and like a wasp nest with gray stripes. He did not see flashing lights, antennas or anything whatsoever on the sphere. It seemed perfect.
According to the witness, She moved slowly about 50 km/h over houses. When the sphere is removed, he saw change of gray color to a golden color (possibly due to the reflection of the sun on the sphere according to the witness). He also noted that there a little distortion or air diffraction around the sphere side lit by the sun. He thinks that the sphere could be very hot. He did not hear any sound. A few seconds after, he immediately told his observation that his wife down the stairs.
He felt that the time had come for him to go public after all these years.This observation has completely messed beliefs, his way of designing his personal life as an individual as well as his view of life in general on Earth.
Investigation : Yann Vadnais, M. S., Jean Morissette, Lux Files, Jean-Claude Francoeur.

*
3. Ship "reptilian" in St. Clair, fall 1989-90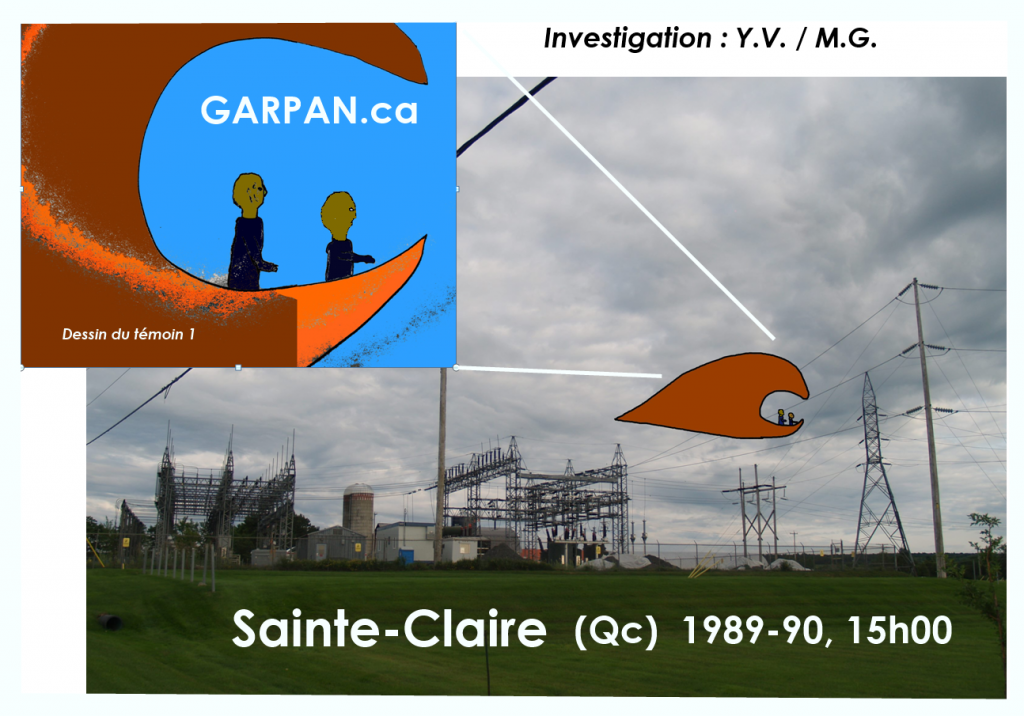 " Leaves, all of a sudden, just above the way we see the UFO that passes very slowly over the road while we advance. He is going to stand like that on top of the power plant, then he stops there. We, we advance, the vehicle is stopped, and then we look at the. We clearly see that the front of the UFO, il y a 2 beings who are there: a forward and then the other is right behind.
It looked like a rusted mass. It looked like it was colored "rust". We would have said, not metal, but it was color "rust". It was solid, it was not the invisible you know. This was not a "light ship". »
Investigation : Yann Vadnais, M.G.
*
4. Black triangle in Lévis, 2013

"The sky was clear. I got out a cigarette on my balcony. I sat quietly looking at the sky. Away, I saw a light down. It was becoming brighter. I thought first of a helicopter. Then, it looked on fire. I thought a missile had been launched. To my amazement, the object suddenly stopped its fall. At that time, the subject was to be found above the junction of Guillaume Couture Boulevard and Chemin des Iles, near the Valero refinery, is approximately 1,6 km de mon point d'observation (see below map). Suddenly, the object changed direction completelyand suddenly headed toward my apartment. When I saw it, I thought: " Fuck, it's either military or something else ! ». I then thought of a stealth aircraftbut when the object is closer to me, I could see clearly that it was not a plane or a helicopter or any device that could have been built by humans as it was gigantic and silent. »
Investigation : M.S. and Yann Vadnais
<
*
5. flying saucer in Berthierville, spring 2010-11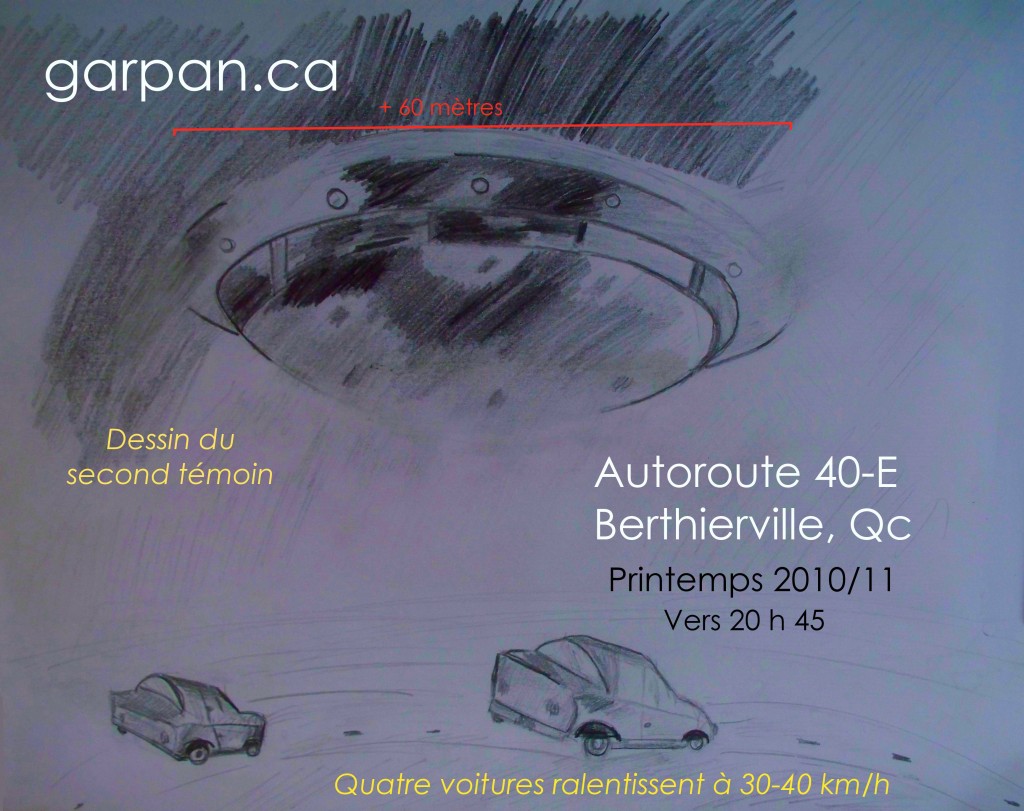 This observation took place probably in the spring 2010, but the lady is not sure of the exact moment.
She and her husband drove a car on Highway 40 east towards Quebecwhen they suddenly saw in the sky very low altitude a huge UFO that was almost stationary just before the exit of St Philomena rank, near Berthierville.The UFO was extremely close, almost above their heads. It evaluates the height at which the UFO was to 2 or 3 times the height of a viaduct crossing the highway. The height of the UFO could be compared to that of the planes are about to land. Son diameter should be at least 60 meters ("Wider than the two east-west highways met"). It was no noise.
The craft was color gray-brown. He felt material and simultaneously evanescent. Alight mist was present around and a little below, but this did not prevent him from seeing clearly. The machine had the typical shape of a flying saucer and there was lights white (?) below, but it can not provide more details, because his memories are not clear on this point.
It states that at the time of observation (20h30- 21h00) it was the darkness. The sun had just set. They were not alone in seeing the UFO. Three or four vehicles were present in front of them and they all slowed to the same speed at the same time around 30 to 40 km/h. She says they seemed lose track of time.
Here are some interesting quotes from the witness :
She said suddenly to his spouse who was driving the vehicle : «They, look left. Ben voyons, what is it ? »
"It was HUGE ! It was a huge flying saucer. It was crazy, it was crazy ! »
She said to her spouse : "Slow down, we go back. ». Her partner told him : "It does not matter ! On continue ! ».
"It was very close, very true, very real. To me, there is no doubt, it was so huge, it was not human. It was a huge flying saucer. »
Investigation : Yann Vadnais et M. S.
*
6. Abduction in Britain, November 2014

Read more.
Listen to the complete issue (ODHTV).
Investigation : Yann Vadnais, Gilles Thomas.

*
7. Seismic light at Saint-Antoine-sur-Richelieu ?, 28 June 2014
Investigation : Jean Vézina, Jean-François Primeau.
*
8. Two 'Chewbacca' flying saucer in Saint-Hubert, June 1965
Listen to the testimony (first minute only).
Investigation : Yann Vadnais et Jean-François Primeau.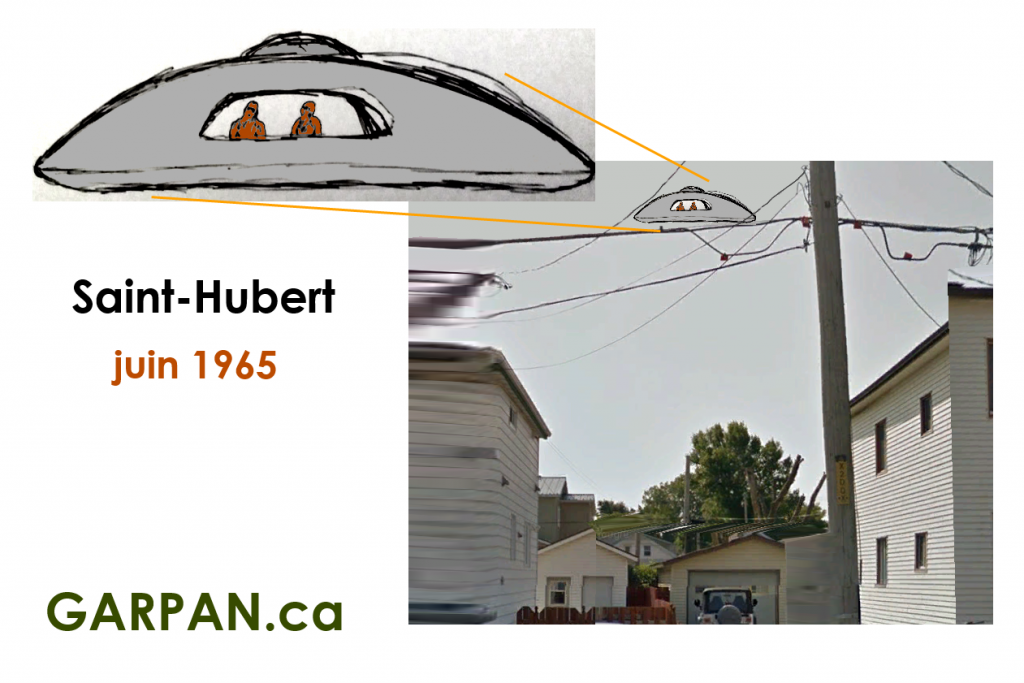 *
9. A 8 December fateful, New York, 1980
Listen to Louise passage of the UFO-Show.
" When he [UFO] initiated its turn to me, I realize that this chose-as - And this is the point I was most shocked. On the rap, I screwed up the brakes. I had to ride around 60 miles per hour and I pressed the brakes, emergency. At this moment, I realized that the object was above ground and not on the road. He turned to me. Finally, it did not address the curve [de la route].
The way it was placed, it was spinning and I & rsquo; had mistaken the road path. L & rsquo; UFO was oval with lights. It turned. And then it was not to bar my way, but he was there ...
Therefore, at that time, I pressed the brakes and I engaged on backwards - I remember it clearly - in order to save me. I remember having chills. I never felt my hair stand on end like that rights : I swear, I had to have one leg straight hair (laugh). When I did that, I put my hand on the shoulder of my friend and I said : "Look, look ! ». When he woke up, il a dit : "Look what ? ». I turned around and there was nothing left. My friend thought that I & rsquo; dreamed. At this moment, I started to move, but with fear, because I knew I invented nothing.
Therefore, je continue, I primer the curve [de la route] and then after about 10 or 15 minute drive, and then at some point my friend told me : "Is that's what you saw ? ». At that point I looked out the windshield and there was "something" was going at the same speed and we approximate flying over the treetops. It was really, really the same thing, the same shape, Similar lights, practically equal, he did no noise.
Là j'ai dit : "It will happen something ! ». It was clear in my head. And then finally, saying that, the car stops completely, completely, completely. More light, nothing. I just had time to catch the 'stering' [handlebar]. And then I panicked, I crossed out the doors and there I was afraid. I was scared. »
Investigation : Yann Vadnais, Mathieu Leclerc.
Our full investigation of this case will be published in our book "Missing Time and kidnapping", in June 2016.
*
10. A mutant in Saint-Germain-des-Prés ?, Paris, 19 August 2010
Details forthcoming.