Appearance of a humanoid in St. Croix
Text and investigation Maxime Boucher
Date : 27 June 2014 vers 2h25 am.
Place : Holy Cross, Quebec
Type : Humanoid of unknown type
In the middle of the night, after his shift a young man 18 years returned home where he lived with his mother. By joining his room he passed the back door of the house. At that moment a figure standing behind the door drew his attention (the door having a window which covers the majority of the door). Looking better, he realized that a be about 1 meter 20 trying to look into the house through the magnetic screen behind the door.
Fear and won the blinking, humanoid disappeared. The witness could not distinguish the features of the entity due to darkness but the figure was clearly visible because of the lights behind the house (from a vessel a little further) brought out a few more features of the contour to be. This appearance is strange in itself but the witness's mother also seems to have lived precursor phenomena, as unexplained sounds in the house and strange forebodings before everything happens.
Weird Facts
Shortly before that his son had seen a being with its rear door, the witness's mother had seen the light of his house before light for no apparent reason. This light was sensitive to movement, yet even after checking nothing abnormal had been spotted. More, after knowing for humanoid same thing happened a little later, as if prowling around the house. Upon inspection of the witnesses during the morning after the onset, a light that was planted in the garden had been moved a few feet for no apparent reason.
Google Map of St. Croix

Testimony
I returned to work 2:25, on returning home I went to my room with the light of my cell to not open the light path so as not to wake my parents. Just steps from the door of my room, I saw the corner of his eye, toward the door leading to the rear of our course overlooking the gallery, a form watching me. I turned my head in that direction for about 3 seconds, I saw a little be about 3 feet with a large head and long skinny arms, shoulders were wider than the rest of the body. His head press the glass door with hands on each side of the head as if he cut the light coming from each side.
Door where the apparition occurred – Design of witness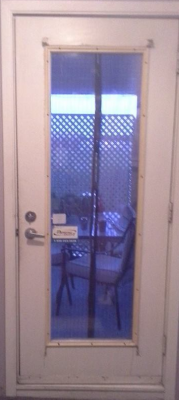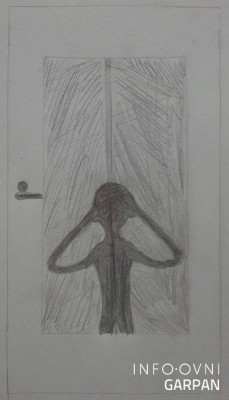 Landscape behind the back door where the occurrence happened. The school planned lights that were blocked by humanoid.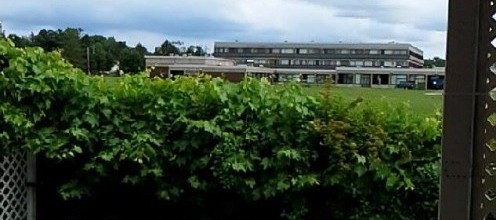 In fact as a thief who looks inside… The regardait me. When he saw that I saw, the time I blinked to make sure I do not hallucinating, it disappeared quickly. I was so surprised and at the same time I panicked I did not dare go near the door to go outside, I preferred back. My mother woke up about half an hour later and I told him what I had seen. She immediately turned on the outside light to see if there was something but there was nothing. I have not slept all night. We were both scared because my mother told me that she had heard a few hours before. All surrounding noises became suspects! I've never seen that before.
Testimony of the witness's mother
When you feel that something wrong will happen and that your feelings do not deceive you…
Hier soir [26 evening, June] returning from my sister who was the anniversary, I saw strange lights that flashed high in the sky, I thought it had to be planes traveling to another continent. I decided to try an old film camera night vision to see if I capterais some stars that glittered not bad.
Installed on my deck back, I find that my camera was not good for it. I have to go inside my resentment when told that someone is close! My course is closed because I have a pool so nobody can be there in principle.
The entrance leads to the rear porch was always padlocked.
Photo taken in the morning after the onset.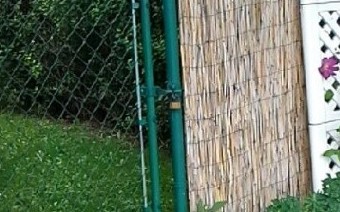 Fear has taken me a little, then I have to enter the house and "paffff"! A huge hit on the wall close to me as if someone had hit a slap! It is about half past midnight, my son finishes work and back to 2:15. I go to bed trying to sleep and as sleep comes after 1h attempt, I hear a strange sound outside my bedroom window by my side. A roar like a turbine engine as I have sometimes heard. Comme mon ami Maxime [author of this article] suggested me, I tried to record the sound with my tablet and my cell. I doubt whether this is a boat that goes far since its sweetness disappears as if it went away. I go back to bed… I doze and I hear my son arrived from work and I lose the card.
At 3am, I wake up suddenly coughing like a sick, as if I had to breathe a bug, I get up and see that my son is in the bathroom. He hears me and choke me to hurry out. A little freaked he said, you'll never guess what I saw earlier in the rear door window! (I have no curtains or blinds on the long window) he's frightened eyes and he did not want to go to the gallery so he got scared and my son is not shy usually. He said he saw a being about 1 meter high which looked inside, he thought hallucinate and looks as it should and "poufff" ça the disparu! The Quand ça m'a dit, fear has taken me! Another reason to have a hard time falling asleep! This confirmed my feeling that there was something wrong that I strongly felt a few hours before! He saw the outline given the darkness and the light that came from behind off, so no detail of color or shape defined.