The "Balance Sheet 2014 "Garpan offered free of ! (114 p.)
After putting on sale our "Bilan 2014 "During nine months, — the only way to subsidize us — Finally we are releasing aujourd & rsquo; hui. This Balance sheet of 114 pages, which has already been submitted to the Ministry of Defense, RCMP, the SQ and the & rsquo; Association of Chiefs of Police of Quebec, represents well the quality and the number of investigations Garpan. Containing Dozens of photographs, clichés videos, sketches of witnesses, fragments of stories, of maps and spatial reconstructions of events, the document also presents a scientific riddle to establish permetant statistics of all 89 If UFOs / humanoids treated 2014 using graphics, and rating scales called : Strangeness Index, Probability and Reliability Report. These statistics are awarded annually to Canadian UFO Survey, which compiles the Canadian statistics from UFOs 1989.
Download free of charge
the Balance sheet 2014 has Garp, Statistical analysis of UFO-humanoid comments.
(Click the link to download the PDF.)
*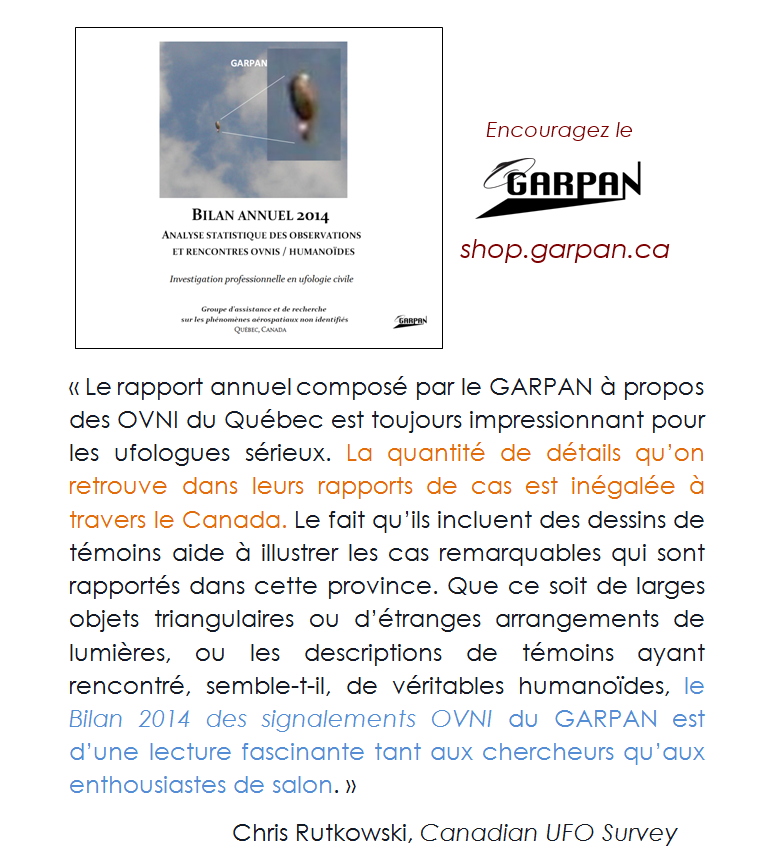 *
If you are interested in purchasing our annual statements 2012 and 2013, order our "Directory Garpan" (240 p.)
including annual reports 2012, 2013 and 2014 (208 case).
*
Some pages Balance sheet 2014 :