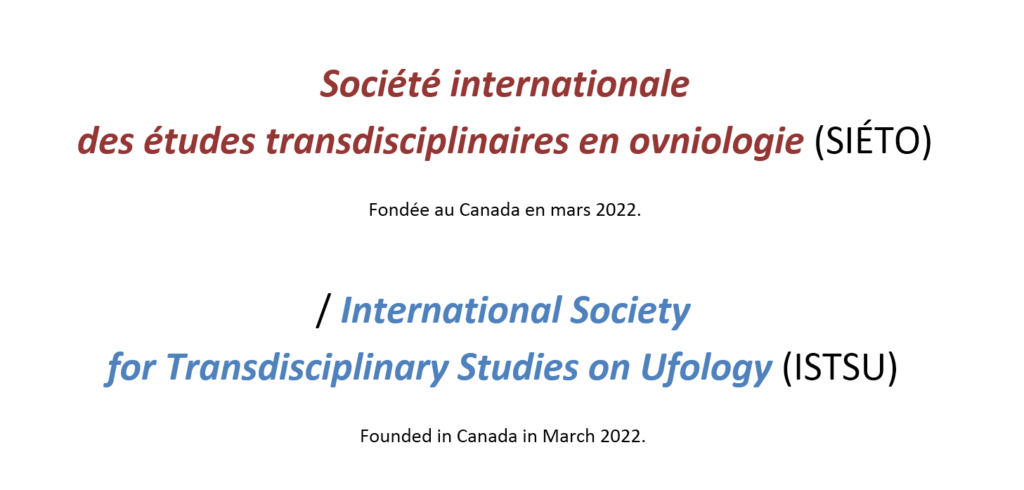 French site of the SIÉTO : https://sieto.ca/
English site of'ISTSU : https://sieto.ca/en/
Learned society of university researchers working at the creation of an academic journal, bilingual, peer reviewed, associated with a university. Submit an article or review : yann.vadnais.1@ulaval.ca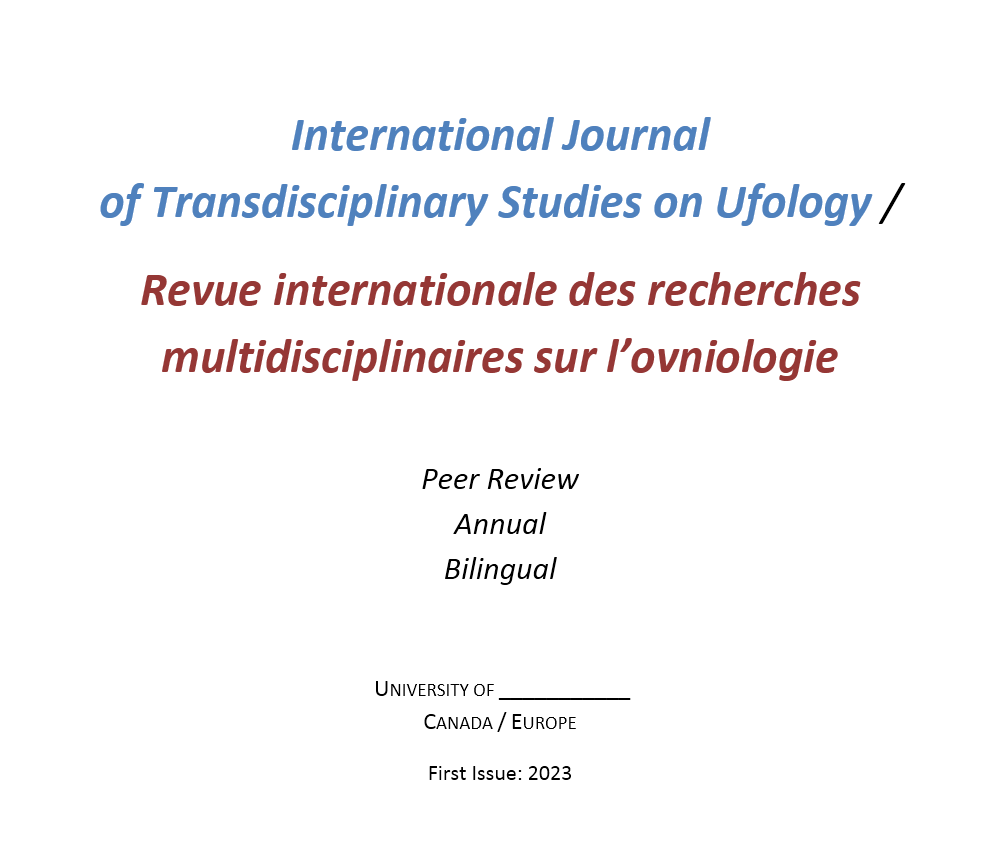 ---
[1] Title International Journal of Multidisciplinary Research on Ufology / International journal of multidisciplinary research on ovniology.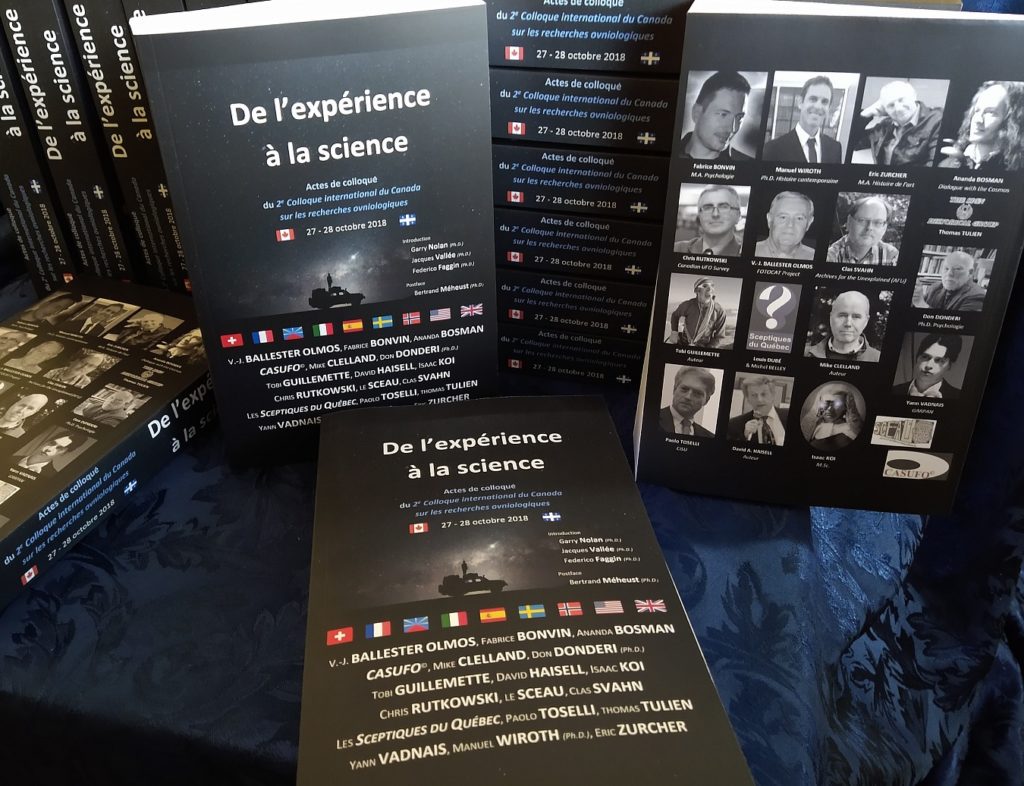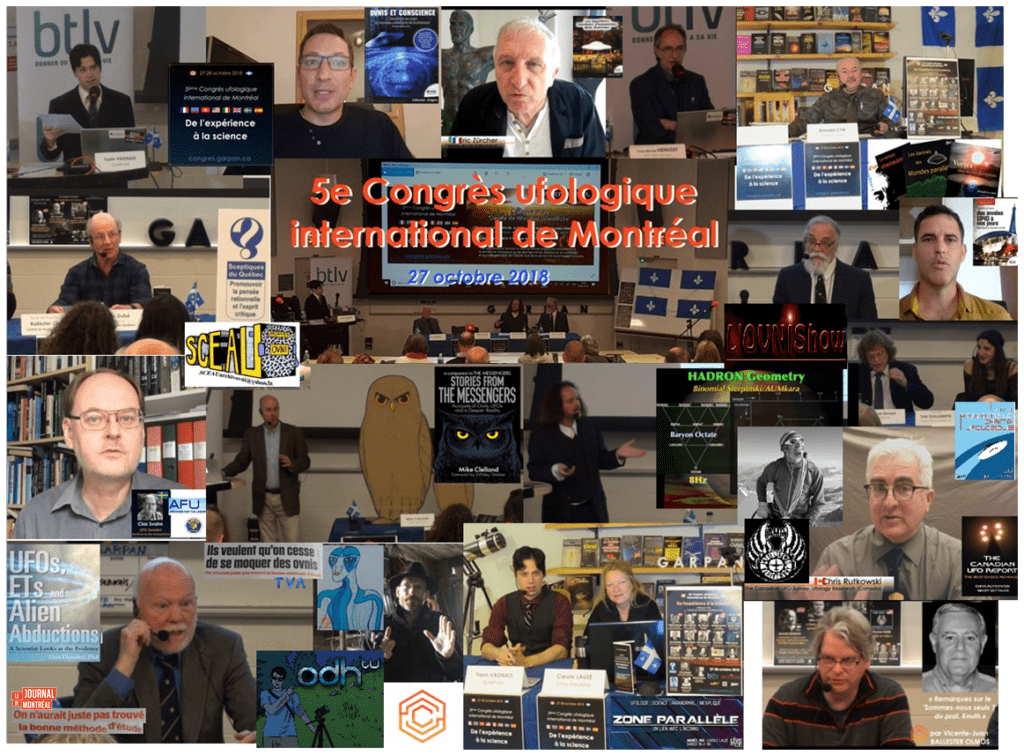 The GARPAN is particularly proud of & rsquo; have collaborated twice with students d & rsquo; Quebec universities as part of internship and research project. Indeed, we believe that & rsquo; future of rigorous research into UFO necessarily requires increased recognition of UFO phenomena in the institutions d & rsquo; education.
The first reason is obviously that the UFO phenomena are subject to psychological and sociological studies, historical research worthy, d & rsquo; comparative literary analysis (stories testimonials), d & rsquo; study in Religious Studies (spiritual experiences of witnesses), etc.. C & rsquo; is to say that even if the UFO phenomena n & rsquo; had strictly nothing real or d & rsquo; original, nothing & rsquo; unexplained, the field of & rsquo; ufology remain interesting and conducive to many d & rsquo; surveys and research themes for the Humanities.
En second lieu, it s & rsquo; & rsquo proves that, after 70 years of UFO research, many UFO cases reveal unexplained, credible, extraordinary, mysterious. C & rsquo; is to say that "& rsquo; enigma of UFOs" certainly reflects a phenomenon acting and real, intelligent, leaving traces and affecting witnesses, and therefore that the phenomena (physical, psychological) related to these events necessarily need to be investigated in a collective and professional manner to enhance the methodological standards of our UFO discipline.
In 2015, the GARPAN received and supported a Masters student in anthropology for a "course in Applied Sciences religions" of 85 hours :
Mathieu Leclerc, Montreal university, conducted several types & rsquo; activity Garpan during his internship, that & rsquo; he summarized in a study entitled "The transformation of world views in the experience of spiritual phenomena in ufology". (See article)
In 2016-17, the GARPAN supports an Anglophone student in Anthropology :
X., McGill University, working on a project : « Unexpected Cosmologies : Exploring the Processes of Reinterpreting the Self After Unidentified-Flying-Object (UFO) Experience ».
We therefore reiterate that the GARPAN hope to repeat such academic collaborations with universities and research centers, given that this type of research framework with the aims of the theory of our group and the work we have published, eg'"Essay on the constitution of the & rsquo; ufology in Quebec and Canada".
*
Quebec :

Don Donderi interviewed on television in years 1970.

M. Donderi offers a course for three years « UFOs : history and Reality », to & rsquo; McGill adult, as reported in the journal Montreal Gazette, the 14 January 2017 :

Jean-Roch Laurence, Concordia University, founded theLaboratory autobiographical memory and altered states of consciousness, and oversaw d & rsquo research; hypnosis with abductees who have completed the doctoral thesis of Duncan Day.
Duncan Day, Concordia University, wrote a doctoral thesis on « Psychological Correlates of the UFO Abduction Experience : The Role of Beliefs and Indirects Suggestions on Abduction Accounts Obtained During Hypnosis » (1998).
Pierre Caron, training psychoanalyst, developed an original d & rsquo method, hypnosis and became the "benchmark of hypnotic regression for case & rsquo; removal" in Quebec. M. Caron has recently published a book showing his method and results :
In Canada :
Chris Rutkowski, BSc, With, University of Manitoba, is an author and science educator. He has published annually since 1989 the Canadian UFO Survey, collective statistical review of reports d & rsquo; UFOs in Canada. In 2014, he published the & rsquo; statistical study of UFO reports the largest of Canada "UFOs in Canada : 25 years of UFO reports " (translated by Yann in Vadnais 2016).
Michael Persinger, Laurentian University, American researcher in cognitive neuroscience. he conducted groundbreaking research in parapsychology, Neurotheology in and developed the tectonic strain theory to explain the seismic lights and psychological d & rsquo observations UFOs.
In Europe :
Jean-Pierre Petit, Association UFO-Science, France.
Auguste Meesen.
Bertrand Méheust.
Xavier Passot.
Jean-Jacques Velasco.
Thomas Margout, PhD on UFOs.
Andreas Ohlsson (Sweden), MA in History : « The ghost rocket sightings in 1946 (Spökraketerna 1946).
In America :
Jacques Vallée, computer scientist, astronomer, author and one of the most famous worldwide UFO. He traveled several institutions during his long career : Sorbonne, University of Lille, Paris Observatory, University of Texas, Université Northwertern, University of Michigan, and has published many books UFO d & rsquo; importance.
Jim Marrs, University of Texas, journalist and professor who offered a course on UFOs at this university 2000 to 2007.
Susan Claudia Lepselter, « The Flight of the Ordinary: Narrative, Poetics, Power and UFOs in the American Uncanny », 2005. University of Austin doctoral dissertation.(Free PDF). »
…