"An academic symposium in ufology ... at UQÀM ?! - Public Response GARPAN CBC "
Hello everyone,
Following the publication of a long article published on Radio-Canada.ca, "A Montreal public library opens to the pseudo-science", published yesterday 16 January, I consider it necessary to intervene to supplement the information presented by the major media in Quebec.
I speak here as manager Garpan editions (registered company) et du GARPAN, a group conducting research and investigations on the broad topic of "ufology". I feel challenged to respond publicly to the CBC because of which is set on the major national event we organized in October 2018 toUniversity of Quebec in Montreal (UQAM), namely « 5and International UFO Congress in Montreal ".
A "UFO symposium" ... at UQÀM ?
Believe it or not, this congress was especially the occasion of « 2th academic conference in the history of ufology in Canada ", nothing less. The last dated back to 1980, organized by Chris Rutkowski, University of Manitoba. The 27-28 October, we have collected 20 participants from nine (9) pays to take stock of the progress of contemporary research on this controversial subject.
The objectives of this collective intellectual enterprise were clearly stated since November. 2017 :
Bring together researchers with different positions and even opposed
Each have a conference at the convention, followed by academic quality article for publishing Conference papers (450 pages) s & rsquo; event.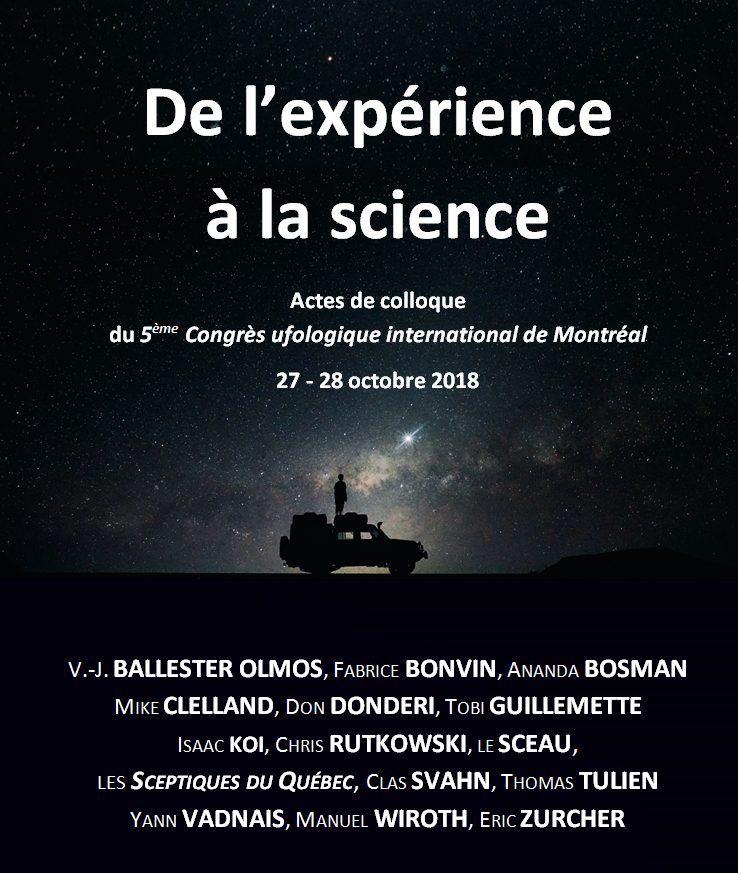 Download plan Conference papers (450 pages) :
The reason UQÀM has wisely accepted the holding of this academic conference is simple, is that it is a true "academic conference" and an interesting realization, except that no institution has supported us in our approach. Led by a scientific committee composed of three members, including Dr. Don C. Psychology. Donderi, retired professor from McGill University, Fabrice Bonvin (M.A. Psychology, University of Geneva, and respected author), symposium ranks, an academic point of view, in the categories of epistemology and the history of science, the psychology and the history of ideas.
Site and ticket the "5th International UFO Congress in Montreal" : https://congres.garpan.ca/
Note the interests of:
Manuel Wiroth, PhD in Contemporary History (The meeting), with a dissertation on the French history of ufology ;
Chris Rutkowski, ufologist most respected of Canada, compiler of the annual statistics of the country since 1989 (M.A. Mathematical, University of Manitoba).
It is therefore inappropriate for the author of the article casts doubt on the relevance of our academic symposium. Especially since VAT, the Montreal newspaper and the Journal de Québec have relayed the information from the 29 October: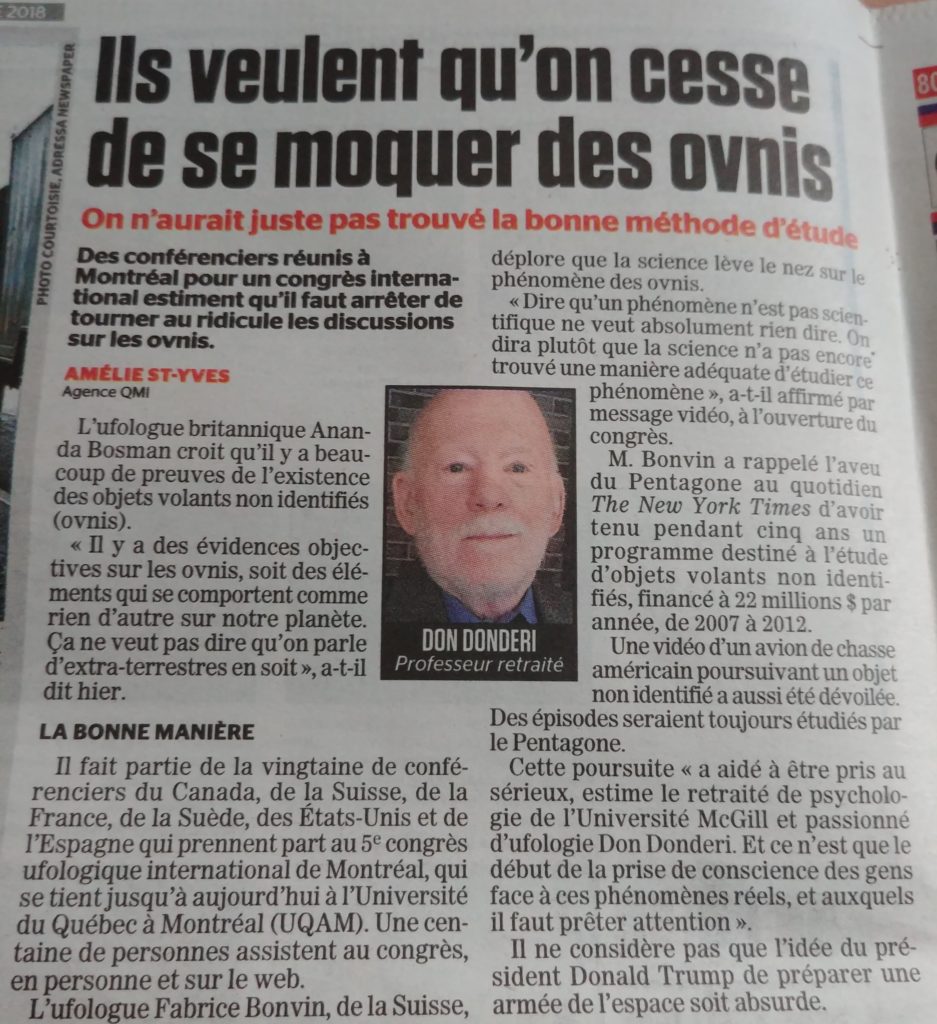 See full article on the TVA website: https://www.tvanouvelles.ca/2018/10/27/congres-ufologique-de-montreal-ils-veulent-quon-arrete-de-rire-des-ovnis
Besides, see for yourself. Cet événement a accompli l'exploit de rassembler des chercheurs ne partageant pas les mêmes opinions en laissant une part significative à la position dite sceptique:
Louis Dubé,

président des

Skeptics Quebec ;

Michel Belley

,

vice-président des

Skeptics Quebec ;

Juan-Vicente Ballester Olmos

,

ufologue espagnol respecté

,

de position sceptique absolue

,

auteur de

400

articles

,

créateur du catalogue

FOTOCAT

.
J'y ajoute: ma présentation qui est une critique historique des recherches dites ufologiques d'un point de vue sociologique et institutionnel, en démontrant que l'entreprise conceptuel de la définition des « ovnis » est digne d'intérêt et de recherche, étant donné la factualité des données à analyser, c & rsquo; is to say,:
d'une part les « témoignages en tant que récits vécus par un ou des sujets »

(

données subjectives

),

et d'autre part les données objectives issues de la convergence et de la comparaison de témoignages et récits semblables

,
Je rappelle au passage que mes approches en ufologie relèvent surtout de l'étiologie (littéraire), de la phénoménologie et de la critique des discours.
Position du GARPAN au sujet de l'« ufologie » et des « ovnis »
Le GARPAN s'intéresse avant tout aux « témoignages » et effectue de nombreux travaux d'un point de vue anthropologique et sociologique. From 2012, nous avons publié plusieurs livres, et aujourd'hui même, nous rendons public notre 7th "Annual Review" that demonstrates the integrity of our approach :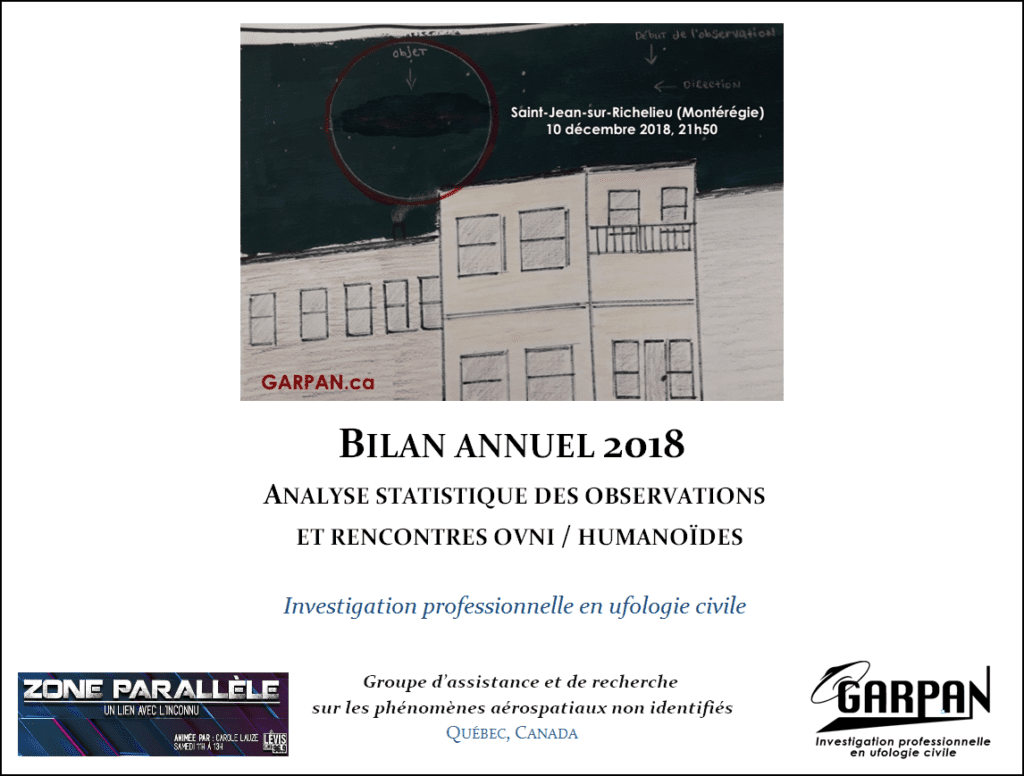 Download the "Balance Sheet 2018 observations and encounters UFO / humanoid ":
Le GARPAN, as groups and several rigorous UFO leading, does not defend "the extraterrestrial hypothesis'. It is therefore absurd to say that we seek "To prove the existence of aliens", as most of the media reports mistakenly.
The UFO phenomenon exists, and we only care to interpret the evidence and data collected based on various parameters, depending on the perspective of the study in question. We rely on many international research, including "more 300 thèses universitaires » ayant traité d'ufologie.
Intervention des

Skeptics Quebec
Je tiens à préciser que je suis moi-même « membre des Skeptics Quebec » depuis octobre 2016, et que je revendique fièrement cette adhésion. The Skeptics Quebec sont un groupe d'environ 300 intellectuels que je respecte beaucoup, en raison de la qualité et la productivité de leurs travaux. More, ils font partie du paysage intellectuel du Québec à juste titre par leur activité culturelle variée, originale et critique. Je vous encourage d'ailleurs à vous abonner à leur revue trimestrielle qui aborde des sujets brûlants de l'actualité scientifique et de la société depuis 31 years.
Une « bibliothèque » est un espace culturel pour discuter et échanger
Sans vouloir allonger cette mise au point, un mot sur la délicate situation dans laquelle M. Yves Michel Henuset se retrouve. Cet ingénieur professionnel a simplement voulu bien faire, en offrant dans son quartier cinq conférences sur des sujets relevant du paranormal pour discuter avec des gens partageant les mêmes intérêts, et voilà qu'on en fait un « débat public » ?!
Je confirme au passage qu'en effet M. Henuset a participé à notre Congrès d'octobre dernier, et ce pour deux raisons:
a) comme il se passionne pour l'ufologie, nous étions intéressés d'entendre la position d'un « ingénieur spécialisé dans les technologies des surfaces » tel que lui ;
b) secondly, et c'est assurément l'ironie la plus grande de cette situation, c'est que monsieur Henuset, à titre d'investigateur pour le GARPAN, se montre plutôt sceptique, rationnel et terre-à-terre !
Je termine en disant que la position de la bibliothèque mêlée à cette histoire est manifestement correcte, cohérente et pleine de bon sens:
«C'est pourtant le rôle des bibliothèques de permettre la pluralité des points de vue, réplique l'arrondissement. »
« Quand on programme des activités en bibliothèque, on le fait à travers une diversité de critères », a-t-il expliqué. « L'un de ces critères-là, this is l'intérêt local, soit les propositions et les demandes que nous recevons. [More], historical research has been done on some paranormal phenomena in the district, especially by local history societies. Therefore, there is a particular interest, I would say. »
« Paranormal phenomena, it is a cultural phenomenon, and U.S, treated like that, that is to say we want to generally allow the expression of debate and information about social phenomena at large ", defends M. Toupin.
"We think this is content that can bring an awakening and simultaneously develop critical thinking », He summarizes. (quotes section of Radio-Canada.ca)
The "UFO", that is to say the "subject of UFOs" is not more dangerous than science fiction, literary circles or role playing clubs (of fantasy, etc.). I would even have to talk more "pseudoscience and unusual stories», and that more scientific and rigorous philosophers examine it and discuss publicly, longer will sharpen public awareness critical.
Yann Vadnais
Quebec city, 17 January 2019