"An academic symposium in ufology ... at UQÀM ?! - Public Response GARPAN CBC "
Hello everyone,
Following the publication of a long article published on Radio-Canada.ca, "A Montreal public library opens to the pseudo-science", published yesterday 16 January, I consider it necessary to intervene to supplement the information presented by the major media in Quebec.
I speak here as manager Garpan editions (registered company) et du GARPAN, a group conducting research and investigations on the broad topic of "ufology". I feel challenged to respond publicly to the CBC because of which is set on the major national event we organized in October 2018 toUniversity of Quebec in Montreal (UQAM), namely « 5and International UFO Congress in Montreal ".
A "UFO symposium" ... at UQÀM ?
Believe it or not, this congress was especially the occasion of « 2th academic conference in the history of ufology in Canada ", nothing less. The last dated back to 1980, organized by Chris Rutkowski, University of Manitoba. The 27-28 October, we have collected 20 participants from nine (9) pays to take stock of the progress of contemporary research on this controversial subject.
The objectives of this collective intellectual enterprise were clearly stated since November. 2017 :
Bring together researchers with different positions and even opposed
Each have a conference at the convention, followed by academic quality article for publishing Conference papers (450 pages) s & rsquo; event.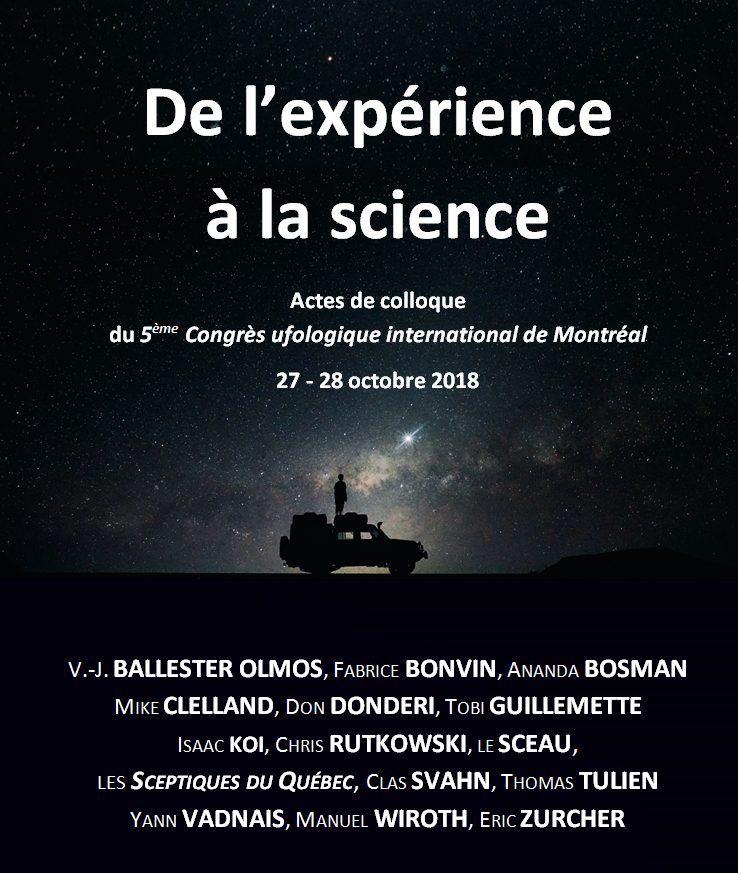 Download plan Conference papers (450 pages) :
The reason UQÀM has wisely accepted the holding of this academic conference is simple, is that it is a true "academic conference" and an interesting realization, except that no institution has supported us in our approach. Led by a scientific committee composed of three members, including Dr. Don C. Psychology. Donderi, retired professor from McGill University, Fabrice Bonvin (M.A. Psychology, University of Geneva, and respected author), symposium ranks, an academic point of view, in the categories of epistemology and the history of science, the psychology and the history of ideas.
Site and ticket the "5th International UFO Congress in Montreal" : https://congres.garpan.ca/
Note the interests of:
Manuel Wiroth, PhD in Contemporary History (The meeting), with a dissertation on the French history of ufology ;
Chris Rutkowski, ufologist most respected of Canada, compiler of the annual statistics of the country since 1989 (M.A. Mathematical, University of Manitoba).
It is therefore inappropriate for the author of the article casts doubt on the relevance of our academic symposium. Especially since VAT, the Montreal newspaper and the Journal de Québec have relayed the information from the 29 October: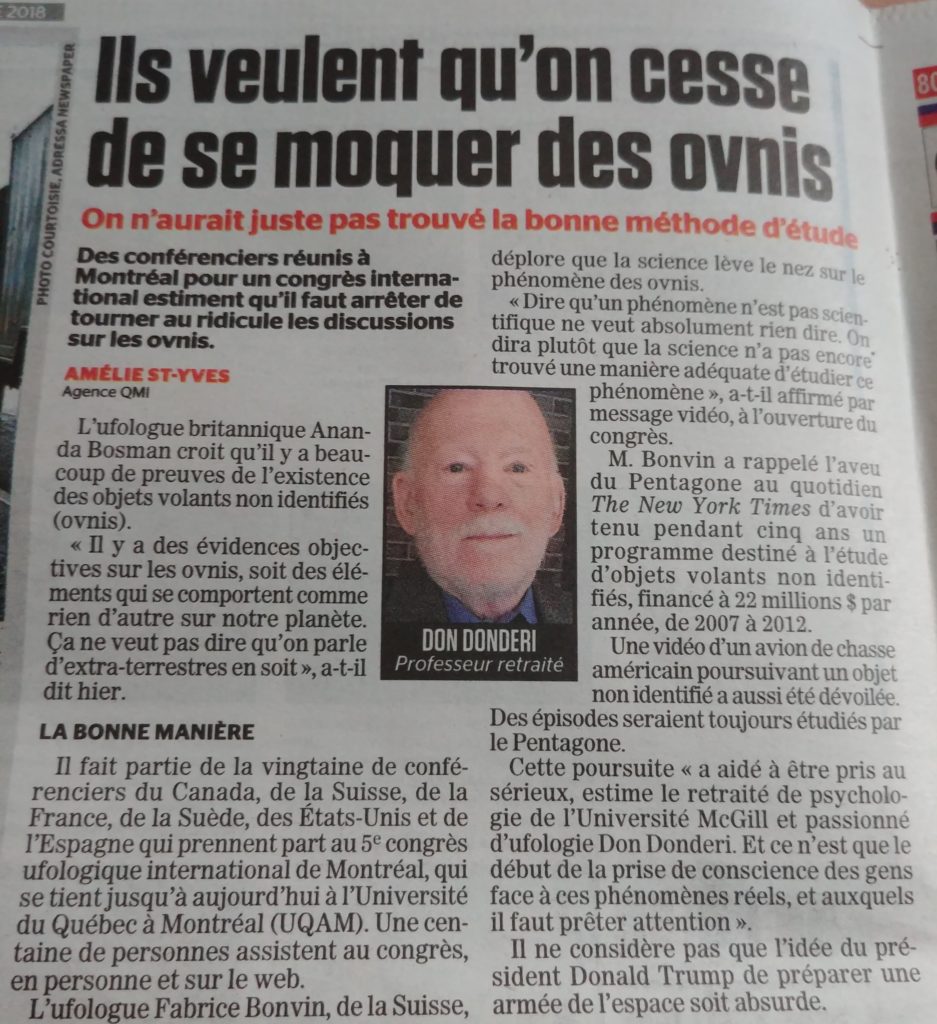 See full article on the TVA website: https://www.tvanouvelles.ca/2018/10/27/congres-ufologique-de-montreal-ils-veulent-quon-arrete-de-rire-des-ovnis
Besides, see for yourself. This event accomplished the feat to bring together researchers who do not share the same opinions by leaving a significant share in the so-called skeptical position:
Louis Dubé, president of Skeptics Quebec ;
Michel Belley, vice president of Skeptics Quebec ;
Juan-Vicente Ballester Olmos, respected spanish ufologist, of absolute skeptical position, author de 400 articles, catalog creator PHOTOCAT.
I add to it: my presentation which is a criticism history of so-called ufological research from a sociological point of view and institutional, by demonstrating that the conceptual enterprise of the definition of "UFOs" are worthy of interest and research, given the factuality of data to analyze, c & rsquo; is to say,:
on the one hand the "testimonies as stories experienced by one or more subjects " (subjective data),
and on the other hand the objective data from convergence and comparison of similar testimonies and stories,
I would like to remind you in passing that my approaches in ufology are mainly related to etiology (literary), of the phenomenology and criticism of discourse.
GARPAN's position on "ufology "And" UFOs "
GARPAN is primarily interested in "testimonies" and carries out numerous works from an anthropological and sociological point of view.. From 2012, we have published several books, and today, we make public our 7th "Annual Review" that demonstrates the integrity of our approach :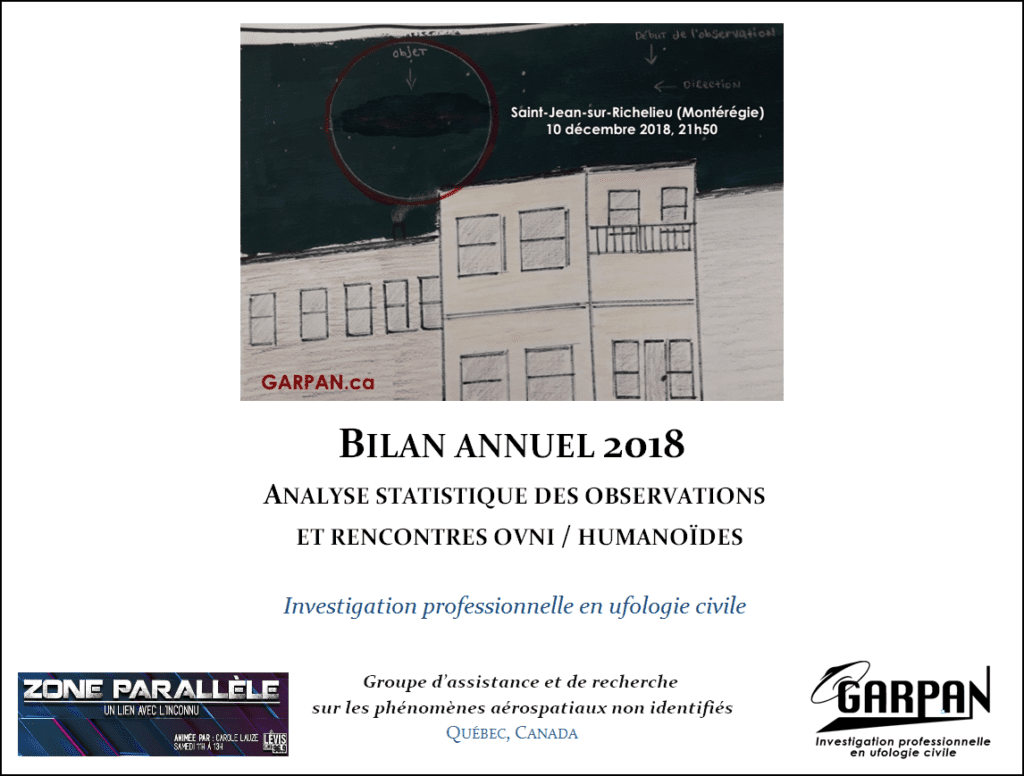 Download the "Balance Sheet 2018 observations and encounters UFO / humanoid ":
Le GARPAN, as groups and several rigorous UFO leading, does not defend "the extraterrestrial hypothesis'. It is therefore absurd to say that we seek "To prove the existence of aliens", as most of the media reports mistakenly.
The UFO phenomenon exists, and we only care to interpret the evidence and data collected based on various parameters, depending on the perspective of the study in question. We rely on many international research, including "more 300 university theses "dealing with ufology.
Intervention from Skeptics Quebec
I would like to point out that I myself am a "member of the Skeptics Quebec »Since October 2016, and that I proudly claim this membership. The Skeptics Quebec are a group of about 300 intellectuals whom I respect a lot, because of the quality and productivity of their work. More, they are rightly part of the intellectual landscape of Quebec through their varied cultural activity, original and critical. I encourage you to subscribe to their quarterly journal which has been addressing hot topics in scientific news and society since 31 years.
A "library" is a space cultural to discuss and exchange
Without wanting to lengthen this focus, a word on the delicate situation in which Mr.. Yves Michel Henuset finds himself. This professional engineer just wanted to do well, by offering five lectures in his neighborhood on paranormal topics to discuss with people with the same interests, and now we turn it into a "public debate" ?!
I confirm in passing that indeed M. Henuset participated in our Congress last October, And this for two reasons:
a) how passionate he is for ufology, we were interested in hearing the position of an "engineer specializing in surface technologies "such as him ;
b) secondly, and it is for sure thethe greatest irony of this situation, it is that Mr. Henuset, as investigator for GARPAN, shows himself rather skeptical, rational and down to earth !
I end by saying that the position of the library mixed up with this story is obviously correct, consistent and full of good sense:
«Yet it is the role of libraries to allow the plurality of points of view, replies the borough. "
"When we program activities in the library, we do it through a diversity of criteria », he explained. "One of those criteria, this is local interest, either the proposals and requests that we receive. [More], historical research has been done on some paranormal phenomena in the district, especially by local history societies. Therefore, there is a particular interest, I would say. »
« Paranormal phenomena, it is a cultural phenomenon, and U.S, treated like that, that is to say we want to generally allow the expression of debate and information about social phenomena at large ", defends M. Toupin.
"We think this is content that can bring an awakening and simultaneously develop critical thinking », He summarizes. (quotes section of Radio-Canada.ca)
The "UFO", that is to say the "subject of UFOs" is not more dangerous than science fiction, literary circles or role playing clubs (of fantasy, etc.). I would even have to talk more "pseudoscience and unusual stories», and that more scientific and rigorous philosophers examine it and discuss publicly, longer will sharpen public awareness critical.
Yann Vadnais
Quebec city, 17 January 2019