TOP 10 UFOs in Quebec 2015 (Garpan)
Each year, the GARPAN a retrospective of the best cases received and / or investigated during the year. This gives the public a good idea of ​​the scope of our investigations and in fact the result of writing our annual report, which contains 2015 fifty cases treated or investigated. We remind you that the GARPAN receives no financial support and that the ideal way to support us is to get our Annual Review :
Order Balance sheet 2015 Tickets : book / eBook.
Releases the 21 January.
85 p. or +
Download the Balance sheet 2014 has Garp, Statistical analysis of UFO-humanoid comments ! (113 p., free)
*
TOP 10 Quebec reports received by the Garpan 2015 :
(please note ! In order not to overload this page sometimes voluminous records of these cases,
we hung each links to article, the video, images, to texts, etc.)
Triangle over Quebec ?, 12 January 2015
Returning home after work, a man seen for an hour walk three stationary points of light, blue, above Quebec City. That surprised him since daily borrowing this way at the same time without having seen nor does having seen these lights.
*
2. UFO photo in St. Croix, 25 January 2015
Complete file forthcoming.
Investigation : Carole Lauzé.
*
3. PAN Charlesbourg, 28 March 2015
Read the article.
Investigation : Guillaume Lamothe, Yann Vadnais.
"I take my binoculars while in the vestibule of the entrance near that we exchange.
We can distinguish a form consisting of three interlinked spheres. it looked, in graphic terms, three tennis balls linked by bits of straw, the whole forming a triangle. These balls sometimes change shapes retain their roundness. We observe the irregular movement, as if the thing turned on itself in all directions at a speed that allows to perceive the movement easily. This movement gives the impression occasionally that the object is composed of a, two or three spheres. The object is always stationary in the sky.
Then it maintains its rotation while moving very slowly toward the south about 4 or 5 km, very difficult to assess whether high. The spheres of the object then pass silvery from start to orange in stationary and rotating fashion.
Thereafter, nothing. Everything was finished in 16h. »
*
4. Flash in Saint-Gabriel-de-Brandon, 12 April 2015, 2h30
Investigation : Yann Vadnais.

*
5. night lights in St. Croix, 27 and 29 April 2015
Folder and in situ interview to be published soon.
Investigation : Carole Lauzé, Yann Vadnais, M. S.
*
6. A UFO crossing the road, Sainte-Émilie-de-Energy, 10 more 2015
Video investigative forthcoming.
Investigation : Yann Vadnais, Mathieu Leclerc.
*
7. night lights in Valleyfield, 1 and 29 more 2015
Two testimonies by two witnesses. From the testimony of observation 29 more :
"I have seen yesterday at 10:40 p.m.. They were above the field, just behind the row of cedars. There were a lot of planes, and it really was not the same. The sky was clear from my point of view. She was the dune tennis ball size, maybe a little bigger. There was a larger than the other. Both acted as if they were dancing together. They moved in all directions : left, right, top, low. Always current and after "paff ! » : the smallest is gone and the largest has landed as softly, as if it had come down in field. The duration : about a minute. I woke my daughter, but she has not had time to see.
I live in Great Island [in Salaberry-de-Valleyfield] in the countryside. »
Investigation : Yann Vadnais.
*
8. bright ball in Sainte-Foy, 14 June 2015
"By leaving the balcony, I looked in the direction of Venus and Jupiter makes us a beautiful spectacle these days, and I noticed a bright light between the two which stood obliquely. I first said : "It is rare aircraft from that direction. », then "Perhaps is it the Space Station or an iridium satellite ? "I stared at the orange light, and, as it was near these planets, it was easy to observe its movement, but I noticed that the light "wriggling" from right to left and seemed not to follow a straight path. This is where I applied it as a type of UFO "orange ball of light", as I saw the 2 June 2014, 2h40, Saint-Luc in a field, Montérégie.
I ran inside to get my camera was at hand and began to shoot up a few seconds. I then leaned on the railing of the balcony and I aimed the light that had progressed in my direction and that was at the foot of the coast of Myrand Avenue, about 300 m d'altitude. I immediately noticed that the image of the camera does not make all the orange hue of light. »
*
9. UFO 2 km Parliament, Hull, 22 July 2015
indirect testimony received by the sister of the witness in the hour following the event. Two witnesses reportedly observed several minutes a great shape and several lights above the viaduct crossing over the highway 50, that is to say only 2,3 km Parliament. While the direct witnesses refused to transmit their testimony, we suspect that there has been an abnormal event, given the intensity with which we reported the incident.
We respect the decision of witnesses, but here we hope that other witnesses occur.
*
10. Close encounter in Saint-Jean-de-Matha, 21 November 2015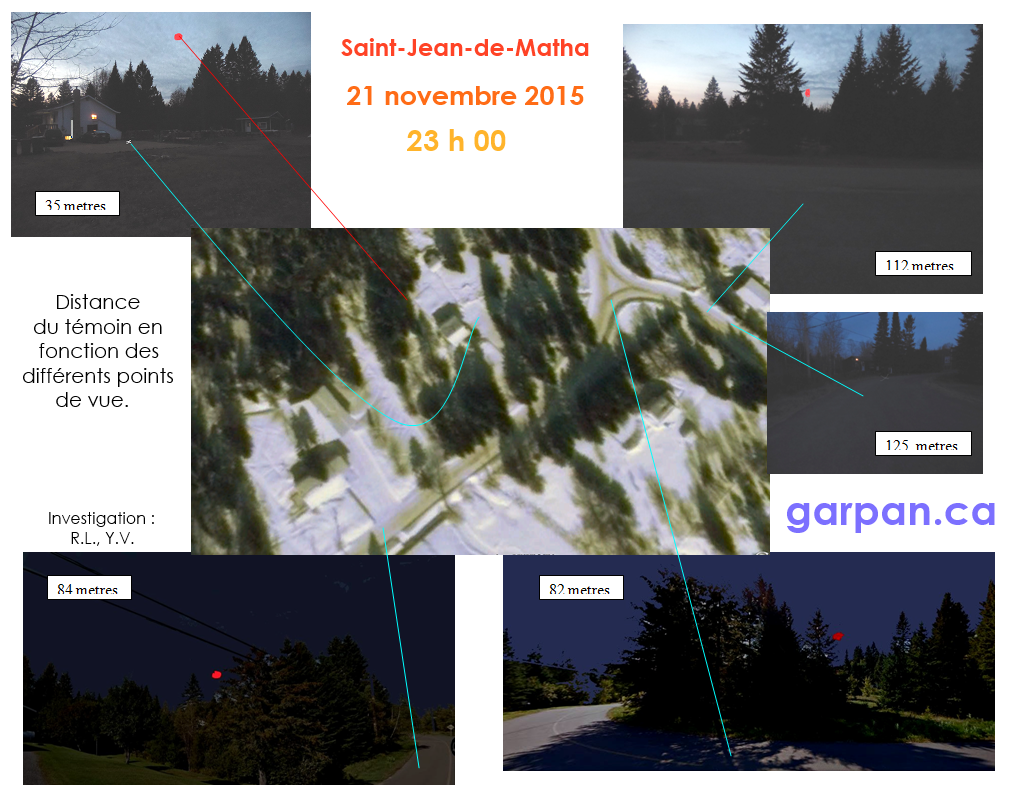 Investigation : R. L., Yann Vadnais.
T "Yes. It is around 11 evening hours [23 hours]. It was the 21 November 2015.
I leave the house with my brother, I walk, I cross the street.
I walk through some trees and then there I look.
I see in the air a big red light. The medium is super red kind, and then, surrounding, that's great… How can I say that ?
The light up, descend, monte, descend, monte, descend super grand. So it is really high.
I always heads home. I approach more [light], and more.
I was looking, I was looking, I looked around a little while 2 minutes and after, saw it not not disappear, I'm back home. [In fact the witness moved and looked at a third point of view.]
E Do you said red light moved up and down ?
T Not. of the time reduced the increase and then after super strong.
E Tell us how big it was ? Compare it to an object ?
T Genre 2-3 bus one beside the other. bonded.
E Three buses one beside the other paste ?
T Yes in this genre, but it made a circle. »
Encourage GARPAN by purchasing our ldrunk and eBooks !