Large saucer near Berthierville, spring 2010/11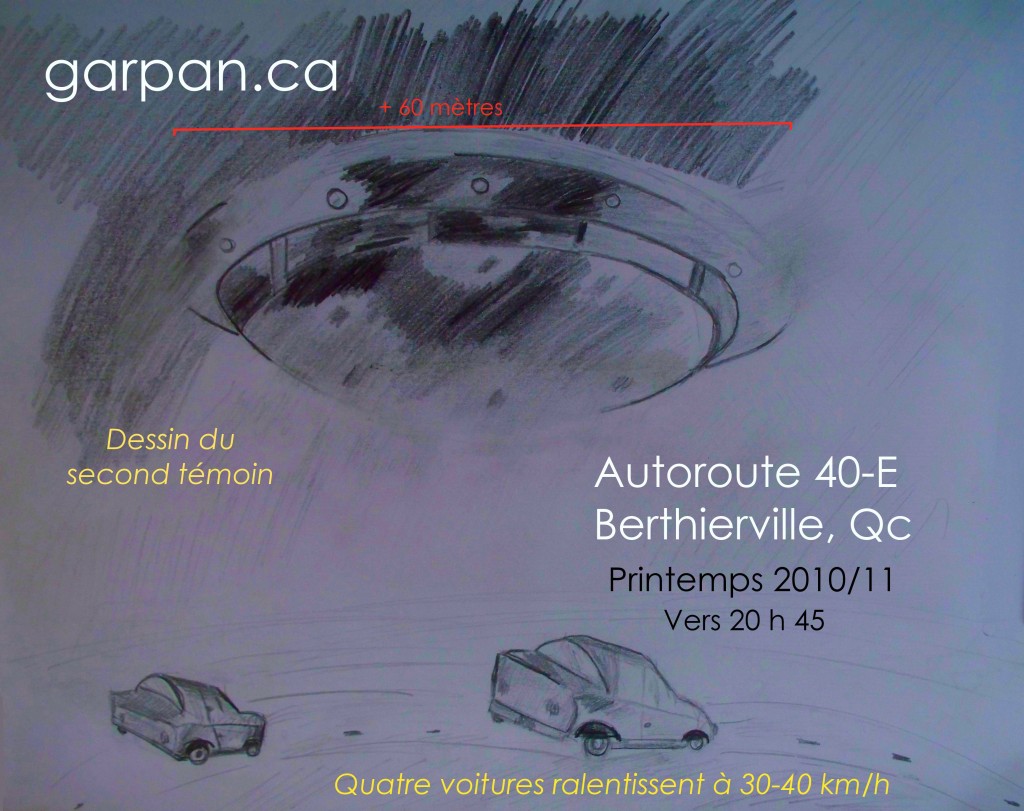 Transcript of the testimony of the woman (second témoin)
Interview : Yann Vadnais, completed on 10 April 2015.
Summary by m.s.
This observation took place probably in the spring 2010, but the lady is not sure of the exact moment.
She and her husband drove a car on Highway 40 east towards Quebec when they suddenly saw in the sky very low altitude a huge UFO that was almost stationary just before the exit of St Philomena rank, near Berthierville. The UFO was extremely close, almost above their heads. It evaluates the height at which the UFO was to 2 or 3 times the height of a viaduct crossing the highway. The height of the UFO could be compared to that of the planes are about to land. Son diameter should be at least 60 meters ("Wider than the two east-west highways met"). It was no noise.
The craft was color gray-brown. He felt material and simultaneously evanescent. A light mist was present around and a little below, but this did not prevent him from seeing clearly. The machine had the typical shape of a flying saucer and there was lights white (?) below, but it can not provide more details, because his memories are not clear on this point.
His memories of this event are sometimes clear and she as "flashes" and. at other times, they are less, that's why she wanted to tell his story and thought to be hypnotized in order to clarify certain points.
She spoke of this exceptional observation to his family and loved ones, but as there was little interest from them, his memories of observation are as fallen into oblivion.
It states that at the time of observation (20h30- 21h00) it was the darkness. The sun had just set. They were not alone in seeing the UFO. Three or four vehicles were present in front of them and they all slowed to the same speed at the same time around 30 to 40 km/h. She says they seemed lose track of time.
The witness says that about a week after, they returned on the highway 40 to Montreal and found that the highway was closed segment. She wonders why the ramp to the highway was closed for no apparent reason while the construction work was completed.
She added that she would love to get in touch with people who were also witnesses of this observation. She says she has not felt threatened and she was afraid, but not that much, because she was trying to find a rational explanation for all this. However, at the bottom of herself, she knew very well how the phenomenon she had to do.
She believes that this observation would have lasted 10 minutes !!? and she wonders why she has not returned to see him when they moved away. She admits not remember if it is returned or not.
She remembers they stopped 15 to 20 minutes later at the McDonald's restaurant in Berthierville and they were very upset.
She remembers having sent an email to his sister on the same day to inform him of his observation quite exceptional, but his memories immediately after observation and within hours remain unclear.
Here are some interesting quotes from the witness :
She said suddenly to his spouse who was driving the vehicle : «They, look left. Ben voyons, what is it ? »
"It was HUGE ! It was a huge flying saucer. It was crazy, it was crazy ! »
She said to her spouse : "Slow down, we go back. ». Her partner told him : "It does not matter ! On continue ! ».
"It was very close, very true, very real. To me, there is no doubt, it was so huge, it was not human. It was a huge flying saucer. »
Summary of testimony driver (first witness)
Interview : Yann Vadnais, completed on 23 April 2015.
Summary by m.s.
The witness described as an honest person, not taking drugs or alcohol.
He always assumed since childhood that there were beings more advanced than us in the universe and they visit us on Earth. He had the opening to the subject without further. Reverse against, his spouse Christine did not believe before their observation.
Event Summary :
The witness is not sure of the time when was the observation. After reflection, he leans over for spring 2010 or 2011.
He wanted to note the moment when the sighting occurred, but he put it aside and forgot the time of observation. It also regrets not having spoken before with specialists in the field of UFOs. He did not want to talk about it because of discomfort situations with those around him when he was talking to his relatives.
The witness and his wife went around 20 h 00 of Montreal and it was still light. The journey usually takes an hour to get to Berthierville and half hour to get to the city where their residence is located.
Past Joliette, on the highway 40 east towards Berthierville, they saw on their left, is approximately 125 feet from the highway the left lane (Westbound), something immense.
"It was huge, immense, immense. It was blue-gray metal. It was not a plane. It was not human and it had four huge legs. »
There was no sound. His wife told him : « As-tu vu ? R'garde it, R'garde it ! »
At that time, the witness saw in the distance to his left approximately ¼ or ½ mile and a split second, the object was made very close to them left. He did not see move.
The sighting occurred at about 2 km before St. Philomena output.
There were two or three cars in front of them and some other behind them and they all slowed down at the same speed at the same time around 30 to 40 km/h. According to the witness, This slowdown occurred just when his wife saw the craft off to their left. Alain says he has not removed his foot from the accelerator. They kept that distance for a kilometer or two other vehicles until the exit of St. Philomena.
"What we saw, it was upsetting and we had no answer to that ... "
"I have mostly seen the underside of the craft. It was about 200 my feet to my left. ». "It was like a big huge building. Bigger than a big Boeing ".
Description of the "legs" of the craft :
"The four paws were square and had bars on each side of the diagonal legs. They seemed iron. They seemed the same color as the sky in the background. Each leg should measure 30 by pi 30 pi [10 m x 10 m]. They were longer than wide. These diagonal bars allowed to attach the legs to the machine.
It estimates the time of observation about 7-8 seconds.
Seen from below, the witness saw that there was a light in the center and another brighter and more around the UFO.
The witness had the impression that the object was about to land.
One hour of missing time ? :
He informs us that there is a very important point for him, whereas it is less useful for its joint. It usually mentions, he left his home before nightfall and the route to get to his cottage takes between 1:20 ET 1:30 Total, while the distance to Berthierville takes an hour. Looking back, just before his observation, he realizes that the darkness fell quickly ("A jerk").
After watching, having visited the McDonald's restaurant, he asked the people there if anyone had seen this vehicle ? And since he had no time, he asked someone what time it was. She told him it was 10:15 or 10:20 (evening). He said it is impossible, because when they left, it was still daylight and it is not possible at this point of the journey (au McDonald's), darkness has arrived as fast. He should not have to be any darkness. According to the witness, he would miss one hour ! They finally arrived at their residence to 23 h 00.
The witness said that, just after the observation, his wife wanted them to stop and they do turn. She did not seem aware that they were riding 30 or 40 km/h.
The witness told him : "It does not matter, it does not matter ! This is dangerous, it's dangerous ! Do not speak, on s'en va, we drive ! Looking forward ! »
The witness says he was afraid of this gigantic machine.
"It was huge and it was not Earth, for sure. »
Divergence testimony :
The witness stated that he and his wife have not quite seen the same thing. Also, missing time was much marked when it went unnoticed for his wife. It is safe, however it was conscious every second of observation.
The interviewer mentions that it is often the driver who notices these details.
The interviewer asks him if there was something changed in the life of his wife from observing. Alain notes that almost eats more meat and that his wife made for a very attention to his diet. She does not eat dairy or meat. She is more interested in the nature protection. She is vegan. Note (according to wikipedia) : The application of veganism is the non-use of animals and the non-funding of their uses.
During the weeks following the observation, The witness had difficulty sleeping. He was afraid that these "beings" can the trace and something happens during sleep. He was also afraid for her pets.
The interviewer asks if he made special dreams following the observation. He says he was afraid and he had nightmares.
He feels that there is something in him changed, but he did not feel attacked. Reverse against, he said that at the time of observation, it felt really observed this machine. During observation, the witness said that he was very frightened and began to pray. He was afraid of being kidnapped.
The interviewer asked how he explains that he was traveling at 30 or 40 km/h. He replies that he has noticed instantly.
The witness says that about a week after, they returned on the highway 40 to Montreal and found that the highway was closed segment. His wife wonders why the ramp from the highway was closed for no apparent reason while the construction work was completed.