Monday 22 April 2013 : a pear-shaped UFO observed in Joliette and St-Liboire ?
Sketches made by witnesses : left Joliette 9:27 p.m. to 9:29 p.m. PM, right St-Liboire 10:58 to 11:28 AM.
The GARPAN this week received several cases of UFO observations which are close in time and space :
a) St-Liboire 22 April 2013 1011:28 AM h58-shaped metallic object reflecting the sun pear, quasi-stationary during 15-20 minutes
b) Joliette 22 April 2013 21h27-21h29 PM UFOs "marginally, very bright ", orange-red, moving at high speed
c) Joliette 22 April 2013 22h50 PM-9:50 p.m. powerful light appearing around 45 deg East, vertically falling during 25-30 seconds, disappearing at about 20 degrees
As the observations took place in 67 km de distance each of the other on the one hand, and secondly that their descriptions are similar in terms of form (a) et b)), we wonder if these observations do not have a link between them. Last year, the 15 April 2012, we were "in the same region increased UFO phenomena" such : four observations of three distinct phenomena took place at a distance of only 12 km.
However, before concluding hastily that it would be the same "object", Carefully go over the documents and evidence come down now :
a) ST-STE-liboire HELENA (Montérégie) 22 April 2013 10h58-11h28 AM
«L 'object moved slowly and seemed spinning a little about himself the height where small planes fly. I was absent for a short time, [at 11:28, only five (5) minutes time to pick up my kids at school about dinner time] but when I came back there was nothing on the horizon !! It had a bit of a shaping the goutte but as it turned on itself, I saw reflections as peak whose un triangle un peu rond ! The sun reflected above ! (…) It hardly progressed ! perhaps hardly 10 km/h, quite high in the air.
I noticed when I got home at exit 145 Highway 20 vers St-Liboire. In range, I already saw this point in the sky that did not move, at 10:58. Then when I arrived in the village, I stopped in the courtyard of a shop plastic to observe. I stopped my engine, then I got off my mini-van. There was no sound a one 15 minutes, if this object he barely moved from 200 to 400 meters !
It had rounded the air, but with flat sides, because sometimes I could see the reflection of the sun when he moved on himself. It was rather dark, but in broad daylight. There was no cloud, it was perhaps not need his or lighting ... this is another I do not know.
I wonder if the machine would not have arisen by chance, for the speed he was going and the fact that he disappeared in a short time. I had to leave to pick up my children, but when I came back five (5) minutes, there was nothing on the horizon, but will know ... ! »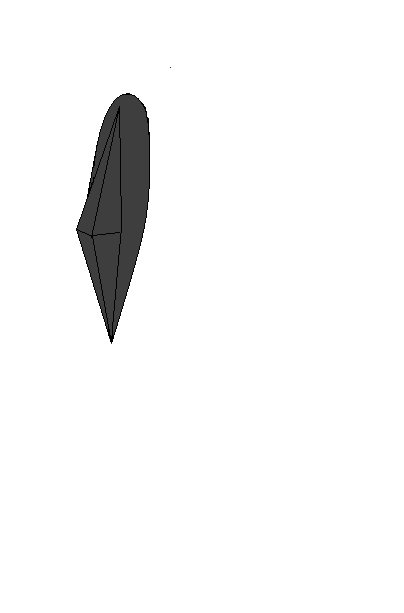 "My design is perhaps a slightly elongated, it was a bit wider (it is not easy to draw with Paint ...). So a little triangle, or diamonds, but slightly rounded, at least from the angle that I was looking ... " (First drawing)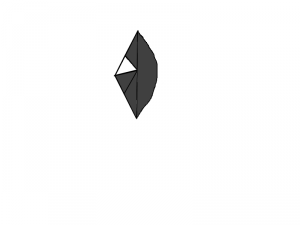 "This is more like what I saw. Because of the rounded appearance of the UFO and the reflection I saw at certain moments on one of the surfaces, I found that by far, it looked like a drop ! then here, daylight the object was black ! » (Second drawing)
b) JOLIETTE (Lanaudière) 22 April 2013 21h27-21h29 PM
Lanaudière (about. 45 minutes from Montreal)
"We expected to observe the Perseids planned [date of] 22 April… but we got the surprise of our lives. I can say that it was the happiest moment of my life and I will never forget ... even when I'm on my deathbed ... Such a thing can not be forgotten.
I was with my son talking with him and I was sitting on the couch, right next to the window, she made me back. But my stepdaughter (My son's girlfriend) sat in front of me and she could see in the window, when suddenly she said :
– «Oh mon dieu… oh mon dieu… look !!!»
I then turned my head and that's where we saw… We would be prepared to swear that it was a UFO because of his behavior and especially its color.
For me who have difficulty seeing far away, I saw a Star species within several branches which shone red and orange… but contour was a slightly yellowish light but very, very bright… which, if it had been closer, I would have had difficulty sustaining the look so contour was really brilliant.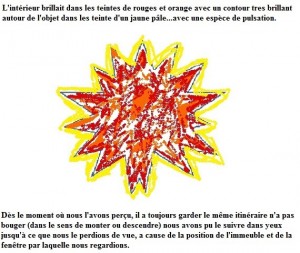 My son saw the shape better than me ... because glass door to see distance, so it accentuates the forms and sees a hundred times better. More, my daughter wears no glass and also saw.
Colored drawing from the comments accompanying written.
It was at around 9:27 p.m..
We put all three to the window to see what it was and there was no absolutely no noise (even strange sounds in the city) : as if the object was a stroll… The peinard.
About 2 or 3 minutes after, that we have lost sight. But then we saw and heard especially the chopper was in my same direction the object, and… could be heard well thank you ! and saw its lights flashing weakly… Nothing to do with powerful light that emanated subject.
When I speak of pulsation…I'll give you an example ... take the beating of a heart sign on a cardiogram machine ... you know with the famous beep, gdp ! and multiplies it by its three or 4 time ... then it gives an idea of ​​the pulse that the object had… while the lights of the helicopter that followed after, with much slower pace I would once more slowly than the heart beat on the famous machine.
Click to play video six (6) seconds : Joliette, 22 April 2013
"My beautiful girl is rushing to take two photos (she trying to zoom, but as she wanted so do not miss the object she took the picture, mais juste un is you can point)… really nothing that can account for what we saw. She then tried to take a video of a few seconds, but she trembled so, by surprise to finally have the chance to see this phenomenon, the video does not show grand'chose… I NEVER seen anything like this before ... and yet I 51 years. »
My daughter has never been able to draw or even remember exactly what she saw. She was so nervous, because she went to get his cell phone to take a picture as soon as possible by zooming but does not have much zoom because she was afraid of not having time to do at least one photo.
Hoping that other people have made the same observation that we… »
c) JOLIET ST THOMAS (Lanaudière) 22 April 2013 22h50 PM
Following our appeal for witnesses on social networks, A third observation was reported.
Photo and information by the witness. — The "very bright light" appeared at the top green cross, descended vertically to the lower green cross. The Red Cross is the Moon.
Interview audio : [pending approval of the witness]
Interview écrit :
— "The'UFO appeared, then came down very slowly in a straight line. I thought for a satellite light was strong enough. »
— "You looked in that direction how long before the light appears ? »
— "A good ten minutes. »
— "According to you, it reflected the moon and it was a strong light ? »
— "A strong light. When she was below the moon, it reflected more than the stars around him. More, I'm used to watching satellites and airplanes often wander in the corner. »
— "Can you tell me in which direction you look ? »
— "Head east. I would say that the eye subject seemed to descend over St. Thomas [to 7 km de Joliette]. Could be distinguished after a while it was good in the air and not in orbit. (…) Color was White, of very bright light. (…) Some people the park also looked at the appearance and discussing them. »
We thought at first that it was probably the International Space Station (ISS), but at this time, it was in the middle of the southern Atlantic (right image). It could also not be an Iridium satellite (whose trajectory is North-South). The only satellite passing around (left image) was distant satellite 1998-067A (to 7802 km), eclipsed in fashion (donc not visible), passing West, diametrically opposed to the observation looking towards St. Thomas, east.
Is of course the possibility that it was a non-listed military satellite, but the witness insisted that, according to him, "It fell within the atmosphere"…
Remarks
Thus we end up with three observations UFOs at a distance of 67 km, in a time range 12 hours. Some of these witnesses will be interviewed in more detail this week. We remain open to the fact that other observations dating back to that fateful day Monday 22 April 2013 may soon be added to these, to invalidate some, or confirm certain aspects of them.
In the case) et b), testimonies make possible some identification in that, in both cases, UFO wandered about the same height.
For the time being, the mystery remains… Especially as a result of the call control with sketches of the UFO, a witness subject to a GARPAN testimony 2011 (he has not told anyone but his family) an abduction by humanoids carrying in such a "ship-shaped diamond"… in Morocco… So this is another story, and therefore investigated more for GARPAN.
We received more than thirty-two (32) cas in 2013, and struggle to be able to accomplish all these investigations. If you are interested to join our "Support and Research Group", or follow our training 45 time to become technician investigator, do not hesitate to contact us !