'Ufologists respond to the Pentagon' : International press conference – 21 August 2021 (30′ participants)
Presentation of a two hour video with the speeches of the speakers, followed by a question period.
Journalists are invited to join the virtual room :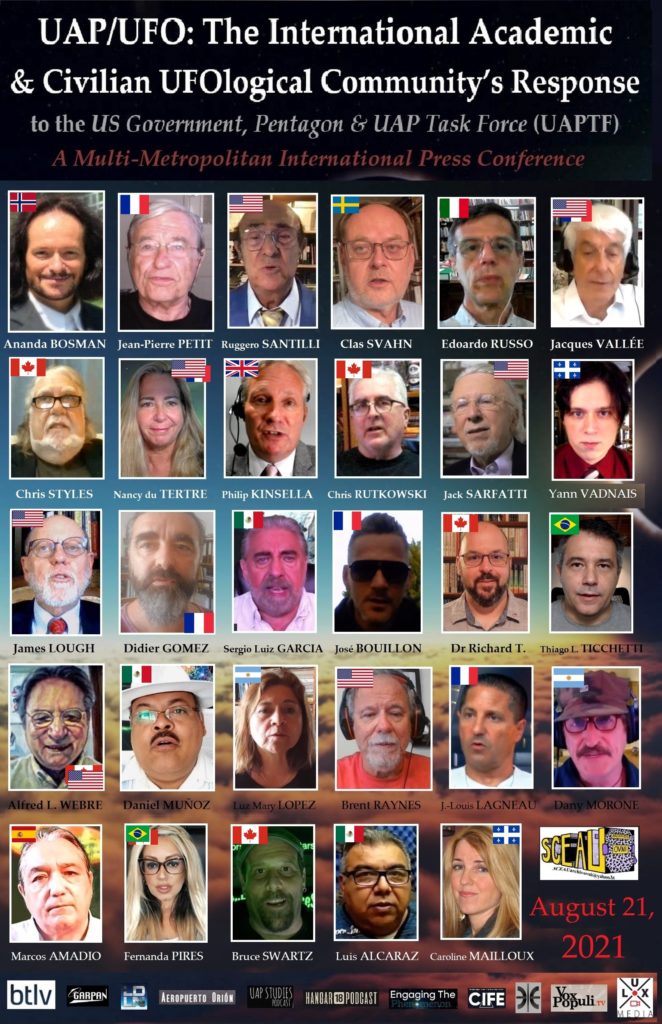 Links to listen to the press conference live :
MONTREAL, hosted by Yann Vadnais : https://stu-dio.tv/emissions/37619
VANCOUVER, hosted by Ananda Bosman :
On the ExopoliticsTV YouTube channel : https://www.youtube.com/c/ExopoliticsTV/videos
The JOURNALISTS are invited to log into our virtual rooms to ask their questions :

Montreal, to 13 h 00 (HAE) : Speakers presentations. (in french and english)
Questions to 14 h 30 (HAE).
Vancouver, to 10 h 00 (STEP) : Speakers presentations. (in English)
Questions to 11 h 30 (STEP).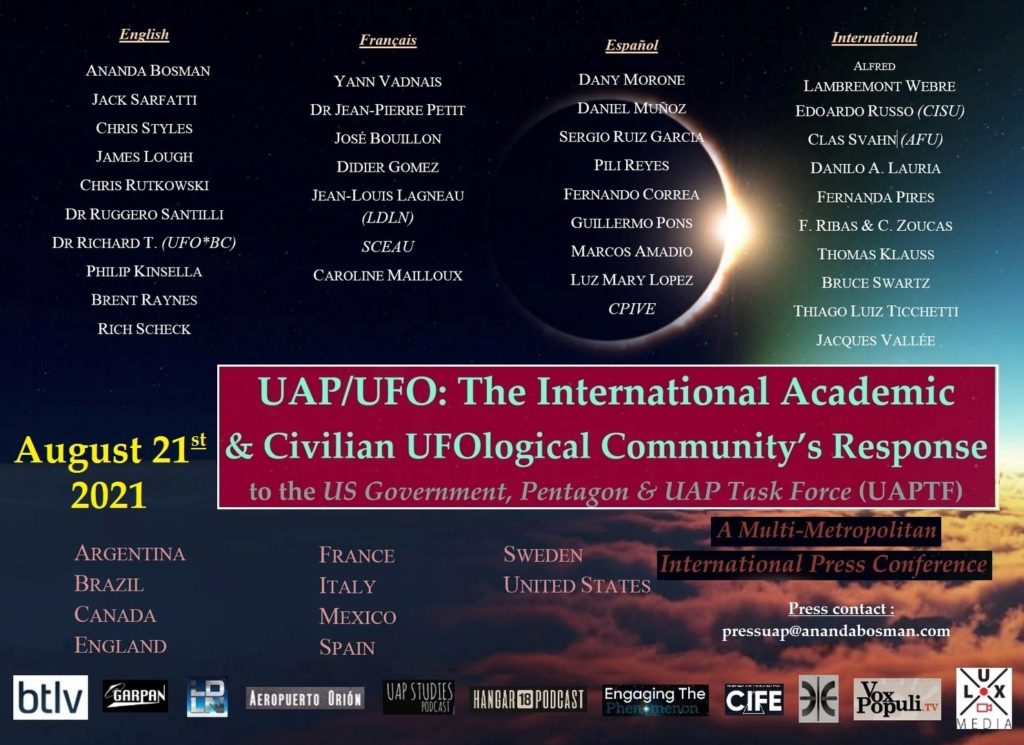 Document for media and journalists wishing to participate :
Note that the English version contains an exhaustive bibliography of recent publications concerning government disclosures., military and scientists of the existence of UFOs.
Document for the media and journalists who wish to participate, including an exhaustive bibliography (90 p.) :
Media contact / Media Contact:
English: pressuap@anandabosman.com 1 (250) 486-4371 (demander Shanaia Rai)
French: garpan.ufologie@gmail.com 1 (581) 307-7726
Español: exopolitics@protonmail.com 1 (604) 600-9203
Information in Spanish :
https://exopolitics.blogs.com/exopolitics/2018/01/alfred-lambremont-webres-omniverse-trilogy-quintology-or-pentalogy.html
Information in English :
https://anandabosman.com/2021/06/26/ufo-uap-unidentified-aerial-phenomenon-press-conference-aug-21-2021-ananda-bosman/