Strange photograph in the Portneuf County, 13 October 2013
In recent weeks, a young man sent us a very intriguing photograph. Himself was surprised by the image captured by the camera hunting his father, when it showed him. He expressed : "We must send this photo to experts to find out what it is ! », then sent to GARPAN.

It is difficult to know "what" we are dealing with this photo.
We know both that this high resolution image (2048 x1536 pixels) is authentic :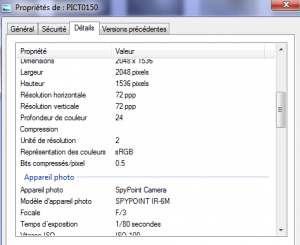 Second, simplistic assumption as a) someone with a sleeping bag on head, ou b) someone with a cape and collar is untenable. However, we distinguish clearly that this "entity" is humanoid form, though the "head" is easily discernible because of the obstruction of the "product" and the photo frame (which does not pick up the "creature") :
Several noticeable require anyone carefully scrutinizing this picture : left, l'image originale ; right, negative.
These findings do not require anything to be "subject matter expert" to discern leave us cautious :
– the proportions of the humanoid is not consistent with human physiology : very long legs, small torso, etc..
– humanoid looks great ; the camera is four feet (1,22 m) du sol
– humanoid seems luminescent
– humanoid seems asexual
– humanoid wearing a "garment", it is obvious, although the upper part of the "product" remains enigmatic.
– this "garment" also seems to have a second form, more ethereal (unless this is the "luminescence" ?), discerns that particular front of the knees :
RIVER-TO-PIERRE (Portneuf), 13 October 2013, 7h36
Finally, you can certainly ask why the presence of this creature having a walk in the woods at 7:36 am ?… Rivière-à-Pierre, County of Portneuf, is located in a forest environment 75 km west-northwest of the city of Quebec.