Annual meeting of ufology groups and independent ufologists from Canada and Quebec (20-21 November 2021)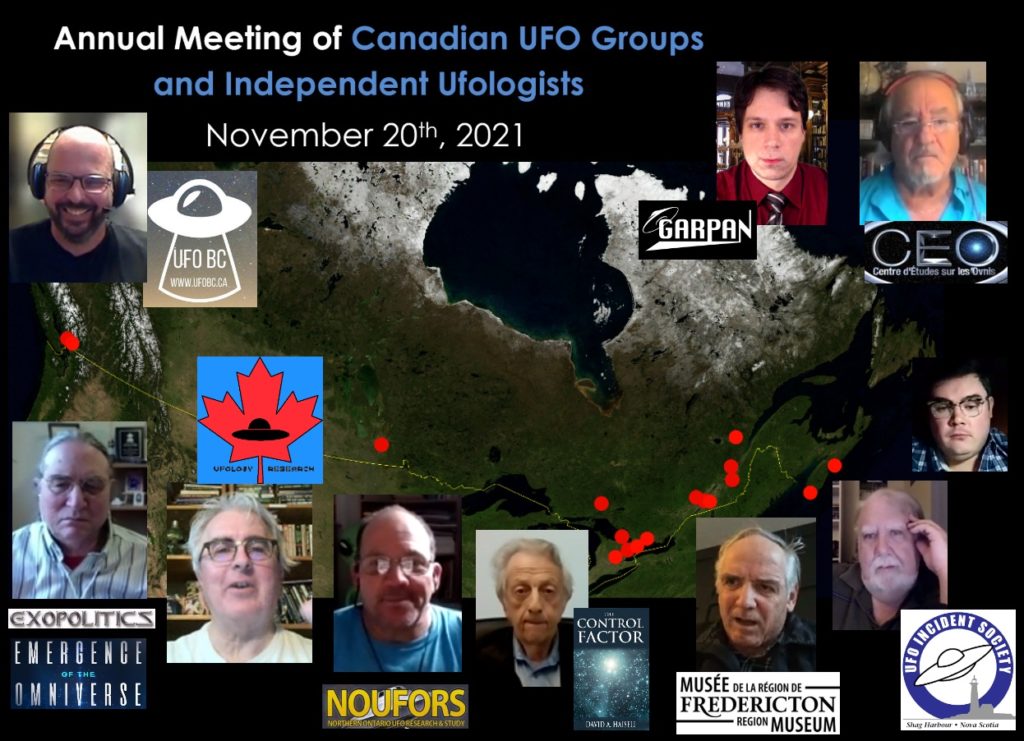 The 20-21 November 2021 latest, tous les groupes ufologiques et les investigateurs indépendants du Canada et du Québec ont été invités à se réunir pour discuter des projets en cours et pour développer de nouvelles collaborations. C'est la première fois qu'une telle réunion pancanadienne a pu avoir lieu, et nous le devons à la nouvelle technologie accessible aux masses, à savoir la plateforme de communication virtuelle Zoom.
The réunion nationale, qui s'est déroulée en anglais, a été particulièrement productive et nous nous réjouissons qu'une coopération Québec / Canada puisse franchir la barrière linguistique. Nous planifions renouveler l'expérience l'automne prochain.
The réunion provinciale du Québec n'a pas pu couvrir convenablement tous les sujets à l'ordre du jour, notamment en raison d'un dysfonctionnement de la répartition du temps de parole et aussi à cause d'interventions hors-sujet. Nous sommes confiants que cette situation résulte seulement de notre premier essai et que les réunions futures se dérouleront avec plus de laconisme et d'efficacité.
C'est pourquoi nous proposons, à la demande de Raymond Choquette, de poursuivrons notre dialogue collectif le mois prochain, the 12 December at 1:00 p.m.. Cette réunion expliquera entre autre aux nouveaux participants du Annual Review les informations de base en vue de remplir le tableau de données qui sera remis au Canadian UFO Survey pour le recensement annuel des signalements d'ovnis (from 1989).
welcome !
Topic : Rencontre annuelle des groupes ufologiques et des ufologues indépendants du Québec (deuxième rencontre)
Date : 12 December 2021, 13 h 00
Click this link to join the meeting:
https://ulaval.zoom.us/j/64597784906?pwd=c09ka0V1cHRoOTFmdE4rVUxSY3ppZz09
Meeting ID: 645 9778 4906
Code secret: 549401