Foundation of a learned society dedicated to transdisciplinary studies in ovniology
16 March 2022. — A group of Canadian university researchers working in various disciplines is at the origin of the creation of the first learned society dedicated to studies on ovniology [1]. Des chercheurs internationaux se sont intéressés à cette démarche avant-gardiste — which, comme beaucoup l'ont mentionné, était espéré depuis des décennies — et sont venus appuyer cette initiative ayant mené à la fondation de la Société internationale des études transdisciplinaires en ovniologie (SIÉTO) — in English : International Society for Transdisciplinary Studies on Ufology (ISTSU), dont le statut légal sera celui d'une association à but non lucratif. Cette société savante souhaite s'associer prochainement à un département d'une université canadienne, ainsi que de lancer une revue académique bilingue, révisée par les pairs, pour servir de plateforme aux travaux pluridisciplinaires sur les ovnis et les phénomènes auxquels ils sont associés. Des colloques bisannuels seront éventuellement organisés, tandis qu'un fonds de bourses pour étudiant.e.s pourra se concrétiser grâce à des subventions.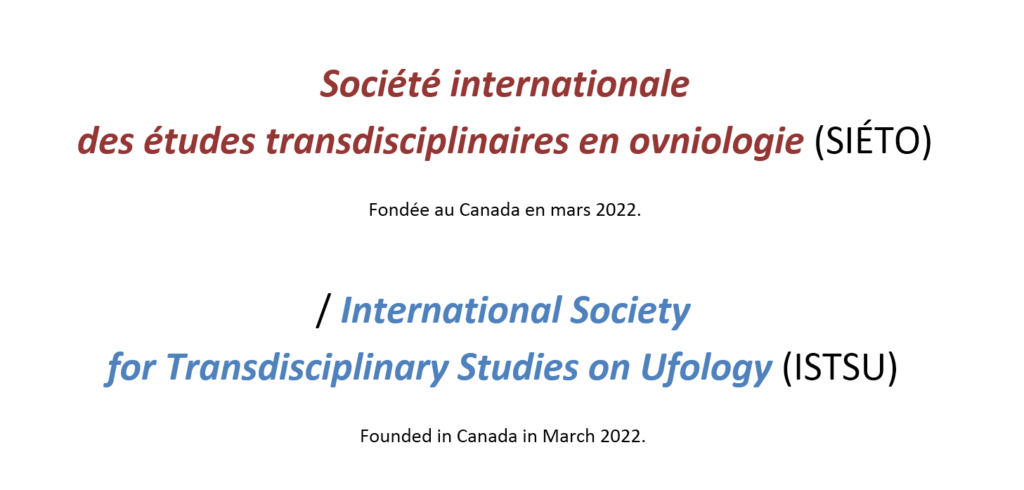 Goals:
S'associer à un département d'université (folklore, history, anthropologie, philosophie, etc.) en vue de créer la première revue véritablement académique (annuelle, bilingue, textes révisés par les pairs) consacrée aux études sur l'ovniologie:
Revue internationale des études transdisciplinaires en ovniologie /
International Journal of Transdisciplinary Studies on Ufology.
View Comité de rédaction en page 3 ;
Rejoindre la

Federation for the Humanities [2] (from Canada)

à titre de société savante

;
Organize an annual colloquium that meets university standards, ideally under the auspices of the ACFAS Pan-Canadian Congress [3],

l'organisation canadienne qui rassemble annuellement l'ensemble des colloques universitaires canadiens en sciences humaines et sociales

;
Create a scholarship fund to reward one international student per year who has distinguished himself with a master's thesis or a doctoral thesis relating to ovniological studies.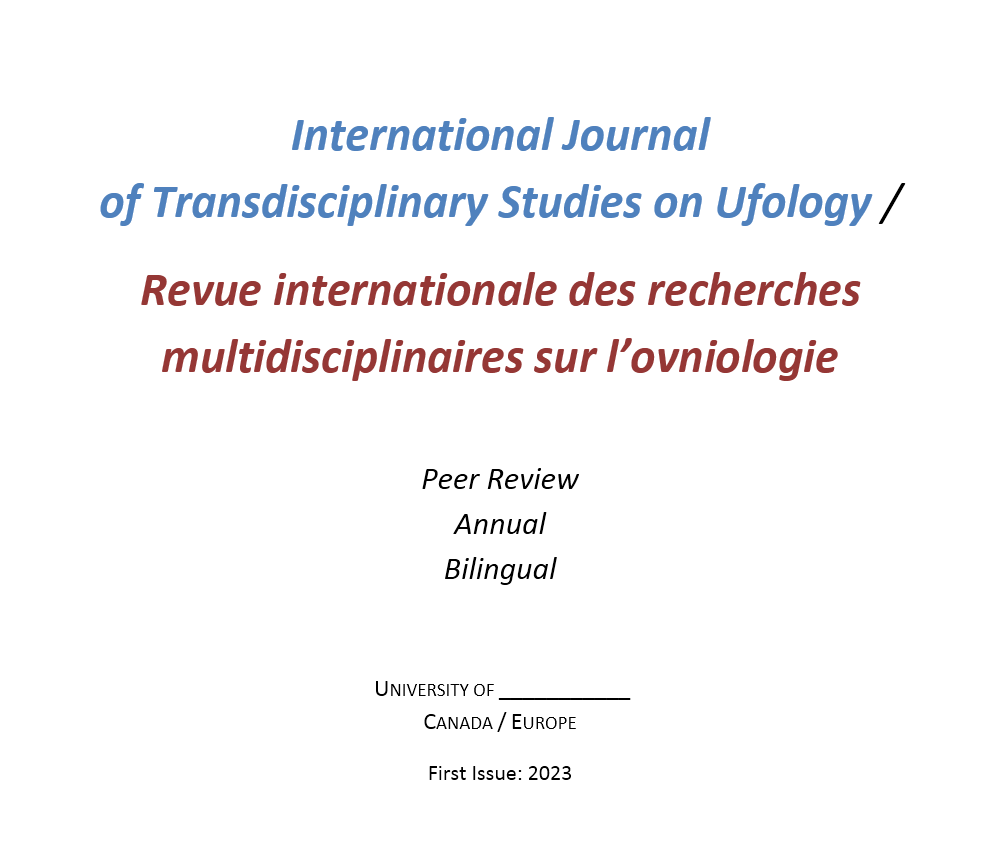 Activities offered to members:
Present a conference at the annual conference (two formats: 20 min.; 45 min.);
Write scientific articles (6 000-8 000 words) ;
Write work reports (500-1 000 words) ;
Opportunity to participate in the Editorial Board of the journal ;
Participate in projects in which our company will engage.
Executive Committee
President: Yann Vadnais
Vice-président francophone : Dr Jean-Jacques Jaillat
Vice-président anglophone: Chris Rutkowski
Secrétaire francophone: —
Secrétaire anglophone: Dr Noah Morritt
Trésorier: Dr Martin Janta-Polczynski
Adhésion:
Régulier ou professionnel : 50 $
Student, retraité ou sans emploi: 20 $
Courriel: (coming soon). For the moment: yann.vadnais.1@ulaval.ca
Soumission d'articles ou de comptes rendus pour la revue académique : Envoyer vos propositions d'articles et de comptes rendus (en français ou en anglais) dès maintenant.
Appel de propositions de communication pour le colloque de mai 2024 (avec Actes de colloque) : Envoyer vos propositions de communication avant le 15 October 2023.
---
[1] https://gdt.oqlf.gouv.qc.ca/ficheOqlf.aspx?Id_Fiche=8360663
[2] https://www.federationhss.ca/en
[3] https://www.acfas.ca/evenements/congres