28 July 2011 : "Mothership" identical to Montreal and Vietnam ?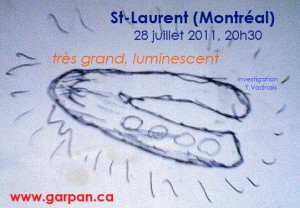 Transcription MATTON Audrey et Y.V.
Witness : I was at work. I worked night at this time. At one point, I'll smoke outside, at 20:30 : the sun was going to bed.
Investigator : In what year ? What month ?
In 2011, it was Thursday 28 July 2011, as usual I go out alone.
When I hang out, I look at the sky all the time. I walk in the park, then, at a given moment, il y has a very large flash ! This fact un gros flash through the clouds ! I saw, I recognized the object that I've drawn. The object, il a fait an on-site, can be for two seconds as to reposition, to change direction !
I had time to see the shape that I drew. It was extremely impressive ! It was like ... I could tell how ? "A white metal ! "But it was not white !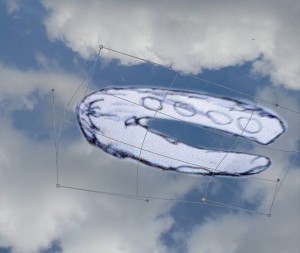 It was often described as a metal in the comments, metallic but not dark gray, rather pale gray metal. White, this was the light that was ... it is the complete unit which generated light.
It just makes a flash light, jUSTE one. I said to myself : « Pas un ovni ! ». As, I set eyes, he floated up on one or two seconds and as he changed direction, I just had time to discern the form ! Then, he began to move.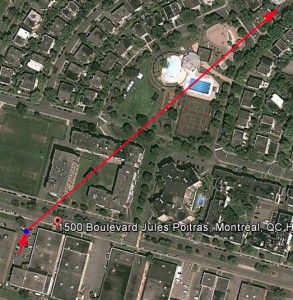 The light I'm talking about ! The entire unit was light which became more brighter.
When he changed direction, I saw him as back ! He went away very quietly returning in the clouds. I did not stop to fix it as he had not gone, I had the impression that it had only lasted five minutes but can be done in one minute ! Time has stopped for as my observation ...
As witness : there was a Spanish woman who was trying to wash a window outside, the front door. I beckoned him to come and see, I shouted : « Un ovni ! Un ovni ! » And she did not come, so I have no control ... that I know, I am the only one to have seen the emergence.
The next day and the following days, I went on the internet if I could not find a video that looked like what I saw.
Et là, the only video I found that resembled, it was the same, mais au Vietnam ! - I sent you this video Message. — It was exactly the same light, sauf QU'A Vietnam, it was evening, and you see the device that advance ! The same case ! The same speed ! Quietly enough !

It even looked like a "comet", it was so bright! Then it advanced slowly, then, at some point you see "bam ! » : it was a big blow flash light, then idling, you see a little shape of the device ! You also see the metal color, I'm talking about then the device disappears quickly.
As the aircraft was at the height of contrails aircraft, presumably it was huge ! It was not a small saucer, it was as Mothership. Il a spent in the clouds - It was a little cloudy — and this has to be retracted and beyond the cloud height ... Then, cela a disparu à l'horizon. As I say, when the device has changed direction, saw it as my vision back ! Then, at that time, the only thing I saw, it was a ball of light who disappeared quietly, in the clouds.
It: This is awesome !
T : It's so bad that I did not have photo camera ! It would have been, we could see a form.
I saw two or three videos on the internet with this kind of form then, a kind of forme de boomerang. Je distinguais sides as large circles ! There were several, but I do not know how ? I can not say exactly. That's why I say a mothership because it may be circles can be to leave out smaller devices!
It : Video of Vietnam is the same day ?
T : Yes, the same day !
It : You found when ? The next ?
T : The next day or days, may be two or three days later.
The last images of the UFO video of Saigon (Vietnam), 28 July 2011 :