Very strange machine urban ! Rosemont, Montreal, winter 2013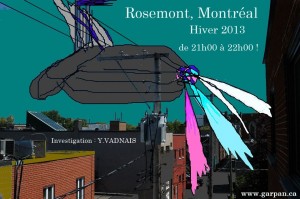 Here is a fairly exceptional testimony received in early 2013. The witness met me after viewing one of our videos d'enquêtes about the events of UFO 5 October 2010. He was very surprised a resemblance between what he had seen and that a young mother had observed the 5 October 2010 above the tallest building in Notre-Dame-de-Grâce, to Montreal. Although the magnitudes of these UFOs are very different (40 meters (5 oct 2010)) and (3-4 meters (winter 2013)), it is true that there is a silhouette likeness and similarity in how witnesses describe the light beams of these "machines" (?). However, the most striking parallel is probably the proximity of these "machines" to ENERGY SOURCES :
– UFO d'hiver 2013 Rosemont is, he seems, connected to power lines !
– l'OVNI du 5 October 2010 is adjacent to a huge communication tower !
An analysis and comparison of these two cases of investigation will subsequently be published.
I want to clarify that, although this observation was reported by one witness, and therefore the probability index of this case does not exceed 1,5 (minimum), the witness appeared frankly authentic. More, if further when comparing succeed in proving the existence of these "machines" (?), this evidence it will prove very useful given the significant of the 'event' details.
Written witness statement :
"I made a drawing, I'm not good at drawing. This photo was taken from my balcony. The saucer lighted right from top to bottom of several light beams of pink colors, blue and white.
I did not answer the first time because I did not want to talk. I can not explain what happened that night, it makes no sense and no logic. It happened some time before I met you at your party, a winter evening. I remember a little light snow fell and I could not stay long on my balcony because it was cold. He has to be 8-9 PM may 10PM…I watched the first time from my balcony, not long, [but I saw a UFO oddly shaped backed my building], Then I continued to watch TV… as if it were normal and there was nothing there… then I went back a second time, perhaps 1 hour, maybe less maybe more, and saucer was still there!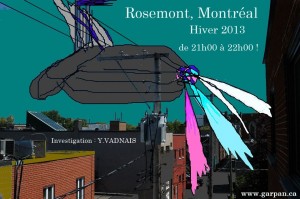 Then I said "It does not make sense, if the saucer was really there, people in the street and motorists would, people shout, I would hear… », but there was no sound, no cry, I did not see anyone walk outside or run… I closed the door and patio I think I went to bed as if nothing had. It is very strange. As I have already said, it has no logical and that is why I chased all of my mind. I subsequently returned dozens of times on my balcony, examining the place in the same direction, there is not a night that I do not think there. I'm still waiting the moment to happen again but I doubt that this phenomenon takes place again.
I was shocked by the story of the lady in Notre-Dame-Through [GARPAN investigation of the UFO's 5 October 2010 Notre-Dame-de-Grâce] who described the saucer as fish [see 8 min. 22 sec. of the video 1 of 5] ? that is to say with two tails…I also like it had two tails, but one of the two tails was raised in the air CIMME a wall with cables making me think a little leaning tower of the Olympic Stadium. That's all I can say for now.
I forgot the main. It took place in the southbound lane between XXXX XXXX streets and the corner of XXXX. The saucer was above the street XXXX, its left end falls on the street XXXX and XXXX rays covered up to the street XXXX (to the right of the image). »
Un OVNI de 40 meters Montreal, followed by helicopters, etc..
Here is part of the three interviews conducted with the control of the UFO 5 October 2010 Notre-Dame-de-Grâce, performed over a period of four months.
Watch the video 1 of 5 the investigations of UFOs 5 October 2010 in the metropolitan area (in english)

Watch the video 2 of 5 the investigation of UFOs 5 October 2010 in the metropolitan area (in english)