Four young people face a humanoid, Ste-Marthe-sur-le-Lac, 2 July 1966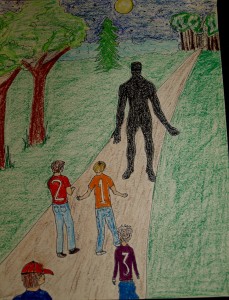 Reconstruction of the event with important numbers of witnesses
After 3 and a half years of waiting (interview de 2010), Here finally one of my best surveys !
After observing a light fall in the area, four (4) young people face a humanoid 7 feet (2,13 m) — wearing a tight black material to the special texture and wearing "curved towards the temples glasses" — that their way with outstretched arms and leaning "gently" bar head.
Here is the first part of "The Creature", which will be followed by "The Event" and "Souvenir".


Left : view no.2 witness. Right : view no.1 witness.