International Congress UFO in Montreal, with Scientific Steering Committee (27-28 October 2018)

The 5th International UFO Congress in Montreal welcome on site several specialized international speakers in Ufology and several authors and investigators Quebec. Led by a scientific committee, the goal is to bring together researchers doing advanced work on the profits of UFO Studies for Social and Human Sciences, and for pure and physical sciences. This recognition effort towards the scientific world and the media will result press conference bringing together leading experts in the field to take stock of the current state of UFO research internationally.
Places : University of Quebec in Montreal (UQAM)
Pavillon Hubert-Aquin, M-A050
400 rue Ste-Catherine E., Montreal, H2L 2C5
Date : 27 October (the UQAM) and 28 October (on the Web)
Press conference : Saturday 27 October 2018, at 9:00 am, will be held the press conference on « indubitable results of contemporary ufology : science face the evidence », with five (5) scientists and international researchers.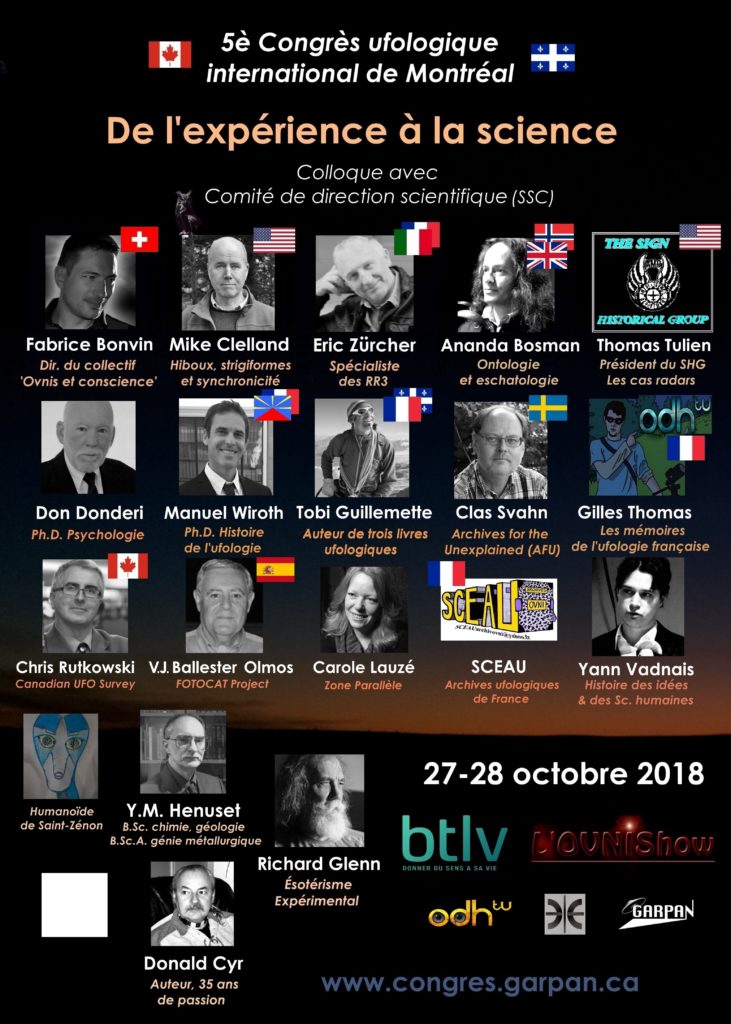 Our international guests who will on the spot ! :

Mike CLELLAND, author of the The Messengers (United States)

Ananda BOSMAN, ontology, eschatologie, « Dialogue with the Cosmos » (UK, Norway)
Thomas TULIEN, Chairman of "Sign Historical Group"
Our international guests attending from a distance :

Eric ZURICH, (Italy-France)
for the book launch "The Dating Brought closer to 3rd kind in Italy,
A catalog raisonné 175 case, 1927-2012) »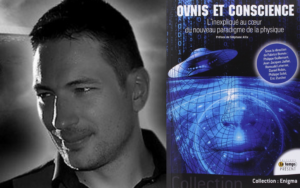 Fabrice BONVIN, director collective "UFOs and conscience" (Suisse)
Member of the scientific direction of Symposium Committee.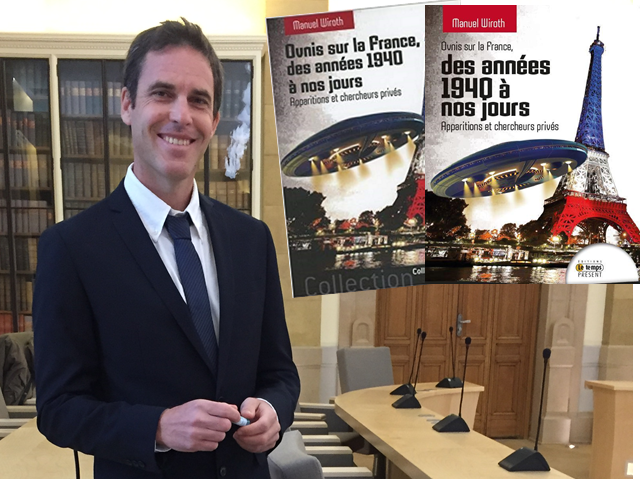 Manuel WIROTH, Ph.D. Contemporary History (The meeting, France)

Gilles THOMAS, ODH Tv (France)

Clas Svahn, Archives for the Unexplained (AFU) (Sweden)
Vicente-Juan Ballester Olmos, FOTOCAT Project

Chris RUTKOWSKI, The Canadian UFO Survey (Manitoba)


Tobi GUILLEMETTE, author of several books ufologqiues (France-Quebec)
With the presence of Mr. Don Donderi, retired professor from McGill University,
as a member of "Scientific Steering Committee" symposium :
our sponsors :
"BTLV, the additional media | Giving meaning to life " (very popular in France)
« BTLV offers TV shows and Radio on awareness, change, personal development, the health, The well-being, but also on the consumer society, thes great enigmas of life, of the death, of the universe, and of l'archeology. »
The'« OVNI-Show », Jean Lavergne. For the eighth season !
«ODH Tv», de Gilles Thomas (France)
creator of "Memoirs of French ufology"