« 5th International Congress on Ufology of Montreal », with Scientific Steering Committee (October 27th 2018)
The « 5th International Congress on Ufology of Montreal » will be held October 27th 2018, at University of Quebec in Montreal (UQAM). It will gather a dozen of international speakers specialized in that field of research. Journalists are invited to assit to the « Press Conference » that will open the event, on the theme of the « Results of contemporary ufology: science versus evidences ».
* The Congress will be available from October 27th to November 11th.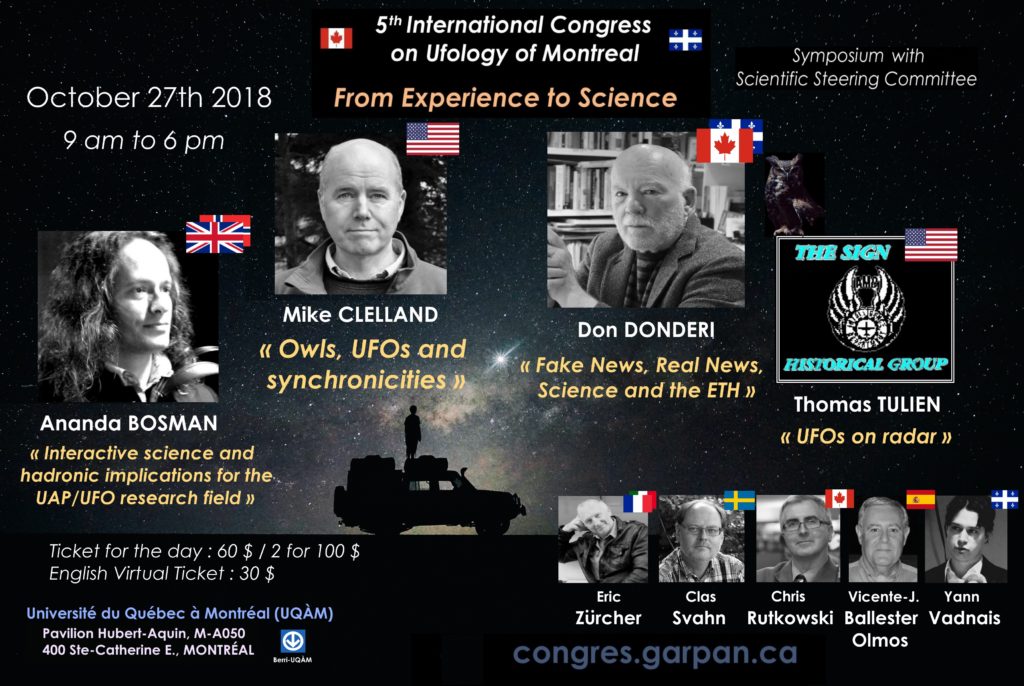 English speakers, or translated in English :
Mike CLELLAND, author of The Messengers (USA)
Ananda BOSMAN, « Dialogue with the Cosmos » (United-Kingdom, Norway)
Thomas TULIEN, Chairman of the « Sign Historical Group » (USA)
Don DONDERI, author, retired prof. of McGill University (Canada)
Fabrice BONVIN, author, you. of the collective "UFO and conscience" (Suisse)
Eric Zurcher, author, retired prof. of Art history (Italy-France)
Vicente-Juan Ballester-ELMS, FOTOCAT Project (Spain)
Clas Svahn, Chairman of Archives for the Unexplained (AFU) (Sweden)
Chris RUTKOWSKI, The Canadian UFO Survey, Ufology Research (Canada)
Yann VADNAIS, You. of GARPAN and Garpan Publishing (Canada)
Flyer with the Schedule :
Download this printable Flyer.