Publication of the book 'Phenomena' de Laurent Kasprowicz et Romuald Letterrier, and nine contributors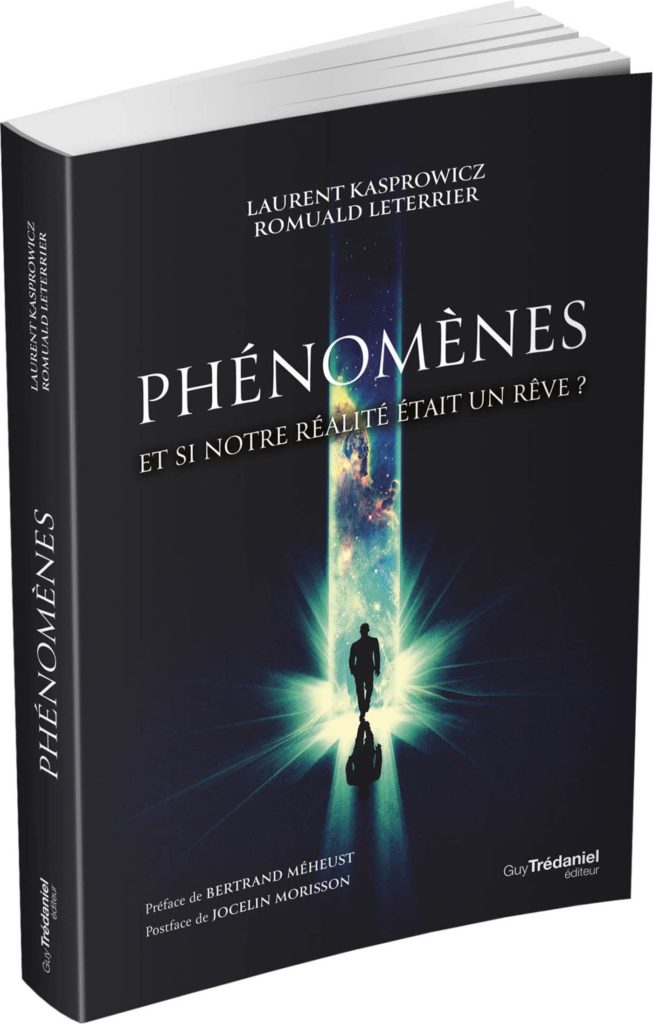 Discussion with Laurent Kasprowicz and Romuald Leterrier on their next book entitled "Phénomènes".
Where do paranormal or UFO manifestations come from?? Do they have a common source? Is the Universe Entirely Psychic?
Les phénomènes paranormaux et ovnis ont des caractéristiques similaires : ils défient les lois de la Nature et semblent jouer avec les témoins et les chercheurs auxquels ils échappent encore et toujours. Auraient-ils une source qui leur serait commune ? Cet ouvrage issu des réflexions d'un collectif de chercheurs pluridisciplinaire international (ufologue, ethnologue, sociologue, psychologue, philosophe) dresse un constat : derrière la matérialité des phénomènes paranormaux et ovnis, il existe également une dimension archétypale et symbolique. Ce constat permet donc d'envisager la réalité de ce que les anciens nommaient « monde invisible » ou « âme du monde ».
Les phénomènes spontanés de type Poltergeist, NDE, UFOs, contacts supposés avec les morts, rencontres du 3th type, ou Synchronicités montrent une dimension symbolique, personnalisée et difficilement objectivable malgré quelques traces matérielles. Cette ambivalence, cette espièglerie et cette difficulté à objectiver ces phénomènes évoque le concept du trickster. Cette entité symbolique prend de nombreuses formes et se retrouve dans toutes les cultures humaines. Tantôt Hermès messager, fripon, ou animal rusé dans les mythes, le trickster est-il la dimension autonome du réel ? Son âme ? La réalité que l'on cherche à connaitre joue-t-elle avec le chercheur dans ces domaines autant qu'elle joue et déroute le physicien dans sa quête de connaissance de la Nature ? Loin d'être réductrice, l'hypothèse majeure de ce livre est d'apporter une vision unifiée des phénomènes paranormaux au-delà des clivages matière-esprit, visible-invisible, objectif-subjectif. Cet ouvrage collectif a donc pour ambition de poser un nouveau paradigme pour appréhender notre rapport au réel et à l'Univers.
Et si notre réalité était un rêve?
Procurez-vous cet ouvrage dans une librairie près de chez vous !
Pour commander l'ouvrage aux Éditions GuyTrédaniel
————————————————————————————-
Les autres chercheurs associés au projet:
Préface du sociologue Bertrand Méheust
Postface de Jocelin Morisson
Romuald LETERRIERest chercheur en ethnobotanique et écrivain. Spécialiste du chamanisme amazonien. Contributeur d'Ovnis et conscience, il est l'auteur de plusieurs ouvrages dontSe souvenir du futur. Son approche pluridisciplinaire, propose des pistes nouvelles d'investigation et d'expérimentation sur le lien entre la conscience et la Réalité.
Patrick HARPURest a écrivain anglais. Auteur de plusieurs ouvrages à succès, son livreDaimonic Realityest une œuvre essentielle dans laquelle il présente une vision originale du monde et de la Réalité qui intègre les phénomènes paranormaux ou ufologiques. Sa contribution dans ce livre est primordiale.
Brent RAYNESest a ufologue américain. Spécialiste du folklore et de John Keel. Brent Raynes est chercheur depuis les années 1970, éditeur et auteur.
Marc LEDUCest un ufologue, diplômé en sciences de l'éducation (Quebec). Il fut membre fondateur de l'association UFO-Québec et de la revue du même nom, il a ensuite publié la « Lettre d'information ufologique » (« LIUFO ») et le « Bulletin d'information ufologique » (« BIUFO »). Il administre actuellement les banques de données CASUFO© et BIBUFO©.
Jean-Jacques JAILLATest philosophe et ufologue de longue date. Il a écrit pour des revues spécialisées et a participé au livreOvnis et conscience in 2015.
Sharon HEWITT RAWLETTEestphilosophe de formation et chercheusefranco-américaine. Elle s'intéresse aux questionsde synchronicité et de parapsychologie. Elle a été finaliste du grand concours pourle Bigelow Institute for Consciousness Studies (BICS) pour lequel 204 chercheurs en parapsychologie venant de 38 pays devaient proposer un essai sur les meilleurs éléments de preuve pour une survie de la conscience après la mort.His bookThe Source and Significance of Coincidences, qui explore le phénomène des « coïncidences » extraordinaires, est sorti en 2019.
Charles IMBERTmène des recherches sur les questions de mythologies, d'ésotérisme, d'éveil et de psychisme trans-personnel. Membre du bureau de IANDS-France (les fameuses NDE). Rédacteur en chef de la revue d'études spirituellesUn temps.
Andann VADNAISest a ufologue et éditeur canadien. Author, conférencier, chercheur en histoire et littérature ancienne. Il est aussi Directeur du Garpan, un des groupes d'investigation et de recherche en ufologie les plus productifs au Canada depuis 2012.