Balance sheet 2016 the Garpan : The best event of the year ! (92 p.)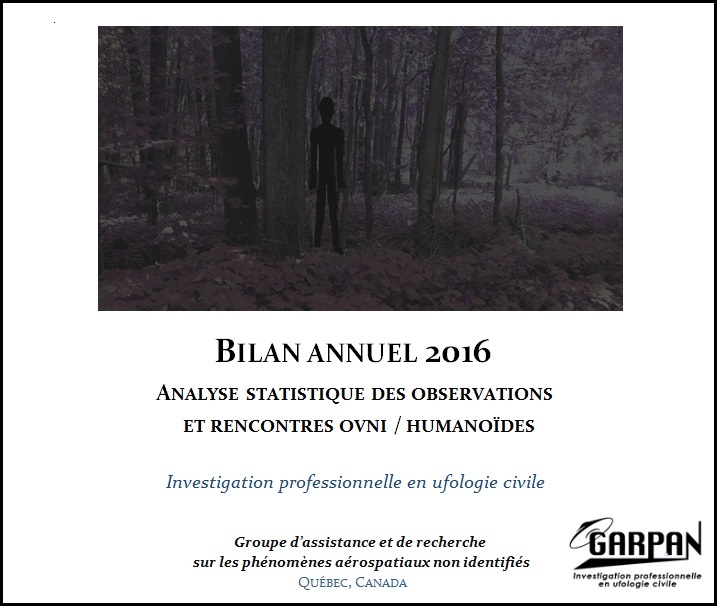 For the fifth consecutive year, GARPAN the calls to authorities and a media Annual Review in good standing. The report of our activities and UFO investigations is important and rich in information of all kinds, containing testimonies, drawings of witnesses, geospatial reconstructions, Analytical Data, etc.. This year our Balance sheet contains 33 cases treated or investigated by a half dozen investigators, as well as 8 case investigated by the group Parallel area.
You may already know that ufology investigation or rigorous research receives very little funding, and that we must rely on public support and enthusiasts of ufology, and supporters of the scientific study of the mysteries of nature and reality. Thus, if you want to encourage us, contribute to our annual fundraiser by getting our Balance sheet 2016 of 92 pages only 10 $. Remember that we not sell "membership card" and, that during the year, our services are offered and our volunteer work is published free.
A big thank you from all the team !
Yann Vadnais
You. the GARPAN and Garpan editions
Free download the Balance sheet 2015 has Garp(49 pages)
Free download the Balance sheet 2014 has Garp (113 pages)
If you appreciate our work and value the recognition, encourage us into a DON (right column) or you providing some of our books !
Here are some of the best investigations presented
in the Balance sheet 2016 the Garpan :