Article on Arthur MATTHEWS in the journal TOP-SECRET (August 2017)
The GARPAN is delighted to have played a long and deep article on "The revelations of Arthur Matthews, disciple Nikola Tesla "in the French magazine TOP-SECRET. An article 5 000 words, signed by Yann Vadnais, who translated and edited the first French translation of the book by Arthur Matthews telling his secret experiments with Nikola Tesla in Quebec as well as his meetings with ' Vénusiens'…
Order No. 92 the magazine TOP-SECRET :
Order the book "The light wall" by Arthur Matthews and Nikola Tesla (350 p.)
novel translated into French.
En E-Book : 15,00$
Printed (8,5 x 14 po) : 45,00$
printed in 2 tomes : 55,00 $
Short excerpt from the article :
"This article aims to share what perhaps proves an essential piece of the puzzle that surreal TOP-SECRET review beautifully deconstructed by number of number. If the great pioneer of the electric age Nikola Tesla is a key figure for resolving control machinations implemented by corporate elites in the early 20th century, how the life and witness of one of his close associates could they be excluded from the equation ? Besides, who knows Arthur Matthews ? Aside from the English public interested in Tesla, too few people. Most biographers latter ignore Matthews : is it because his statements are too amazing ? Not only does it reveals secret experiments conducted by Tesla in Quebec, but, worst, he dares entrust being contacted by "Venusians" ...
Willy-nilly, Arthur Matthews therefore associates intimately personal experiences with "people of the area" and the life of a "Superman" in our modern history, "Inventor of the 20th century", he likes to repeat, "And 500 coming years will be the world Tesla ! Because there is almost 1100 his inventions that are not yet known to the public "We will see what repulsion. - and what spark ! - arise from these two contradictory themes at first sight. Nowadays, We finally rediscover the revolutionary work of this genius outstanding, and, although a gradual recognition of his achievements is heard, the powers that maintain unfortunately overshadowed his ultimate legacy.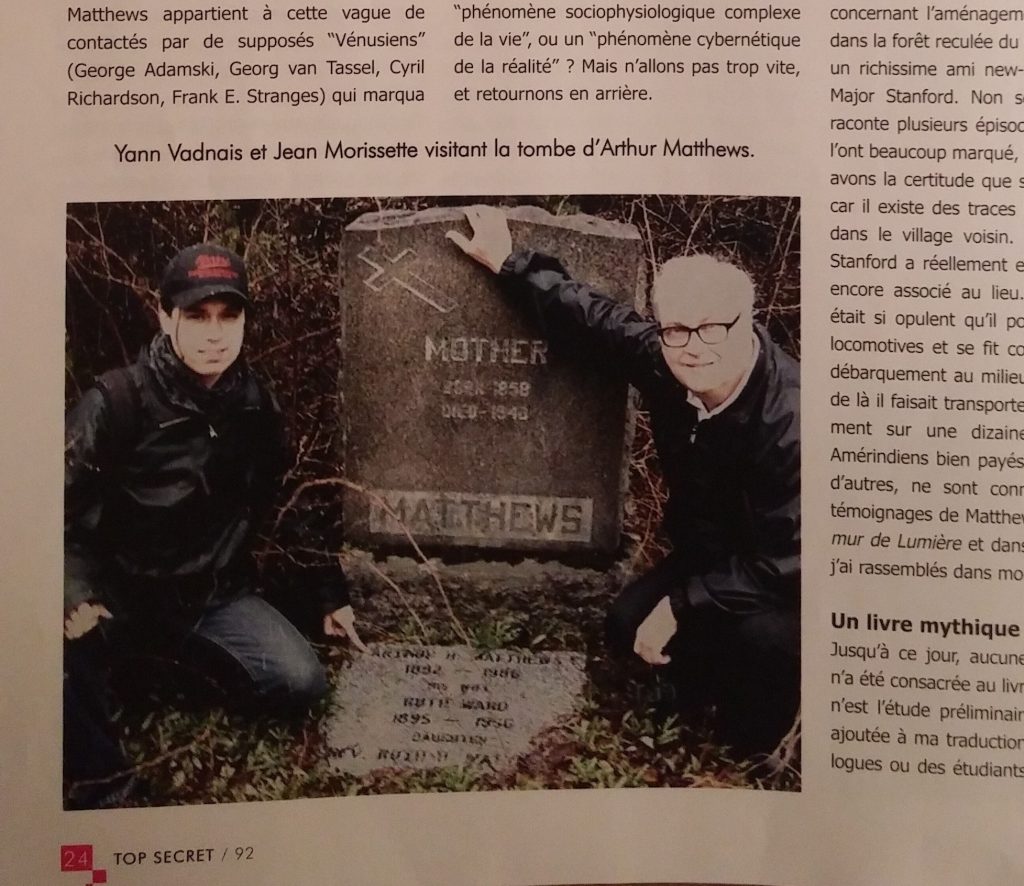 **Who is Arthur Matthews ?
Arthur Matthews was born in England in 1892. His father came to know Nikola Tesla when the latter visited the laboratory where he worked, that of the famous Lord Kelvin, Tesla says that that "no one has contributed more to electrical to date". The Matthews family, anglophone, emigrated to Quebec for an undetermined reason 1901. Three later, Matthews father has a laboratory near the Parliament of Quebec. Very young, as he says, He is passionate about electrical phenomena and mechanisms it draws in a notebook :
"At the age of 11 years, I had two teachers, my mother and Tesla. From it, I learned about God. Second, electricity already fascinated me at that age and my first reading was the investigation of Tesla on high frequency currents. I think I knew more about Tesla's inventions at the age of 12 years that most engineers know today. Not only I knew something about his wonderful ideas, but my brother and I had built a model of its electricity transmitter wireless, sending the wireless power (using only the Earth) of Quebec City to the hills of [Sainte-Brigitte-de-]Laval, at a distance of 14 miles [22,5 km]. That was in 1906. "" (…)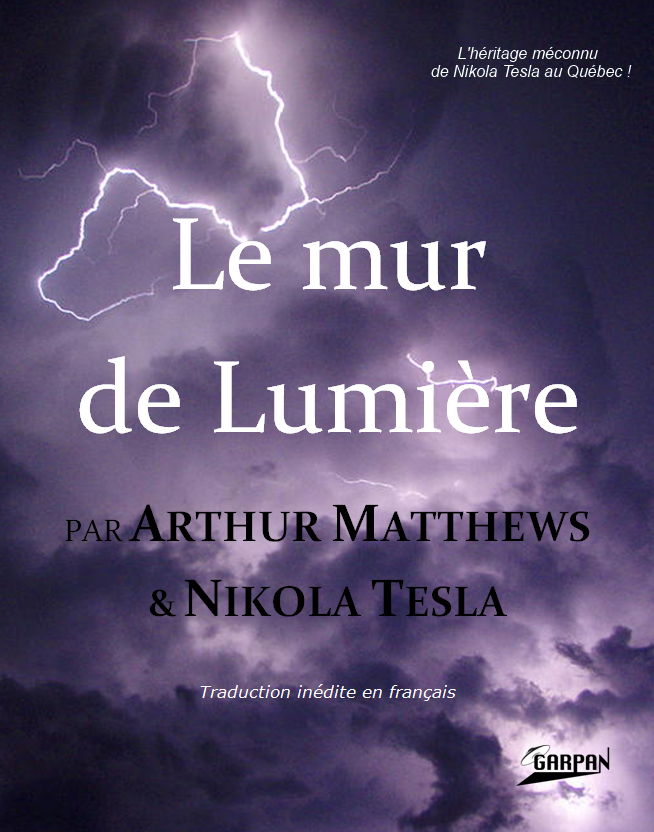 Order the book "The light wall" by Arthur Matthews and Nikola Tesla (350 p.)
novel translated into French.
En E-Book : 15,00$
Printed (8,5 x 14 po) : 45,00$
printed in 2 tomes : 55,00 $