Launch of the book "Light Wall" by Arthur Matthews and Nikola Tesla, the 10 July 2015 !
This article announces the postponement of the publication of our unpublished translation of the book "Light Wall" by Arthur Matthews and Nikola Tesla. We planned to publish in June, but some final complications compel us to within a few days, either 10 July, We choose course this date to honor the 159th anniversary of birth of Nikola Tesla (1856-1943), this incomparable genius who "invented the 20th century" — likes to repeat as Arthur Matthews, who was undoubtedly the "disciple" the most faithful of the "master".
Wait for those who bought the & rsquo; presale book, and also to generate the & rsquo; interests of those who ignore this important subject, that is both esoteric and folklore of & rsquo; hidden history of Quebec, we present here the three public excerpts of the conference two hours that I & rsquo; gave the 5 June 2015, in & rsquo; Laval University, to reveal the results of my historical research on the presence of & rsquo; a secret laboratory of Nikola Tesla in Quebec…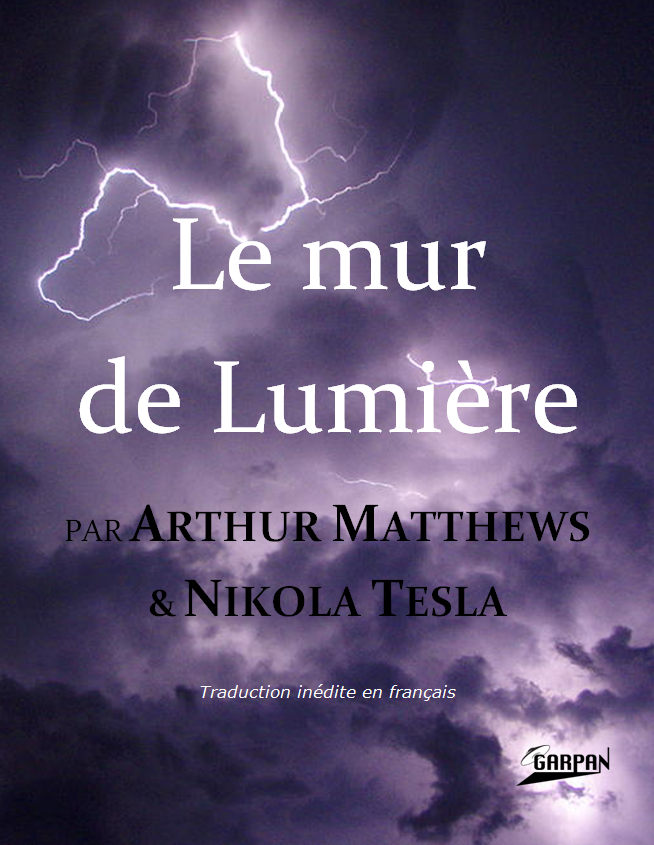 Unpublished translation by Yann Vadnais and Rhea El Husseini
Illustrated, 350 pages
Format E-book : 15 $
Coursepack Format : 35 $ (+ shipping)
Format livre (2 tomes) : 45 $ (+ shipping)
This conference 120 minutes was given under monthly events Richard Glenn and d & rsquo; experimental Esoteric, and it is available in The CREATED Club. The GARPAN presents a new conference Vachon Pavilion at Laval University on the first Friday of each month.
Extract 1 : Vidéorandia 23, 6 June 2015. See 7:20 to 19:20.
*
Extract 2 : vidéorandia 24, 13 June 2105. See 43:30 to 50:35.
*
Extract 3 : Vidéorandia 26, 27 June 2015 . See 45:45 to 53:33.