T SHIRTS "3rd type Dating in Italy", signed Eric Zucker !
In order to promote the new book by Eric Zürcher, "The meeting closer to 3rd kind in Italy, A catalog raisonné 170 case (1927-2012) », the Garpan Editions offer Exclusive T-SHIRTS, signed by the artist specialist "case RR3", who is also a historian and was a professor of art history :
four sizes : Small, Medium, Large, X-Large
two styles : man / wife (white only)
Seven models :
– Coselli, Summer 1944
– have Guazzone, 24 April 1950
– tower' Picenardi, June 1954
– Milan, 18 dec 1962
– Rimini, nov 1978
– Mortlake, 11 February 2012
– Book cover
Note that you receive an email after your purchase asking : grandeur, style and model.
You can also precede this email by writing to : garpan.ufologie@gmail.com
*** Included shipping.
Book for pre-sale (publication in December 2018) :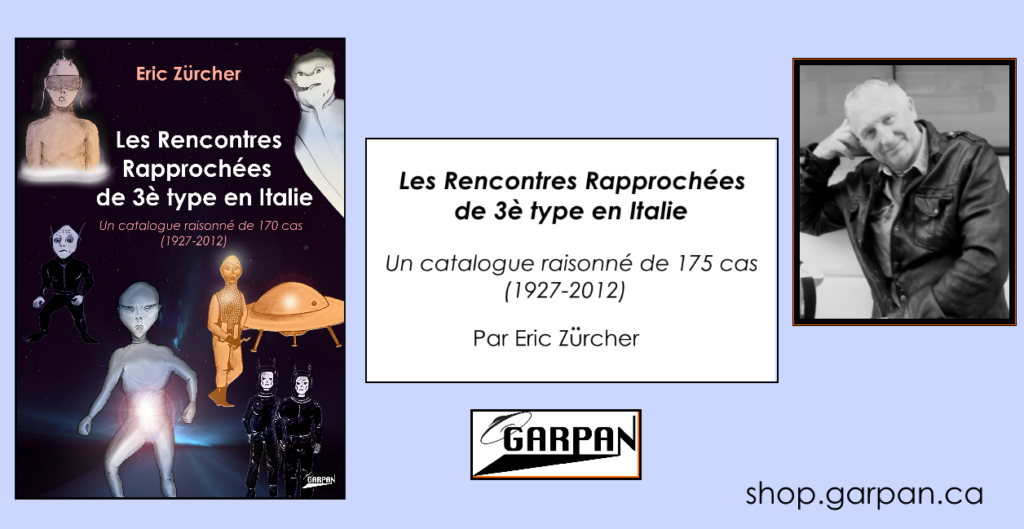 "The meeting closer to 3rd kind in Italy, A catalog raisonné 170 case (1927-2012) »
by Eric Zürcher
+250 p.
richly illustrated
Recall that Mr. Eric Zürcher is the author of a famous book by the French ufology, "The apparitions , 202 3rd dating guy, 26 portraits-robots », published in 1979 :

The other big news 2018 Eric Zürcher is his magnum opus, a must read ! :