"Response to the Government of the United States, to the Pentagon and the UAP Task Force " : speech by Yann Vadnais (21 August 2021)
This speech has already been viewed over 13 000 times on different channels (Lux Media, YouTube, Orion airport, Vidéorandia). We finally publish it on our platforms after much procrastination, lack of time. It was after all the main event of the year 2021 organized by the GARPAN. A final cut will finally be released next week..
Below you will find this speech in written form in French and English.
(Note that the English version of this video is unsatisfactory ; I will therefore have to re-record it eventually. However, you can consult the written version of the speech in English.)
« Response to the United States Government, to the Pentagon and the UAP Task Force"
Speech by Yann Vadnais, 21 August 2021
Speech in PDF format (in French) :
Consult on Academia.edu :
Discourse in PDF format (in English) :
Consult on Academia.edu :

Distinguished Members of the Government of the United States,
United States Department of Defense military officers,
Members of the international media and press,
The 24 June 2020, the standing committee of theUnited States Senate Select Committee on Intelligence (SSCI) passed a request that the Intelligence Community and the Department of Defense release information regarding their records on UFOs in 180 days following the adoption of the authorizing law.
This request became effective by the National Defense Authorization Act s & rsquo; year 2021 (a value of 740 billion $ US) which was passed by the House of Representatives on December 29 2020 and by the Senate on 1he January 2021. Remember that this set of federal laws, voted annually, governs the U.S. military budget and expenditures.
Following this announcement, the community of academic UFO researchers — and also all those interested and passionate about this mysterious subject — expected that the Unidentified Aerial Phenomena Working Group (UAP Task Force) submit a report to the Senate Committee, six months later, in June 2021, as stipulated. Or, this directive has not been respected, because only theOffice of the Director of National Intelligence made public, the 25 last june, a 'preliminary report' of barely seven pages (prepared by UAP Task Force and the Director of Aviation of the Office of the Director of National Intelligence).
For qualified and experienced professionals like you, Honorable representatives, it goes without saying that this disappointment can be explained: or by a flagrant lack of professionalism, or by a political maneuver with suspicious objectives. And as the Director of National Intelligence (DAYS) is appointed by the President, this suggests a change in attitude on the part of the recent Biden administration on this subject.
During the press conference which will follow, vous entendrez les opinions éclairées d'une trentaine de spécialistes et sommités sur les ovnis provenant d'une dizaine de pays. Vous apprendrez ainsi que les chercheurs universitaires et autres investigateurs indépendants ne sont pas non plus satisfaits de cette surprenante déclaration officielle: il est bien écrit que onze cas ont failli mener à une collision aérienne et — noir sur blanc — que les « PANs posent clairement un problème pour la sécurité aéronautique et peuvent constituer un défi pour la sécurité nationale des États-Unis (p. 3) ».
Yet, the series of major blunders on the part of the United States on the subject of UFOs and the conquest of space are not new: both the pros and cons of the reality of these phenomena have been officially declared over the past seven decades, from the famous US Air Force study projects of the 1940s, fifty and sixty until the revelations of insiders and former employees over the past decades.
As co-organizer of this press conference, I too would like to raise some criticisms. My name is Yann Vadnais and I am the director of GARPAN, un groupe de recherche très actif au Canada depuis 2012. Je suis surtout un chercheur universitaire qui travaille concrètement à la reconnaissance des différents horizons, perspectives et traditions d'études impliqués dans les recherches sur les ovnis et sur les PAN.
Le problème avec les ovnis — et c'est la mise en garde que je souhaite partager –, c'est que l'ufologie peut et doit s'entendre en plusieurs sens. Il faut donc raisonner à la manière du philosophe Aristote et accepter la polysémie de ce terme consacré par la culture populaire. Il est nécessaire de considérer les différents objets rapportés par les témoins comme appartenant en fait à des domaines d'étude strictement distincts.
Le rapport préliminaire du 25 June 2021 en donne d'ailleurs un aperçu en précisant que les types d'ovnis sont catégorisés selon cinq explications possibles:
Fouillis radar

(

airborne clutter

) ;

Phénomène

atmosphérique

naturel

;

Nouvelle technologie

industrielle ou gouvernementale

;

Technologie

d'une nation étrangère adverse

;

Autre

.
Deux choses ressortent de cette liste:
Le point

3)

sous-entend que le gouvernement des États-Unis ou certaines industries américaines détiennent des technologies non conventionnelles non reconnues

;

Point

4) :

qu'il y a aussi des raisons légitimes de suspecter que ce pourrait être le cas de nations étrangères

.
En tant qu'investigateur et chercheur expérimenté en ovniologie, permettez-moi toutefois de vous détromper. Il faut plutôt considérer les choses de cette façon.
1) Méprises (perceptuelles) et erreurs de lecture des appareils ;
2) Phénomènes naturels d'intérêt scientifique ;
3-4) Sondes ou véhicules technologiques ;
5) Autres.
Phénomènes repérés :
6) Ovnis vraisemblablement d'origine non-humaine.
7) Phénomènes intelligents interagissant avec la conscience of
witnesses.
Nouvelles intelligences suprahumaines :
8) Intelligence artificielle
Les méprises peuvent être autant humaines que techniques

,

et relèvent du champ investigatif de l'ufologie

,

dont s'occupe beaucoup de groupes amateurs

.

Les 'phénomènes naturels d'intérêt scientifique' ne relèvent pas uniquement de la météorologie

,

mais aussi de la géologie

,

de l'océanographie

,

de l'optique

, etc..

À cet égard

, we refer to the catalog of scientific anomalies established by William Corliss.
Dots 3) and 4) merge. While, on a military level, you have to separate them, but in both cases, we are dealing with machines.
–

Le point

5) "Others" corresponds very well to real UFOs, and it is a term that has often been used to catalog them.
Reverse against, UFO research has revealed the existence of at least two intriguing and controversial phenomena:
A phenomenon that primarily interests anthropologists, the folklorists, the mythologists, but also philosophers and phenomenologists: there is indeed an intelligence (perhaps the psyche of the witnesses themselves)

qui interagit réellement avec la conscience des témoins et est en partie conditionnée par l'environnement

;

Quelques rares cas d'ovnis admettent raisonnablement la plausibilité de l'hypothèse d'une origine extraterrestre

.

C'est le domaine de la prospective et des protocoles de communication

,

par exemple la « Déclaration de principes concernant les activités subséquentes à la Détection d'une Intelligence Extraterrestre »

,

adoptée par l'

Académie internationale d'astronautique

(

AIA

).
While, les militaires cherchent d'abord à déterminer s'il s'agit d'une menace, but that should not preclude offering the public thirsty for answers a coherent and comprehensive picture of the phenomena associated with UFOs.. Conscientious military and leaders may be right to apprehend an emerging threat: but instead of extraterrestrials from the cosmos who are waiting, we risk very soon being confronted with new actors on the world geopolitical scene, because artificial intelligence is already producing superhuman intelligences.
And when the report states that "the initial goal will be to use artificial intelligence and machine learning machines to cluster and recognize similarities and patterns in the characteristics of datasets", referring to the Senate report 116-233, it is necessary to inquire. The section 505 informs us that the Director of National Intelligence (DAYS) must "carry out an assessment of artificial intelligence-related export controls (IA), microchip, advanced manufacturing equipment and other AI-based technologies". And in the comments of the committee (point 3) of this Intelligence Authorization Act for Fiscal Year 2021, we are informed about the objectives of theAlgorithmic Warfare Cross-functional Team from the Department of Defense. The plan of this team is to "integrate unsupervised artificial intelligence algorithms (for example, algorithms that learn from data without being trained, allowing artificial intelligence to improve itself) in the Project Maven ».
In sum, the scope of this preliminary report is too narrow: The number of cases treated is minimal: 144 case between 2004 and 2021 (most in the past two years). More, the report says : "Most records describe UAPs as objects that interrupt planned training or other military activity. ; and that they "would tend to occur around American training and proving grounds" (p. 5), even admitting that this constitutes a bias in their analysis.
Finally, I offer a third criticism as a university researcher in history. The preliminary report does not presuppose any historical perspective, speaks as if there had never been a study of UFOs before and does not refer to any cases from other countries. When asserted on page 4 that "none standardized reporting mechanism n'existait jusqu'à ce que l'US Navy en établisse un en mars 2019 », cela est faux: autant aux États-Unis que dans de nombreux pays, il existent depuis un demi-siècle des procédures pour rapporter les observations non identifiées. Second, si la Marine américaine a établi un tel protocole des signalements d'ovnis depuis 2019, pourquoi n'est-il pas question des OANI, des objets aquatiques non identifiés? Reverse against, la proposition de réviser toutes les archives radar de l'Armée grâce aux capacités computationnelles de l'IA est une très bonne idée. (p. 7)
In conclusion, on ne peut qu'éprouver un sentiment mitigé face à ce rapport incomplet, trop court, fautif et sans recul historique. Face à cette maladresse sur un sujet si controversé et explosif, nous conseillons que toute annonce majeure concernant les ovnis provenant des militaires devraient être appuyés par un comité formé de philosophes, de sociologues, de politicologues, d'anthropologues, etc., ainsi que de scientifiques et d'ingénieurs travaillant sur ces objets. Cette précaution culturelle permettrait de mieux coordonner une réception intelligente et organisée des données à partager.
En vue d'évaluer la qualité du ''rapport complet à venir'', je vous propose, Honorables représentants du peuple américain, de consulter entre temps le rapport récent de 377 pages de la Commission 3AF-SIGMA2. Written by the Aeronautical and Astronautical Association of France precisely in anticipation of the publication of the report of your Department of Defense, you will find a very good comparative example.
Rigorous UFO research exists and it is relevant in many ways. They should not be diverted from their scientific purposes in order to gain political capital, manipulate the public or conduct disinformation campaigns.
Thank you for your attention,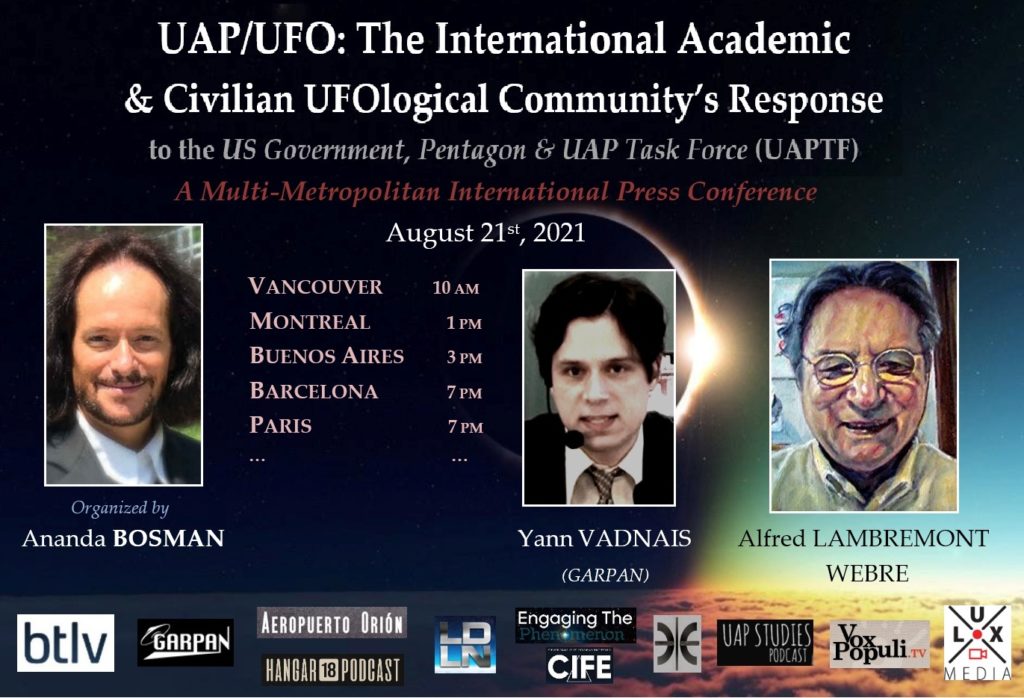 Yann Vadnais
21 August 2021