Next 'UFO Dinner Quebec' (Friday 19 January 2018)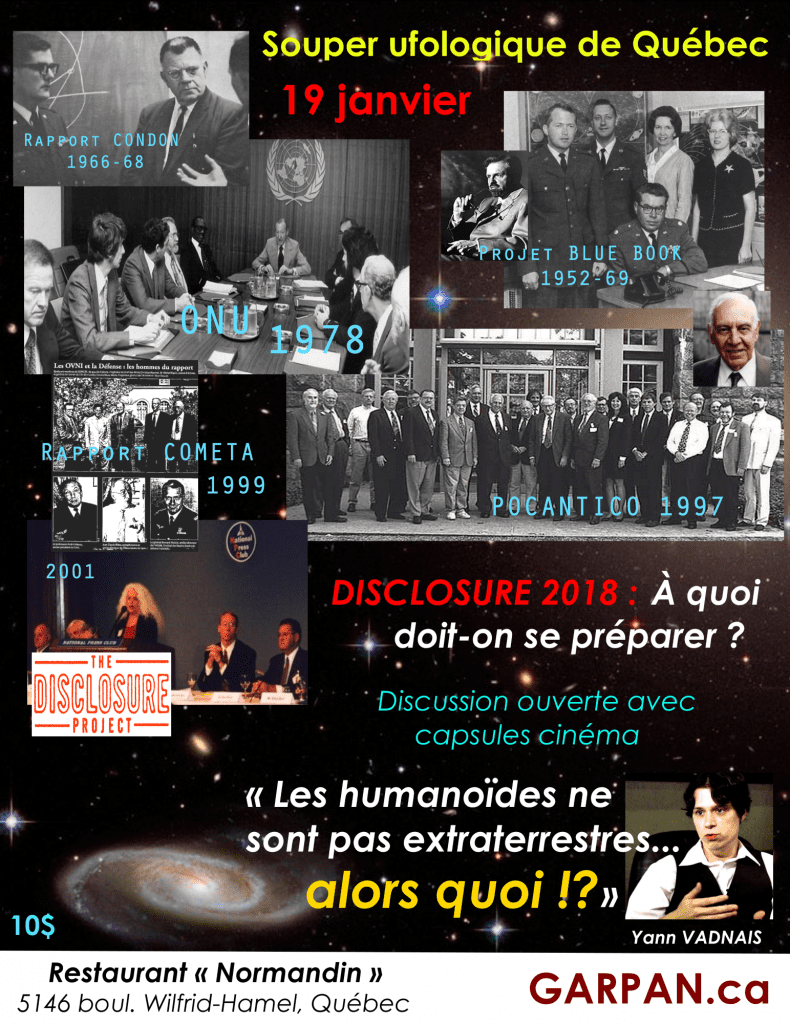 The next & Lsquo; UFO Dinner Quebec' will be held on Friday 19 January 2018, the restaurant "Normandin", where we have d & rsquo; a large dresser room, strong public appreciated. From 18:15 to 23:00 and more.
To kick d & rsquo; sending the & rsquo; year, we will return to recent official statements by the Pentagon for funding 22 million for the & rsquo; study of UFOs. As this theme of "Disclosure" may make headlines throughout the & rsquo; year, we invite you to come to the point with us :
Schedule for the evening
18h30 News and GARPAN of projects 2018
18h45 Conference Yann Vadnais : "The humanoids are not aliens… so what ?! »
19h45 Supper
20h45 "The DISCLOSURE 2018 : what should we prepare ? ». Open discussion with several movie capsules.
Discover our evenings a warm public +30 people meets every two months.
Quality presentations. S & rsquo; fair and critical information. Friendly atmosphere.
welcome, invite friends(and)s !
Please, si possible, book in & rsquo; advance : garpan.ufologie@gmail.com
***
If you don & rsquo; not have the funds, simply make a request in private.