conference next evening : Université Laval, Friday 2 March, 19h00 23:00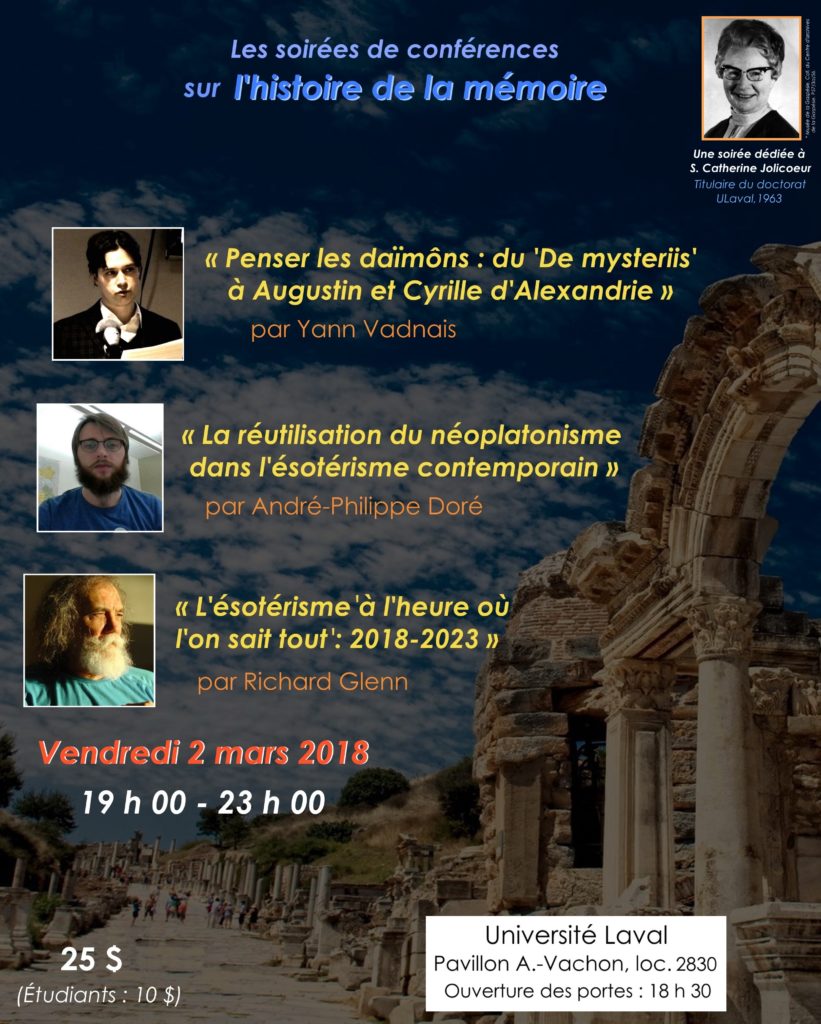 first of "Evening lectures on & rsquo; the memory of history", we receive each edition of the students and teachers in the fields of & rsquo; history, of literature, humanities, religious sciences and arts to d & rsquo; introduce a wider audience with their exciting research, that & rsquo; they are cutting edge or tip.
Qu & rsquo; do "L & rsquo; the memory of history" ?
Led by Richard Glenn ofExperimental esotericism, and organized by the Garpan editions, we will combine general education, esoteric and rigorous research in ufology, offering a range of topics, often related, for public varied tastes. As we also touch the & rsquo; ufology in academic settings, it should be reiterated here that the Garpan not defending the & rsquo; & rsquo hypothesis; an extraterrestrial origin of UFOs and promotes absolutely no belief. Our goals are to raise the recognition and demonstrate the relevance & rsquo; study by academic standards phenomena (physical, Psychosocial, cultural) who come to the outskirts of current scientific interests.
The evening will be dedicated to Sister Catherine Jolicoeur who earned his doctorate at & rsquo; Université Laval 1963, by submitting a thesis on "The ghost ship. etiological legend '.
Be the guests at an evening unforgettable sure
where extension rhymes with scholarship,
Yann Vadnais
You. the GARPAN and Garpan editions
Promoter of the & rsquo; NPO UFO Archives of Quebec
Memberships Skeptics Quebec
Place : Université Laval, Alexandre-Vachon Pavilion, room 2830
Date : Friday 2 March 2018, 19 h 00-23 h 00
Price : 25 $
10 $ for students
15 $ for regulars "Dinner UFO of Quebec"
15 $ for the "Members of the Club CREATED"
Reference portrait of Catherine Jolicoeur : Musée de la Gaspésie. Collection d & rsquo Center; Gaspésie archives. P57 / 3a / 56.