About the UFO-Alert Network (2009-2012) – E-Book de 59 p. (free)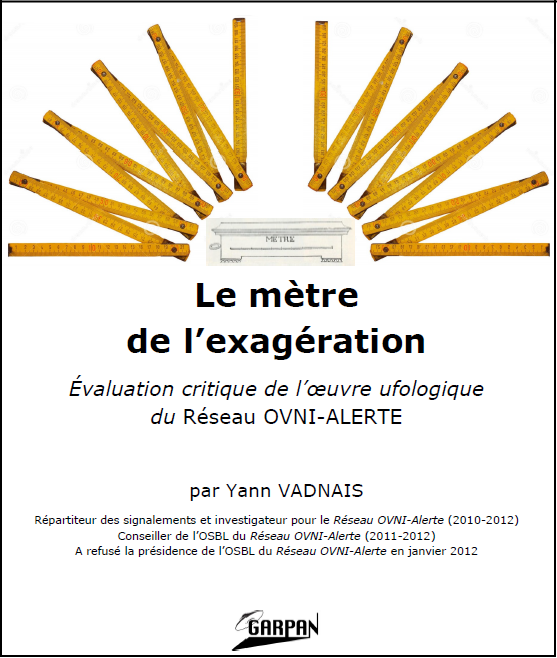 View or download the document :
Sainte-Foy, 9 March 2017
Five years after leaving UFO-Alert Network, I had in the last days make a detailed assessment of certain milestones of my career with this UFO group between autumn 2009 and April 2012. The reason is simple, the "master of the unusual" strives for five years now to cast aspersions on social networks about me. Since I've never publicly responded to these slanders, I chose to sum up all in one clear document and referenced 59 pages which, as you will see, is not without interest to learn about one of the best UFO of Quebec and of his work UFO-Alert Network, started in 1985. I have nothing to add on this subject and I hope definitively close questions about my debut in ufology.
and second, M. François Bourbeau trying since the fall to make a return on the UFO scene after several years of absence, and after leaving " shutting the door ", to take an understatement… First we were well pleased with this anticipated meeting with our colleague, but unfortunately in each of his last public speeches (Vidéorandia of 26 nov. 2016, of 20 Jan. 2017, of 4 March 2017 ; Video March 1 on its chain Youtube), Mr. is a naughty pleasure of disfiguring and caricaturing the recent history of Quebec ufology (2000-…) and tell falsehoods about everyone, even up to proclaim :
"All of Quebec ufologists are clowns ! »
François Bourbeau (1March is a 4 March 2017)…
Eh bien, such guns and trumpets will not go without a firm response from us that, we hope, will end on receiving this negative and detrimental attitudes for harmony, respect and recognition in our field of investigation and research. If diverse as it, the original tradition of ufology Quebec, that produces excellent work from all sides, progressing in leaps and bounds since 2009. Just check publications l'Quebec Association of ufology (AQU), of MUFON-Québec, of Parallel area, of CEO de Casault, de l'OVNI-Show, the Vidéorandia of Richard Glenn, the amazing emission More awareness, the work of independent researchers (Tobi Guillemette, Donald Cyr, Marc Huber, Christian Page, etc.).
I encourage all my colleagues and colleagues to continue their excellent work, to foster collaboration and to avoid these "unnecessary conflict" I would rather be spared.
Thank you for your understanding,
Yann Vadnais
You. the GARPAN and Garpan editions
581-307-7726