Next UFO dinner Quebec : 25 November, 17h40-22h00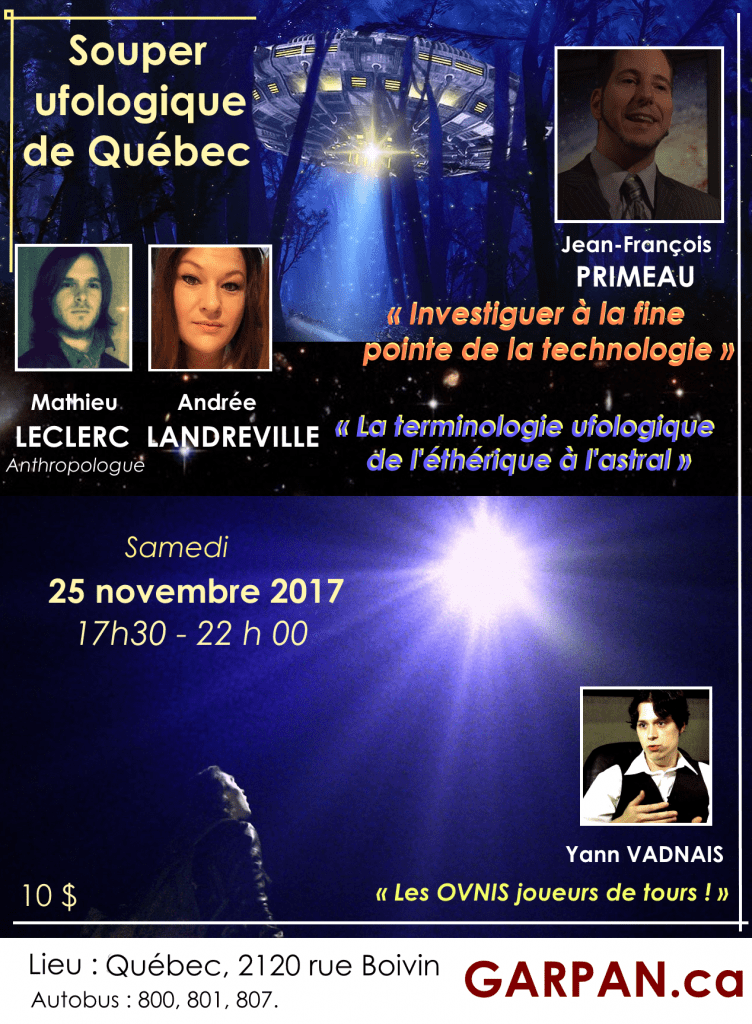 To conclude in beauty one year so productive, the GARPAN invites you to our 5th "UFO Dinner Quebec" of 2017. We take the opportunity to summarize the many accomplishments of our team during the last month : annual exercise of RR2 (28 oct., to Montreal), UFO Congress 701, short film competing in film festivals, works about d & rsquo; be published, web platform, etc..
Saturday 25 November 2017,
from 17:40.
In our custom, The evening will include two quality presentations :
"Investigate the-art technology", by Jean-François PRIMEAU ;
"The UFO Terminology & rsquo; & rsquo etheric to; astral", Mathieu Leclerc (anthropologist) and Andrée Landreville ;
with, to start the evening, Speaking Yann Vadnais on "towers of UFOs players".
New formula !
For the occasion, we seek a new formula, and we are confident that you will enjoy :
1) Change of venue : we opt for a room that better our technology needs and, mostly, to & rsquo; atmosphere of sharing and testimonials from our evenings. Projector and giant screen.
& Lsquo; House of Companies Heart & rsquo;, 2120 rue Boivin, Quebec, G1V 1N7
located at 200 m s & rsquo; intersection ch. Sainte-Foy / ave. Myrand.
Free parking. Easily accessible by bus : 800, 801, 807.
2) Changing the menu : This change allows those who prefer, d & rsquo; bring their own lunch, or & rsquo; bring a picnic with friends, and so save. (microwave on site)
L & rsquo; GARPAN team selected two restaurants to make groups of commands. If you are interested, please send your order to Christiane St-Denis (Commissioning Editor) : st.denis999@videotron.ca

http://www.benny-co.com/
http://www.sushishop.com/fr
For sushi, whether you opt for a custom command, either you provide 15 $ (for a group of tray).
(Note that & rsquo; once your order sent, you will have to pay even if you miss the & rsquo; event.)
welcome ! Invite friends !
to spend an evening out-of-common
in a friendly.
L & rsquo; Team Garpan.